'Survivor': Zeke Smith Engaged to 'Superstore' Actor Nico Santos After 4 Years of Dating
Two-time Survivor star Zeke Smith and actor Nico Santos of Superstore and Crazy Rich Asians fame got engaged onstage at the 2022 GLAAD Media Awards, four years after meeting at the same event. The couple released pictures of the surprise moment, with Smith calling himself the "luckiest guy in the world" and Santos professing that his fianceé has his heart "forever."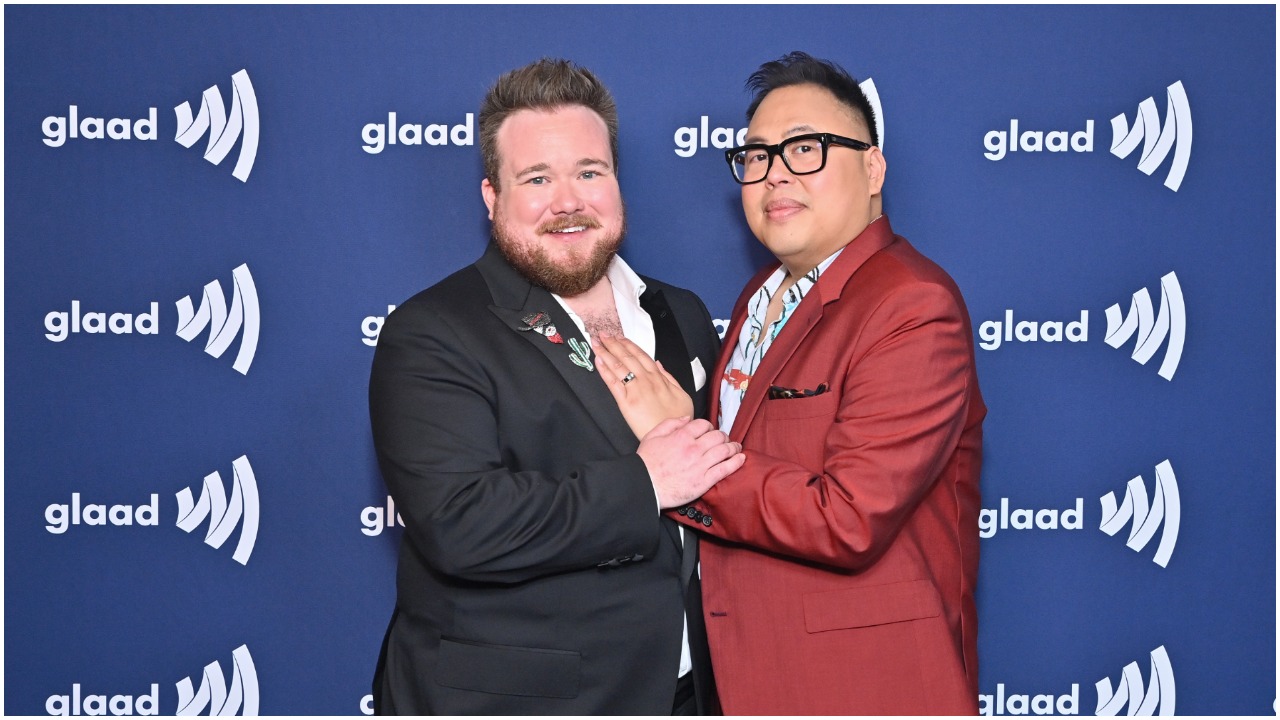 Zeke Smith and Nico Santos are engaged after four years of dating
After meeting at the 2018 GLAAD Media Awards, two-time Survivor player Zeke Smith, 34, and Superstore actor Nico Santos, 42, revealed their relationship.
They announced their romance in June 2018 while celebrating Pride month in Los Angeles in separate Instagram posts in which they referred to each other as "my love," and Santos called Smith his boyfriend.
RELATED: Three Years Later, 'Survivor' Star Zeke Smith Addresses Being Outed On Television
At the 2022 GLAAD Media Awards, the same event the couple met four years prior, Smith proposed to the actor on stage. The Survivor star posted a photo of him kneeling in front of a shocked Santos, who had tears in his eyes, captioning it, "I'm the luckiest guy in the world."
The Superstore star uploaded different pictures of their special moment, including one of a smiling Smith putting the ring on his finger.
Smith became known for his time on 'Survivor'
In 2016, the New York-based asset manager first appeared on Survivor: Millennials vs. Gen X. He played a smart game and strategically flipped when necessary at the merge.
Smith also formed his own alliance that gained a majority before a successful idol play sent him to the jury. The ninth-place finisher immediately returned for the following season, Game Changers, and continued his strategic gameplay by leading the charge to vote out two-time champ Sandra Diaz-Twine.
After getting memorably outed as a transgender man by contestant Jeff Varner, paranoia got the best of Smith, ultimately resulting in his blindside and a 10th place finish.
He most recently appeared in the Netflix 2020 documentary, Disclosure: Trans Lives on Screen, which investigates the media's impact on the trans community. Actors Laverne Cox, Elliot Fletcher, and Jared Leto also appear.
Santos is known for 'Superstore' and 'Crazy Rich Asians' roles
Although he originally wanted to become an actor, Santos spent several years working in the costume department at the Oregon Shakespeare Festival following disheartening remarks from a teacher.
In 2012, Santos got his start as a frequent panelist on the late-night comedy talk show Chelsea Lately before getting a spot in the annual CBS Diversity Showcase, which gave him exposure.
After minor appearances in a few shows, including Ground Floor (2014), Go-Go Boy Interrupted (2014), and 2 Broke Girls (2014), Santos landed his breakthrough role as retail store associate Mateo Fernando Aquino Liwanag in Superstore (2015).
His performance has earned him the Hollywood Critics Association Television Award for Best Supporting Actor in a Broadcast Network or Cable Series. Other nods include a Critics Choice Television Award nomination. He also appeared in the celebrated 2018 romantic comedy film Crazy Rich Asians as Oliver T'sien, where he gave another performance viewers praised.