Sutton Foster Crocheted the Funniest Wedding Gift for Her 'Younger' Co-Star Hilary Duff: 'She Got to Pick'
If you haven't seen it yet, Younger is the perfect down-to-earth, funny, and relatable TV comedy-drama to binge-watch all the way through. It's based on Pamela Redmond Satran's 2005 novel of the same name and is presented by a cast with great on-screen chemistry.
Like Sutton Foster and Hilary Duff, some relationships made it off-screen, too — leading to one incredibly unique wedding present that all the cast members agreed was 'awesome!'
Sutton Foster and Hilary Duff's relationship on the show and friendship off-camera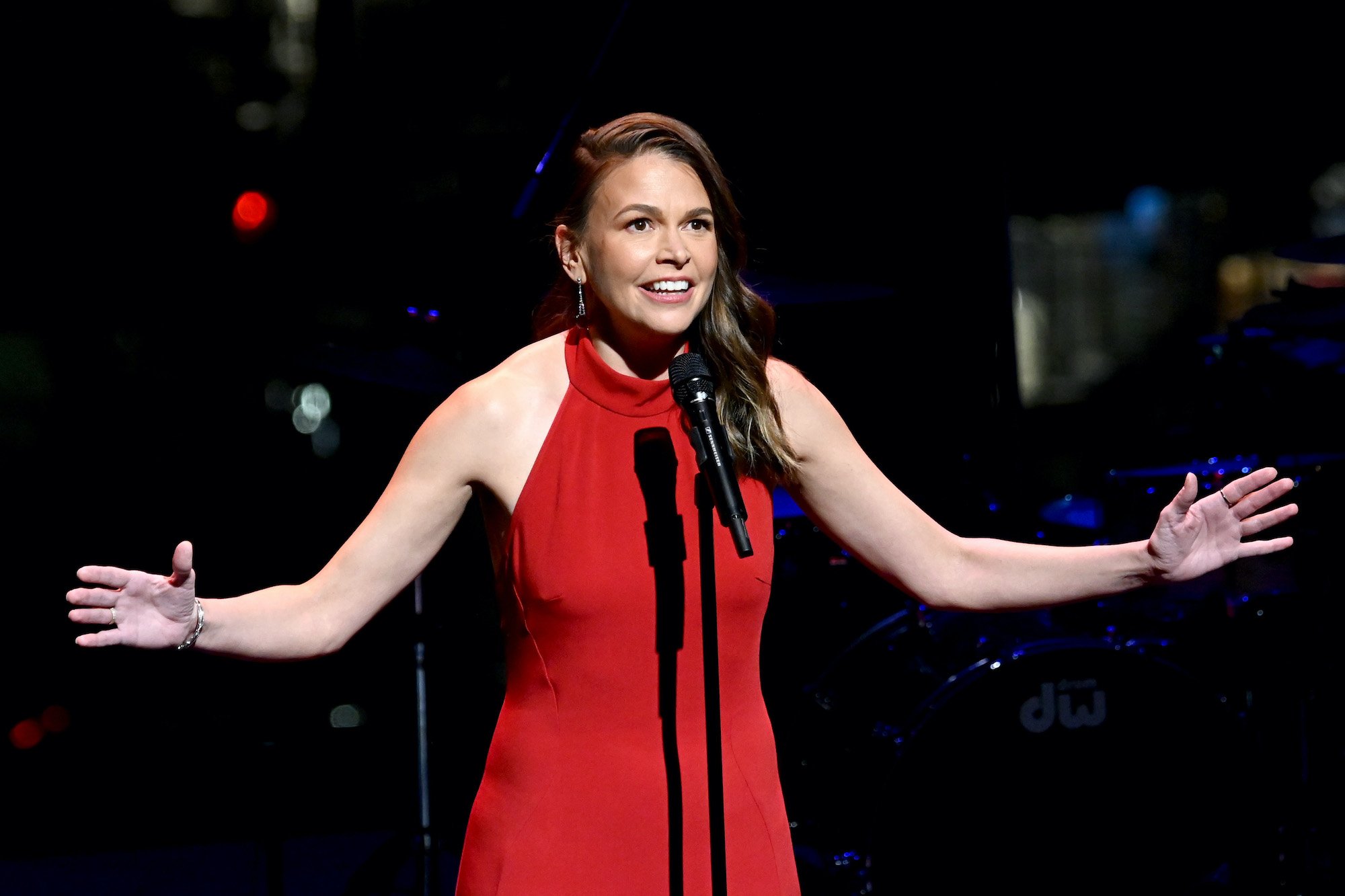 In the show, Foster plays Liza, a 40-something-year-old divorcee trying to take on the publishing world as a 26-year-old. Duff plays Kelsey, the 20-something-year-old who quickly befriends her at the Empirical Press. Their friendship and bond grow immensely from that point on.
Duff told Forbes of the on-show relationship, "The commitment to our friendship is really something fresh to watch on TV… It is with every female in the show. We are constantly boosting each other up."
Foster adds, "I think it's definitely evolved as to more of a partnership. They take care of each other, which I think is special to see."
Moreover, most of the Younger cast members are friends in real life, but it's Foster and Duff's daughters that often have play dates on the set. The two have been able to grow up together over the years and will likely form a sentimental bond with each other much like their moms.
Among several other sweet compliments, Foster says of Duff, "Like our characters, we also have each other's back. Hilary, it has been amazing to watch you evolve over the six seasons, just as a human — how you have navigated your career and personal life."
"It has been a ride for sure. We are a true team. We have to lean on each other every day. I look to her constantly," Duff responds. "We are so in tune that I can tell what kind of day she is having."
The significance of what Foster gifted Duff for her wedding
In a fun game of "How Well Do You Know Your Co-Star?" with Marie Claire, Foster reveals the unique homemade gift she gave Duff for her wedding and how it came about.
Foster jumps into the game, asking Younger co-stars Debi Mazar, Nico Tortorella, and Molly Bernard, "As a wedding gift for our co-star Hilary Duff, I crocheted a toilet paper roll cover that looks like what animal? A) A fox. B) A mouse. OR, C) An octopus."
Everyone excitedly answered with "C) An octopus." Mazar added enthusiastically, "We all know because we all wanted one. That octopus was awesome!"
"I mean, I had no idea what to get. You know, what do you get Hilary Duff for a wedding present? So, I was like yeah, I'm [gonna] crochet her a toilet paper roll cover," Sutton explains. "But she got to pick. I asked her what animal she wanted, and she said 'an albino octopus.' [I did an] albino octopus with rainbow button suckers on his tentacles."
Other fun facts revealed during the Marie Claire interview
Duff's wedding gift may have been the first behind-the-scenes secret revealed by the cast in Marie Claire's interview, but it certainly wasn't the last… Or the juiciest information spilled in the video.
As the cast continued to quiz each other, fans learn that Tortorella was arrested at his high school graduation, Bernard's most prized possession is a jar of teeth she collected over the years, Mazar starred on Friends as a pregnant woman while she was pregnant for real, and Foster performed Whitney Houston's "Greatest Love of All" at a talent show when she was just 11-years-old (and rocked it!).
To see more, check out the virtual interview. In the meantime, let's give Sutton Foster another round of applause for her unique wedding gift (that would oddly be so fitting for 2020!) to Younger co-star Hilary Duff. It shows how close the two are for her not only to be invited but to gift her with something so personal and handmade. 
RELATED: If You Loved 'Sex and the City,' You'll Be Obsessed With TV Land's 'Younger'