Suzanne Somers and Alan Hamel's Facebook Live Interrupted by Scary Home Intruder
Suzanne Somers had a scary home intruder experience that played out in real time in front of her fans. Somers was doing a Facebook Live session when a man approached her and Somers' husband Alan Hamel. The Three's Company star handled the situation with remarkable calmness, asking why the man was there and telling him to leave her property.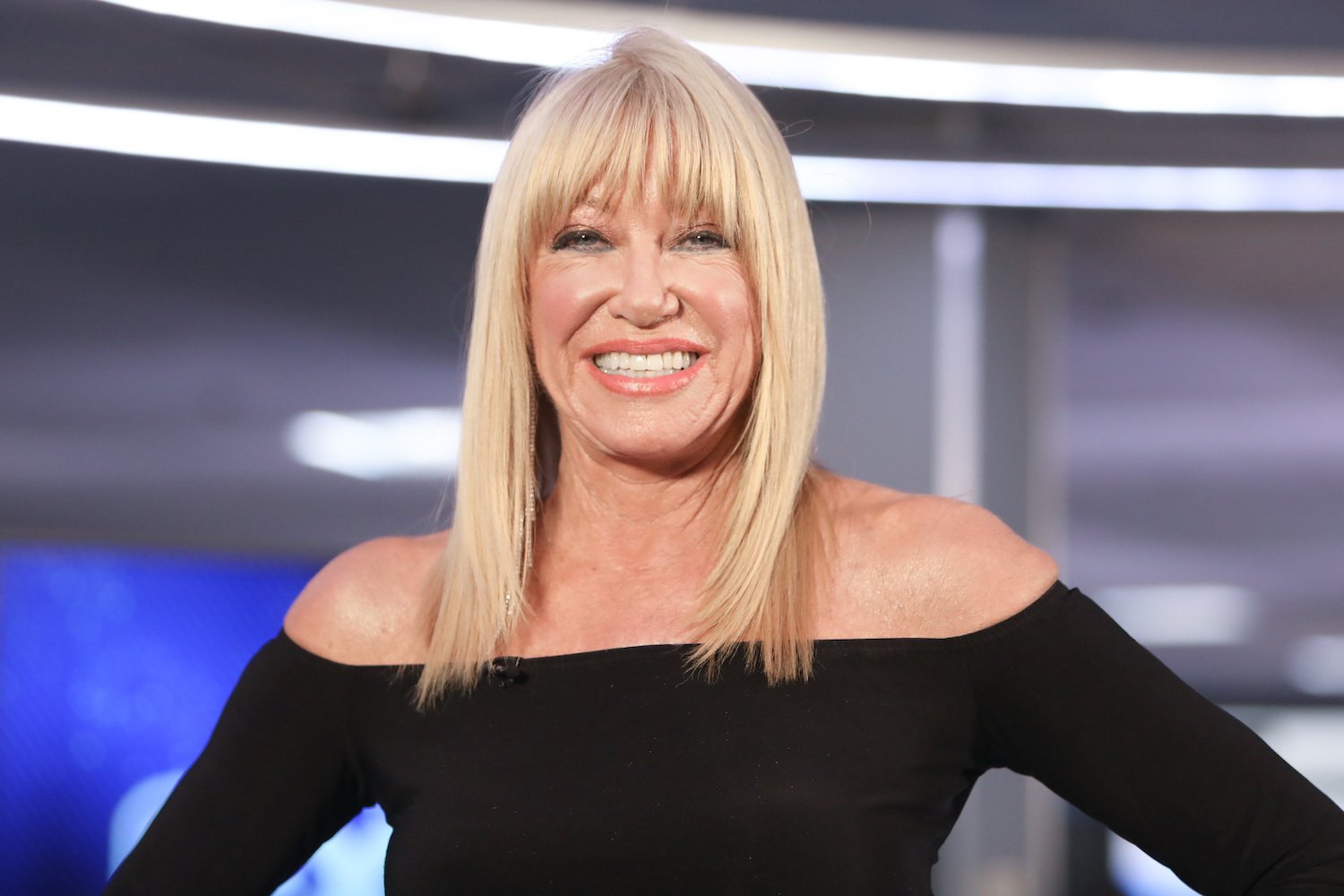 Suzanne Somers and husband Alan Hamel got an unwanted visitor
During a Facebook Live session on Feb. 5, which Somers promoted as "formal Friday," she showed off some of her makeup products.
At one point in the video, Somers asks Hamel, "Is somebody here?" and he says it's just a frog. She adds, "I just heard a person."
Somers realizes there is someone on their property, as she told Page Six they were expecting dinner guests and believed it was them.
"Are you here?," she's seen asking in the video, and a man responds, "I'm here!" Somers says, "Oh come here."
She quickly realizes it's not their dinner guests but an intruder and manages to maintain her cool while trying to sort out who the man is.
He tells her, "I was slightly terrified over there for a second," and when she asks him why, he appears to explain, "there were goats following me."
"How did you get here?" Somers asks the man and he explains, "A friend led me up this hill, and then I came down."
She tells him, "OK. You shouldn't be here," and Hamel adds, "This is our house." She gives several looks to the camera during their exchange with a wide-eyed expression.
"You don't scare me," she tells him. He shares an apology after telling her he's "seen pictures of this house before." When she explains, "You shouldn't be here. I'm not used to people being on our property … And we're doing a show right now," he tells her, "I do a show everywhere, all day long."
Somers then asks him to leave, saying, "So can you go home? … You seem like a very nice person, but you shouldn't be here." She asks Hamel to show him the way out. "You don't want to make Alan Hamel mad by trespassing," she later tells her viewers.
She told her viewers at the time of the incident, "I'm going to call the police now. What a way to end the show … But you learned all about makeup and I taught you how to contour, but I need to go."
Somers and Hamel think the man was lost
Somers shared with Page Six how she "was so friendly at first" because she thought the man was a dinner guest they were expecting. She said, "When he came closer, he barely had any clothes on … flip flops or a bathing suit, or a bikini."
The lack of clothing allowed her to see that the man didn't have a weapon.
When asked why she was giving a look to camera, she explained, "I had a few hundred thousand people watching, and I wanted to keep them calm."
Hamel thought perhaps the man was lost and didn't have any bad intentions. "Oftentimes people come to Palm Springs … they go hiking, and they don't take any water," he explained. "This guy obviously got lost… He was odd, he was very odd. But he wasn't threatening — like get whatever you have to defend yourself and head for the hills."
Suzanne Somers revealed how she remained calm
As for how Somers was able to remain so calm, given the circumstances, she said she tapped into her life experience, but admitted that afterward, she "was feeling my feelings."
"I've written several books about being a child of an alcoholic … one thing that happens, you either crumble from it, or you become crisis-oriented," she shared. "When things get crazy you want to be around someone like me."
"But when it was all over, I was feeling my feelings," Somers added.
She later updated everyone who was understandably concerned, commenting on Facebook, "All clear and safe! Thanks for your concern. Have a great weekend."