Sydney Sweeney on How It Felt to Work With Jacob Elordi in 'Euphoria'
Nate Jacobs and Cassie Howard were certainly the toxic couple nobody saw coming. Many fans of Euphoria tweeted their shock when the pair were seen hooking up during the Season 2 premiere. Considering Cassie was the best friend of Nate's very recent ex, Maddy Perez, the pair seemed like a match made in hell. But what was it like for Jacob Elordi and Sydney Sweeney (the actors who portray the characters) to work together?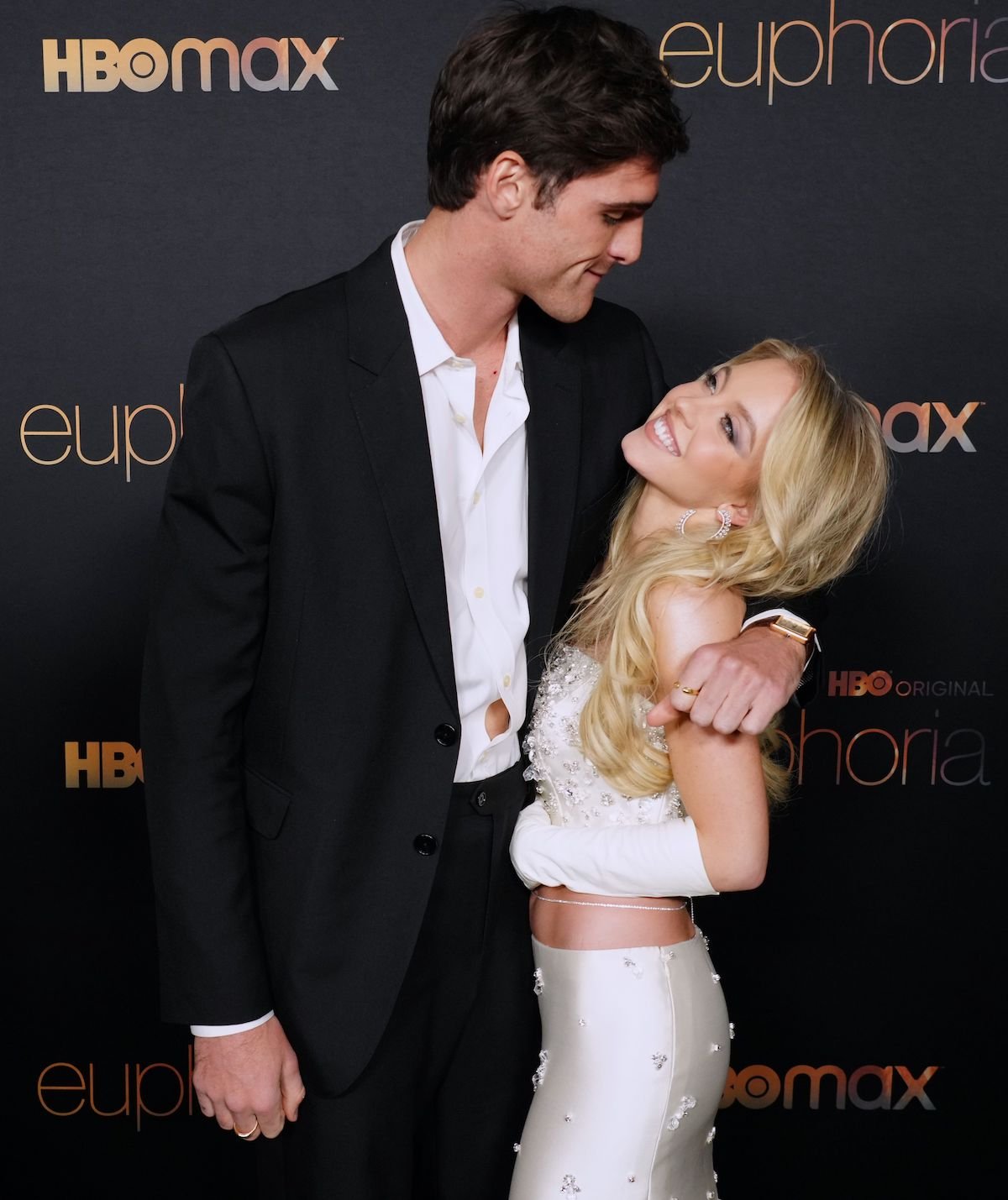 Sydney Sweeney was shocked by Cassie's arc in 'Euphoria' Season 2
Sweeney didn't make a secret about how shocked she was about the direction her character was going in Euphoria Season 2. The Players Table producer was actually at a baseball game when Sam Levinson (the show's writer and creator) called her and told her Cassie's fate. Sweeney recalled going under the bleachers to hear the call and wanting to scream in shock when she learned about Cassie and Nate. But since she was sworn to secrecy, she had to keep her emotions under wraps.
What was it like for the Marvel star to work with Jacob Elordi?
While Sweeney was surprised by Maddy, Nate, and Cassie's love triangle, she enjoyed filming it. She also appreciated the opportunity to work with Elordi. In an interview with Entertainment Weekly, she was questioned about what it was like to collaborate with the Australian actor, and she had nothing but positive things to say.
RELATED: Jacob Elordi Admits He 'Struggled' With the Intimacy Coordinator in 'Euphoria' Season 1
"He gives so much and he also listens a lot which is amazing," Sweeney said of Elordi. "Because sometimes, when you're working with different actors, you don't truly feel like they're listening to you, and he does. And so we're able to truly live in these moments and continue to live in them because our characters are really communicating with each other. And it's a beautiful chemistry that I think we have between Cassie and Nate."
Elordi sings Sweeney's praises
Elordi has been just as complimentary toward Sweeney. In his own interview with Entertainment Weekly, he compared Nate and Cassie to a famous couple. He also took the time to sing Sweeney's praises and share how it felt to work closely with her in the sophomore season of Euphoria.
RELATED: Alexa Demie Reveals 'Euphoria's' Nudity Was 'Tough': 'It Was Hard for Me'
"Yeah, we had nothing to do with each other in the first season, and so I never really ever worked with her, but I mean creatively this season, we became a bit of a Bonnie and Clyde," Elordi shared about Sweeney. "And she's so, so good at what she does that it was just such a treat the entire time working with her. She brings it every single take, every single scene. And they're always intense scenes with her as well, but we had so much fun. We got to play all kinds of different dynamics from that first meeting, and so it was such a treat working with her."
Clearly, Sweeney and Elordi enjoyed working together on the show. Only time will tell the fate of their toxic relationship in Euphoria Season 3. Though Nate broke up with Cassie in the season 2 finale, Maddy's warning to her former bestie seems to allude that they aren't truly over yet.
RELATED: 'Euphoria': Alexa Demie Broke Sydney Sweeney's Toe During That Fight