Sydney Sweeney Spills About Life on the 'Euphoria' Set
Sydney Sweeney is no stranger to talking about life on the set of Euphoria. For the past two seasons, the talented actor has taken fans on a tour of the Sony lot where the show is filmed. In these videos, Sweeney gives viewers behind-the-scenes details about the show. She explains how some of the intricate sets are built and gives fans a peek into how the TV magic is created.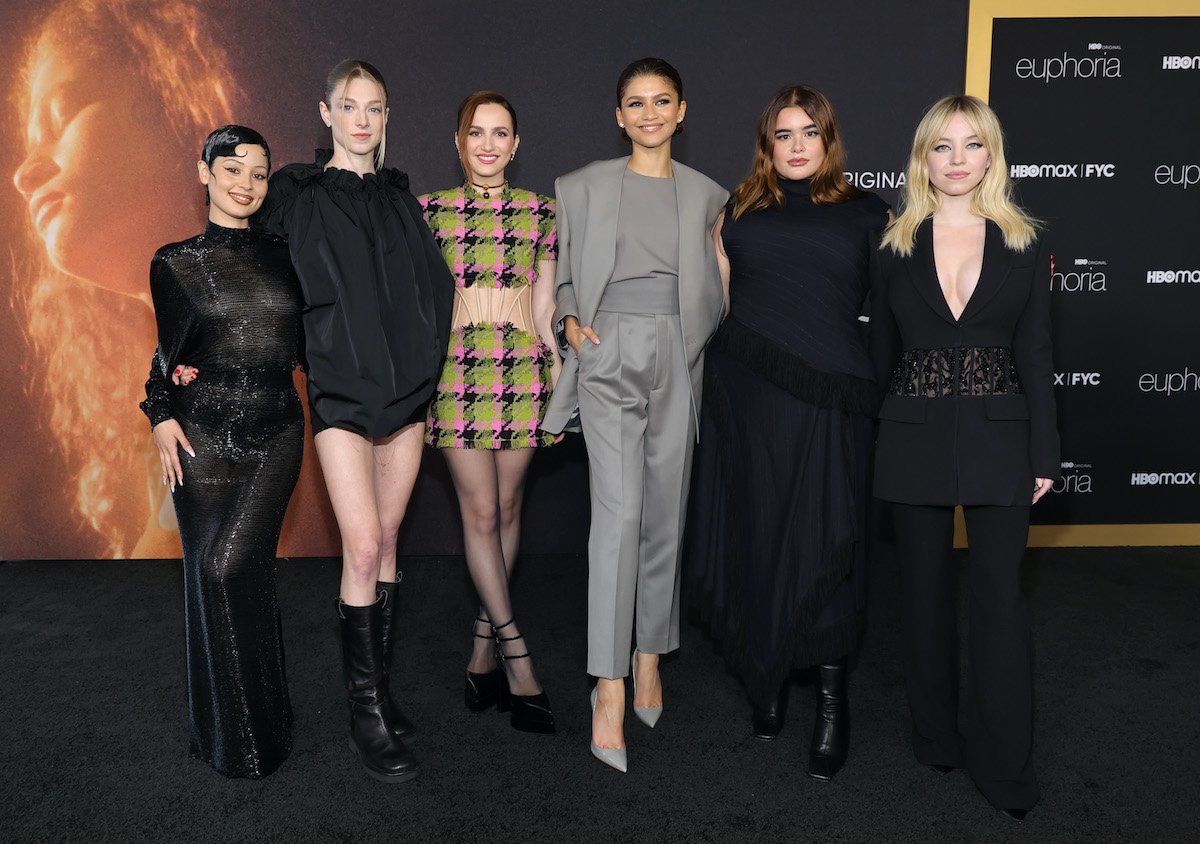 Sydney Sweeney and the 'Euphoria' cast and crew film for nearly a year
Sweeney has been candid about the fact that Euphoria easily takes over her life when she's filming. Euphoria takes an exorbitant amount of time to film, especially compared to most other TV shows. The sophomore season of the HBO show actually took 10 months to film. And because it was shot exclusively on film, things took even longer to set up.
RELATED: 'Euphoria': Dominic Fike Took Shrooms Before His Audition
Long workdays are to be expected on the set of Euphoria. It's not uncommon for Sweeney and her fellow castmates to work 16 to 18-hour days. Of course, part of this is due to the intricate cinematography that the show boasts. However, a lot of it also had to do with the way Sam Levinson runs his set. Levinson serves as the showrunner, writer, and frequent director of the show. He often shows up without a shot list, creating his vision on the day of. He's also developed a reputation for rewriting scenes on the spot, yelling out new lines for the actors to try out.
The Marvel movie star reflects on the long hours
In an interview with The Hollywood Reporter, Sweeney got candid about Euphoria's long hours. "It takes a lot of hours and people to put it together," she shared. "It's definitely not a normal 9-to-5, and if you're expecting that, you're going to be thrown off. It's a lot of work, but we're very lucky that Euphoria has touched so many people's lives, and the hours and the hard work that everyone puts into it shows."
Sweeney has developed strong friendships with the 'Euphoria' cast
Of course, life on set isn't all work and no play. Sweeney shared that she also has time to unwind sometimes and hang with her fellow co-stars. The Players Table producer reveals that she's become very close to her castmates over the years and enjoys spending time with them even when the cameras aren't rolling.
RELATED: Sydney Sweeney Rejected a Netflix Show for 'Euphoria'; What Was It?
"We have a really strong sisterhood on set," Sweeney explained. "We're all experiencing this together, and we spend a lot of time together. We've all become friends. It's basically like slumber parties every day. We go back to our trailers and hang out, watch TV or random videos — truly just hanging out and decompressing with one another."
Sweeney is grateful that she gets to play Cassie Howard
Sweeney seems well-adjusted to life on Euphoria's set. And while it'll be a while before she's back filming season 3, she admits that she's gained a lot from being able to portray Cassie. While speaking with Vogue Hong Kong, she expressed her gratitude for the experience.
"I've definitely grown as both an actor and an individual with Euphoria," Sweeney shared. "I've learned and grown from my fellow cast and crew but also from the fans. We have such an incredible community that I'm honored to work with, and I think that everyone's hard work translates to what the fans see."
RELATED: Sydney Sweeney Was Convinced Cassie Was Being Killed off 'Euphoria'