Sylvester Stallone Convinced Dolly Parton to Start Eating Differently on the Set of 'Rhinestone'
Following the success of her 1982 film with Burt Reynolds, The Best Little Whorehouse in Texas, country legend Dolly Parton signed on to star in the 1984 movie Rhinestone with none other than Sylvester Stallone. The movie – starring Parton as down-on-her-luck country singer Jake Farris and Stallone as the less-than-musically-inclined cab driver Nick Martinelli, whom Parton's character tried to train in the art of country music – was widely considered a failure.
Rhinestone might have performed poorly both at the box office and in critics' reviews, but Parton reveals in her new memoir, Dolly Parton, Songteller: My Life in Lyrics (released Nov. 17, 2020, and penned by Parton with Robert K. Oermann) that the soundtrack was actually one of her favorites to work on.
What's more, Parton and Stallone had a great time together on set. Stallone's passion for nutrition and physical fitness led his co-star to adopt healthier eating habits of her own.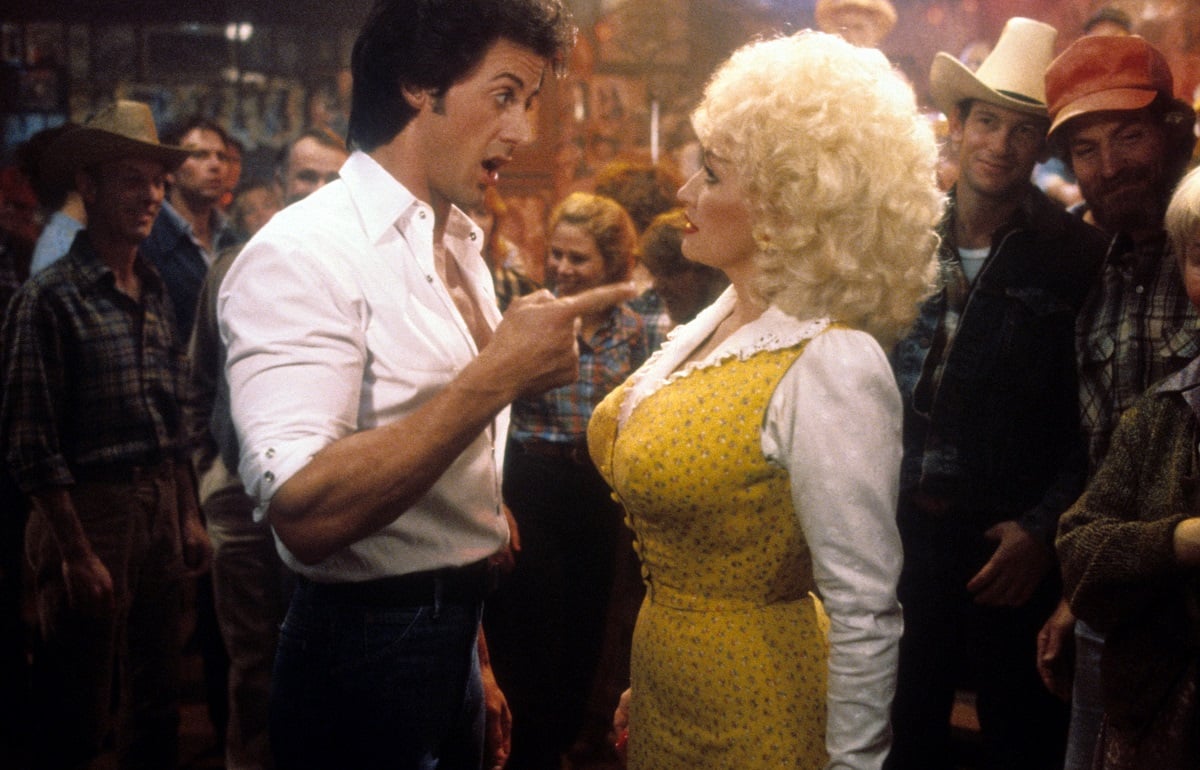 Parton wrote most of the songs for the 'Rhinestone' soundtrack
Parton, now 74, reveals in Dolly Parton, Songteller: My Life in Lyrics that she's proud of her contributions to the Rhinestone soundtrack. In fact, the album – which includes many original songs by Parton, including the theme "Tennessee Homesick Blues" and "Stay Out of My Bedroom," a suggestive duet with Stallone – is one of her favorites.
Rhinestone might have been widely panned by both audiences and reviewers, but for Parton, the project was a success.
"Even though the movie did not do well and didn't get good reviews, if you listen to the songs I wrote for it, they hold up," she writes in Songteller. "I enjoyed writing that as much as anything I've ever done."
She took responsibility for some of the movie's less impressive musical moments
However, even the optimistic Parton admits that the songs on the Rhinestone soundtrack weren't necessarily a fit for her co-star.
"It's true that Sylvester Stallone cannot sing country music," she confesses bluntly in her latest memoir. "But I'll tell you what he can sing: old '50s rock 'n' roll songs." According to Parton, Stallone frequently sang oldies rock 'n' roll tunes on the set, and the unlikely pair developed a friendly rapport while working on the movie together.
Still, Parton admits that Stallone "didn't execute" the songs on the Rhinestone soundtrack very well. But the living legend doesn't blame him; instead, she explains, Stallone was simply out of his element in terms of the film's musical style.
"It wasn't fair to him," Parton writes of the mismatch between Stallone and the songs he was asked to sing. "I'll take responsibility for that."
Stallone's commitment to fitness inspired Parton to do the same
Despite Rhinestone's bad reviews, Parton benefited from her work on the movie – and her friendly relationship with Stallone. At the time, Parton writes in Songteller, she wasn't paying enough attention to her health. Stallone's passion for healthy food and exercise inspired his co-star to make a lifestyle change of her own.
"I was coming out of a big gloom at the time, and I had some health problems and was feeling not so good," Parton reveals of the filming period for Rhinestone. "But [Stallone] was so health-conscious, crazy, and funny. It was good for me."
In addition to helping her take her mind off of her problems, Stallone offered Parton some advice about the food she was eating at the time.
"He is into physical fitness," Parton writes of Stallone, "and was shocked at the junk food I ate. I think that's when I began to realize that I should change my ways and get healthier."