T-Pain Reveals Jay-Z's 'Death of Auto-Tune' Lyrics Cut Him
Back in 2016, T-Pain celebrated his 10-year milestone as a musician. His sound has become synonymous with Auto-Tune technology, and he's put his stamp on his own records as well as other artists. But during the past 15 years, T-Pain experienced some pitfalls in his career that impacted his desire to make music or move freely within the industry. During a recent interview, he spoke about how Jay-Z's "Death of Auto-Tune," a.k.a. "D.O.A.," put a damper on his creativity… and more.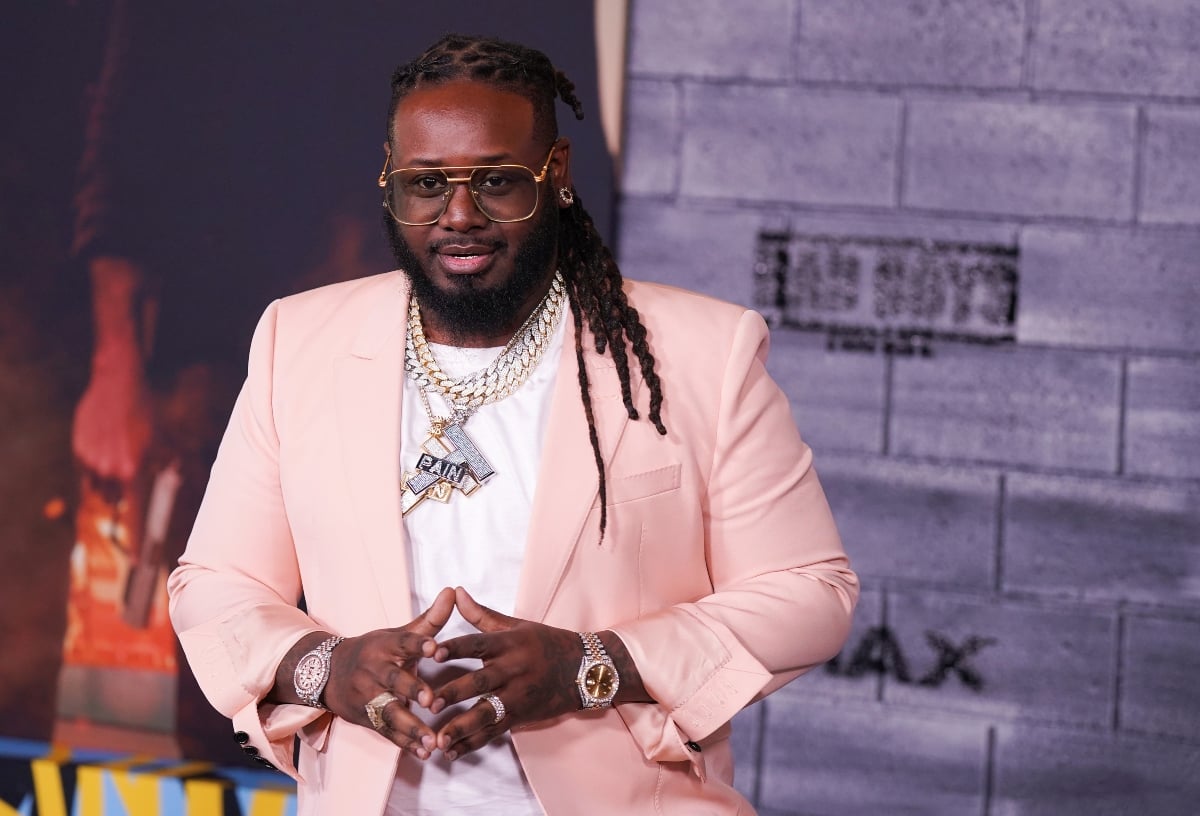 T-Pain thought he was done after Jay-Z's 'D.O.A.' track
As the latest visitor to N.O.R.E.'s Drink Champs podcast, T-Pain got candid about moments from his career and personal life. He addressed the comments he made in June about Usher when he claimed the R&B singer told him he ruined the genre. But he also stated that Jay-Z's 2009 song "D.O.A." felt like a diss.
The lyrics say: "Get somebody from B-M-F to talk on this/Get this to a blood, let a crip walk on it/Fifty thou' to style on this/I just don't need nobody to smile on this/Y'all n—s singing too much/Get back to rap you t-paining too much.
While N.O.R.E. was convinced Jay-Z meant it as a simple acknowledgment of his signature style, T-Pain felt things were over for him. He straight up took it as a diss. "I was ready to go. I was ready to be done. I was done with life," he said. He added that he was ready to quit and drink himself to death.
On a lighter note, he admitted that he wrote a response record but never dropped it. T-Pain said he faced ridicule at a Las Vegas show where fans heckled him over the Jay-Z song. Because "D.O.A." happened after the Usher run-in, things seemed to pile up. His managers advised him to drop the diss track idea, leave the studio, and take a break.
T-Pain had other awkward interactions with Beyoncé and Jay-Z
T-Pain laughed through his entire Drink Champs interview and told the story about walking on stage during Jay-Z's 2009 Summer Jam appearance. Remember when Jay-Z told Lil Mama she was T-Paining him at the 2009 VMAs? That was the infamous incident.
In an effort to squash any perceived ill will about "D.O.A.," T-Pain wanted to hit the stage during Jay-Z's set to show unity. He manuevered past the rapper's security, stepped out, and extended his hand to shake Jay's. "He looks at my hand and was like, 'Good riddance!' and he walks away," said T-Pain.
That was not their only awkward exchange. Years later, he bumped into Beyoncé and Jay-Z at a Grammys after-party. With a cup of liquor in each hand, he went to greet Beyoncé and accidentally spilled Hennessy on her white gown. However, Jay-Z didn't seem to harbor any bad blood, according to T-Pain.
T-Pain once called out DJ Khaled over 'D.O.A.' aftermath
This isn't the first time T-Pain's expressed his feelings about the "D.O.A." track. At 2016's SXSW, he sat with DJ Sway and recalled how some of his industry friends and associates stopped dealing with him. There were other things going on apart from Jay-Z's track, and he acknowledged it led some folks to distance themselves.
In one instance, T-Pain named names: DJ Khaled. He said when Khaled started giving him the runaround, it hurt the most because they worked together for so long and had a friendship. A few stuck by him. But since that moment in 2009, T-Pain has released several projects and continues to produce for others.
Fans can watch T-Pain's entire Drink Champs episode on Revolt TV or YouTube.