What is 'Catfish' Guest Co-Host Tallulah Willis's Net Worth in 2019?
Tallulah Willis recently appeared on MTV's Catfish where she assisted Nev Schulman in helping Kristina find her online lover. Willis is most famous for being the youngest daughter from iconic actors Demi Moore and Bruce Willis and appearing in a few of their movies. Although she does not regularly work in the entertainment industry, Willis has an impressive net worth.
What is Tallulah Willis's net worth? Find out, plus how she makes her money, ahead.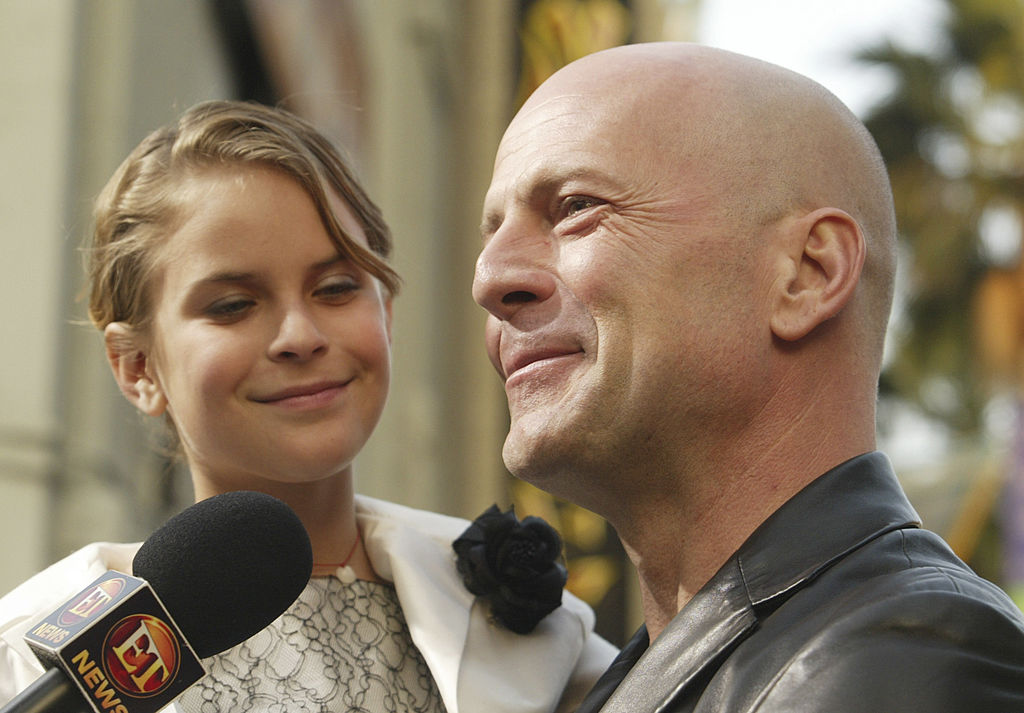 Tallulah Willis's famous family

Tallulah Belle Willis was born on February 3, 1994, in Los Angeles, California to Bruce Willis and Demi Moore. She is the youngest of two siblings, Rumer and Scout Willis.
Rumer, like her parents, is an actress and recently starred in Empire and The Masked Singer. Scout has also acted, but she graduated from Brown University and spends more of her time in activism. Additionally, Rumor and Scout have both dabbled in singing and music production.

Bruce Willis and Demi Moore were married from 1987 until 2000 when they mutually decided to split. Even after their divorce, the parents still have a good relationship. Willis remarried to Emma Hemming in 2009, and they share two children; Evelyn Penn, and Mabel Ray.

Tallulah Willis's personal struggles

In 2017, Tallulah posted a caption on Instagram, talking about her newfound sobriety. In her post, she said she "did not value" herself or her body and self-medicated. Therefore, she went to rehab to seek help for her drug dependencies. Her sister, Rumer, commented words of support, saying she was proud of Tallulah's strength and courage.
Tallulah and Morgan McDonald have dated since 2012, and her drug addiction was a problem in their relationship. However, after completing rehab, Tallulah said she is a different person. Even though rumors have circulated that the couple already got married, neither has confirmed or denied.

Since leaving rehabilitation, Tallulah started focusing on art and found it as "an outlet." She said that after becoming sober, she had "intense claustrophobia" and "anxiety of crowds" because the drugs numbed her senses. She now considers herself a visual artist who draws "iconoclastic creatures with exaggerated proportions and humanoid features."

Tallulah has also publicly spoken about struggling with body dysmorphia at a young age. She remembered believing strangers more than her family because she didn't trust the people close to her to be honest with her.

Tallulah's sisters, Rumer and Scout, also took to Instagram to explain their struggles. Rumer posted in July 2017 that she "celebrated six months of sobriety." Scout shared a song titled "Goodbye" in June 2018 and captioned it with her story about being sober for a year.

Tallulah Willis's net worth

Tallulah has only appeared in a Tyler the Creator music video, MTV's Catfish, and a few of her parents' movies. Including portions of her parents' estates, Tallulah Willis' net worth is an estimated $86 million.
Tallulah's mother, Demi Moore, has appeared in several blockbuster films including Ghost and Captain America: The First Avengers. Her estimated net worth is $150 million. Bruce Willis, Tallulah's father, has starred in several favorite movies and his net worth is an estimated $180 million.
Watch Catfish Wednesdays at 8 P.M. EST on MTV!