Tamar Braxton and Vincent Herbert Reunite to Celebrate Son's Birthday – 'Things Aren't Perfect'
Tamar Braxton and Vincent Herbert are putting their son first. Despite being divorced, the two celebrated their son's birthday together as a family.
Tamar Braxton knows all too well how important remaining friends with your co-parent is. The Braxton Family Values star has been open about how her own parents' split impacted her in her adulthood. She's proving how much she's committed to setting a better example for her son by being cordial with her ex-husband, Vincent Herbert. The two recently celebrated their son's birthday as a family.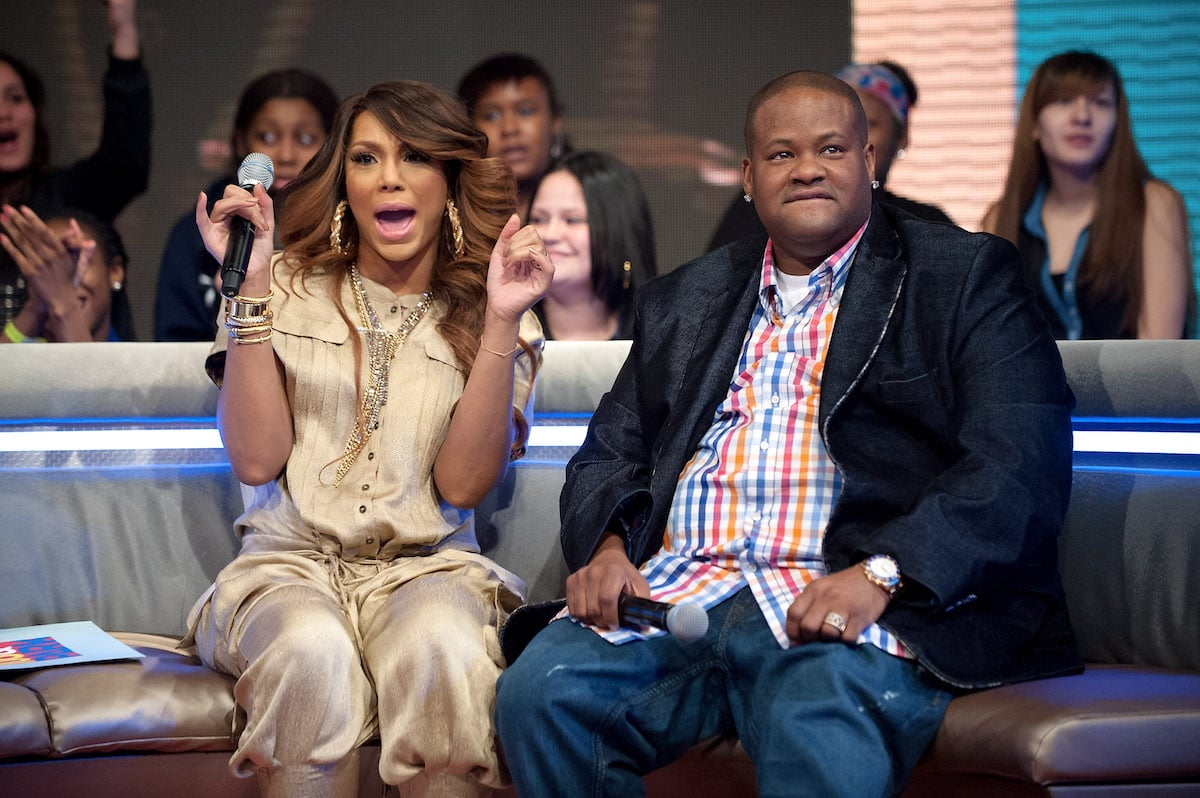 Tamar Braxton previously said family therapy helped mend her and Vincent Herbert's relationship post-divorce 
Herbert seemingly did not want a divorce from Braxton. He never responded to her divorce filing. As a result, she pleaded with a judge multiple times to sign off in spite of his hesitation. After almost two years, a judge granted Braxton's wish and declared her legally single in July 2019.
Braxton revealed that when she began dating her now ex-fiancé David Adefeso, things between her and Herbert grew worse. Luckily, she says their determination to co-parent their son led to them working on re-establishing a friendship. 
"It's all the years of trying to figure out where we fit, right? Because for 16 years, we've been together and been best friends, and I think what we had to revert back to is remembering that we were friends first and it took a little while," she told Entertainment Tonight.
The "Love & War" singer credits family therapy with getting them back on track. "The counselor was like, 'You guys might want to get along for your kid,' and then that is when we made the decision," she said. "It's about him and not about us…it's about us setting the best example for him and being there for him."
The singer and her ex reunite to celebrate their son's birthday
Rumors surfaced amid Braxton and Adefeso's split that Herbert came to his ex's rescue. She reportedly hid out at Herbert's home when Adefeso sought legal action for alleged domestic violence. Several blogs shared alleged text messages between Herbert and Adefeso with Herbert scolding Adefeso for his alleged poor treatment of Braxton during and after their relationship.
It appears Braxton and Herbert remain in a great co-parenting space. Braxton recently shared a series of photos and videos featuring Herbert in celebration of their son Logan's 8th birthday.
"An 8th birthday that brought everyone together," she captioned a photo of herself with her sister Toni, Logan, and Vincent. "Look how God used this day for all of his GLORY. That's why I love him so. Things aren't perfect but they are GREAT just like GOD is," Tamar concluded.
Herbert was also captured on video by social media users attending an Easter 2021 celebration at Braxton's new home. 
Tamar Braxton is currently single
Since her split from Adefeso, Braxton has focused on personal growth, motherhood, and her businesses. She says she learned a valuable lesson from jumping head first into her relationship with Adefeso so quickly after filing for divorce from Herbert.
"I didn't give myself enough time to see if we are really, truly, honestly, compatible," she told fellow singer Michelle Williams on Checking In. "The last person I just wanted [to be] so different than my ex-husband, so their differences was like, 'Oh, this is attractive' without [me] really digging deep and looking at it like, 'This person probably can't handle someone in the entertainment business because it's so different than the corporate world.'"
Now, she's on a hiatus from dating, explaining that she spent her 20s, 30s, and some of her 40s in committed relationships. "Since I've done that, I don't have a desire," she states boldly.