Tamar Braxton Says Her Boyfriend Inspired Her To Want More Children
If you ask Tamar Braxton what the best part of her life is, she'll beam with pride that it's being a mom to her almost seven-year-old son, Logan. Before having Logan, Braxton was committed to chasing musical stardom and the Grammy-nominated singer was in little to no rush to have a child. But since Logan's birth, she's considered expanding her family. Her desire to have more children has grown tremendously since she started dating financial guru David Adefeso.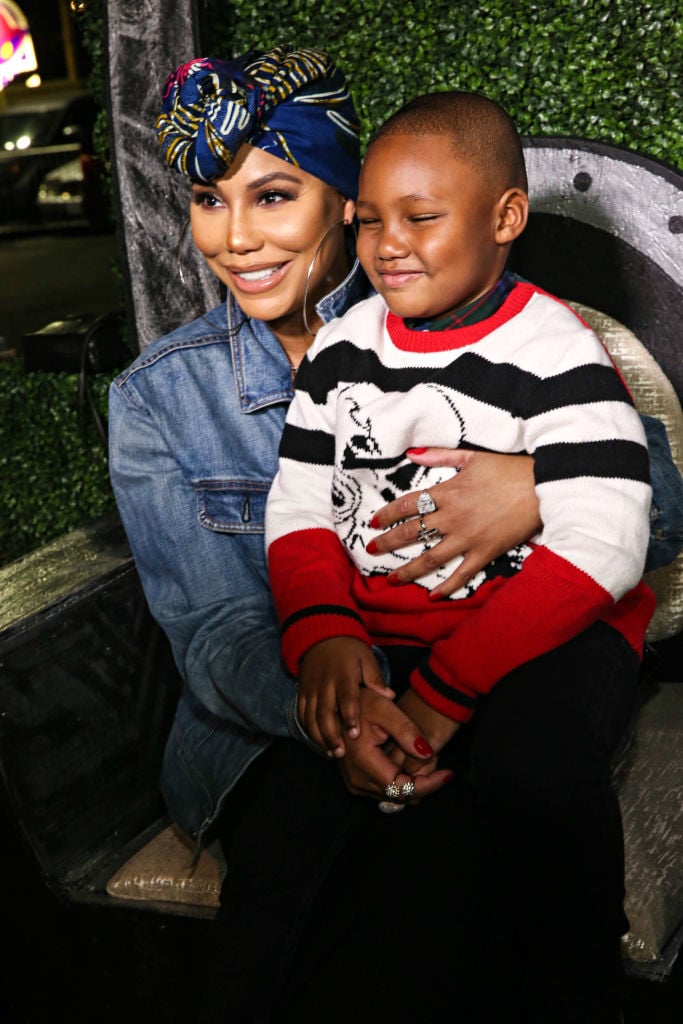 Tamar Braxton was hesitant to have children before having her son Logan
Braxton was introduced as the young and hip newlywed of the Braxton sisters. When the show first premiered, she was married for three years to music executive Vincent Herbert and focused on re-starting her solo career. At the time, she'd had several record deals and was counting on Herbert for her final chance at superstardom.
Herbert desperately wanted to start a family but Braxton was hesitant. Already in her 30s, she did not how she could put her career on pause any longer than she thought she did to go through a pregnancy. 
After the success of the first season of Braxton Family Values and her career beginning to take off, she came to a compromise with Herbert to start a family. Unfortunately, they ran into fertility issues. She and Herbert underwent the process of freezing their eggs and Braxton considered surrogacy.
Related: Tamar Braxton Says Family Therapy Helped Her and Ex-Husband, Vincent Herbert, Become Friends Post-Divorce
To their surprise, she became pregnant without the assistance of science. Their son, Logan Vincent Herbert, was born in June 2013. She considers Logan the best thing in her life and is grateful, telling one publication that she "almost missed out" on the joys of motherhood.
Tamar Braxton says her boyfriend David Adefeso has made her want more children 
After having Logan, Braxton maintained that she was "one and done" and would not be expanding her family. She and Herbert tried IVF before their divorce but she sadly miscarried. But, she's since changed her tune and says it's all because of Adefeso, whom she refers to as "Little Chocolate" as she told Entertainment Tonight.
Little Chocolate might have been the person who egged that on. But I think after the whole divorce stuff, I just felt like I didn't want Logan to be by himself. Like, we got together when we were young, me and my sisters, and talked about our parents behind their backs and he needs somebody to do that with, and bounce ideas off of. I'm crossing my fingers hoping I'll get lucky – I really, really want more kids. Being in this quarantine reminded me how lonely my son is.
Braxton and Logan live in a home together with Adefeso and have been quarantine together since the shutdown alone. Braxton has spoken openly about her desire to be married again as she's madly in love with Adefeso.
But after almost two years, Adefeso still hasn't proposed and Braxton says expanding their family would require a marriage first. Adefeso does not have any children of his own but has a close relationship with Logan. Before Braxton, Adefeso was single for some time and Braxton says he may be dragging his feet on proposing.
"[We] gotta give him a little nudge and help him out a little bit," she said. "David's been single for forever, he's never been married, and so for him to find love, he's pretty crawling, but he better hurry up!"
Until Braxton gets her ring, she says she's content with where she is in her relationship with Adefeso.