Tamar Braxton Talks About Making Amends with Adrienne Bailon
Tamar Braxton opened up on social media about making amends with Adrienne Bailon following their infamous fallout in 2016.
Tamar Braxton and Adrienne Bailon had a pretty big falling out years ago. But it appears that things have started to thaw out.
The former co-hosts recently connected on social media and shared a moment that let fans know there's no love lost. Braxton later opened up on Instagram about her decision to make amends with Bailon and shared what motivated her to do so.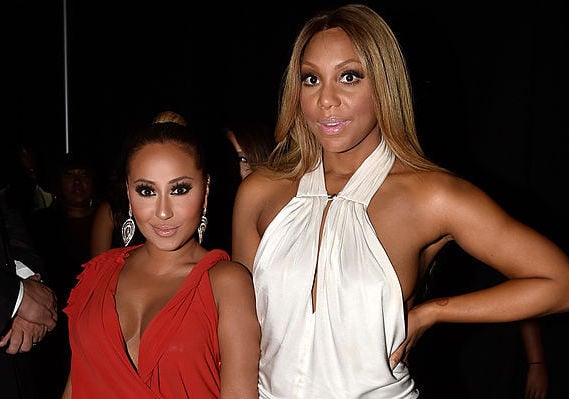 What happened between Adrienne Bailon and Tamar Braxton?
These two hit a rough patch after Braxton was fired from their show, The Real, in May 2016.
Following the announcement, Braxton shared a post on social media about being backstabbed, leading some to believe that her co-hosts had something to do with her exit. Although they strongly denied these rumors, Braxton fueled them when she allegedly unfollowed her co-hosts on social media.
In the years that followed, both parties continued to go back-and-forth about what exactly led to Braxton's firing. But in mid-March, Braxton suggested on social media that she had decided to leave the drama in the past and move on.
Tamar Braxton invited Adrienne Bailon to join her in a viral singing challenge
During the week of March 22, Braxton posted an Instagram video of her tackling Tyler Perry's "He's Got The Whole World In His Hands" challenge and invited Bailon to join in.
She shared a tweet around the same time about forgiving people, seemingly alluding to Bailon and the other co-hosts.
"I feel that its the time to get along with everyone," she wrote in a March 24 tweet. "I don't even have a feeling about people who wronged me in the past. I'm at the point in my life that if that's your energy that's on you. NOTHING or NO ONE is going to Dim the light that's over me. That is mine."
Bailon went on to take Braxton up on her request, participating in the challenge alongside her husband, Israel Houghton. In the caption, the former 3LW star thanked Braxton for asking her to join in followed by a red heart emoji. The post, Braxton said, touched her heart.
"This totally makes my heart smile," Braxton wrote in the comment section. "I knew you would body it…AND you brought on my old pal [Israel Houghton]. God bless y'all."
Tamar Braxton talks more about making amends with Adrienne Bailon
During a later Instagram Live captured by the entertainment blog Empressive, Braxton talked more about her decision to move on.
Speaking on the phone with an unknown person, she said she refuses to harp on drama and exude anything other than positivity at this point in her life.
While some people have given her the side-eye and expressed skepticism over her newfound attitude, Braxton stressed that she has found Jesus and intends to move forward in a positive manner only. A clip of the chat can be seen below.
We love to see it, even if it took them years to get here.
Read more: Twitter Users Are Slamming 'Insecure' Actress Amanda Seales, Including One of Her Co-Stars — Here's Why