'Tampa Baes' Feud: Melanie Reveals Which Couple Has Her Loyalty
The first season of Tampa Baes really focused on two couples who didn't get along, leaving everyone else to take sides. Melanie Posner did a phone interview with Showbiz Cheat Sheet on Nov. 2. She talked about the drama that went down in the reality show. 
[Spoiler alert: Spoilers ahead for season 1 of Tampa Baes.]
Melanie Posner says she was heartbroken this 'Tampa Baes' moment
Olivia Mullins was introduced as someone who likes to party early in the season. Things took a turn when she called Posner from jail to pick her up. Posner shared her reaction to that moment with Showbiz Cheat Sheet.
"I mean, I was heartbroken, like absolutely heartbroken," she said. "A couple months prior to the DUI, Olivia was dealing with a lot, and I felt like in the last month or two, she was, you know, really bettering herself. She was kind of getting out of that toxic lifestyle. So to know that that happened, it was just a really, really sad moment for me."
The artist said, "She's good now." Mullins later starts a new relationship, and Posner didn't see it coming.
"I was shocked," she said. "There was, you know, so many girls for months she really didn't want nothing to do with them. She kind of, in a sense, has like a player mentality. It felt like she couldn't find anyone she was attracted to, and so then, you know, out of nowhere Amanda came, and they were so obsessed with each other." Posner noted, "they're perfect together. They really, really are."
Of course, that's not the only couple Tampa Baes' viewers see. There is the fight to be the "it couple" during the season. Posner shared whose side she's on and why.
Posner reveals which couple has her loyalty in the 'it couple' feud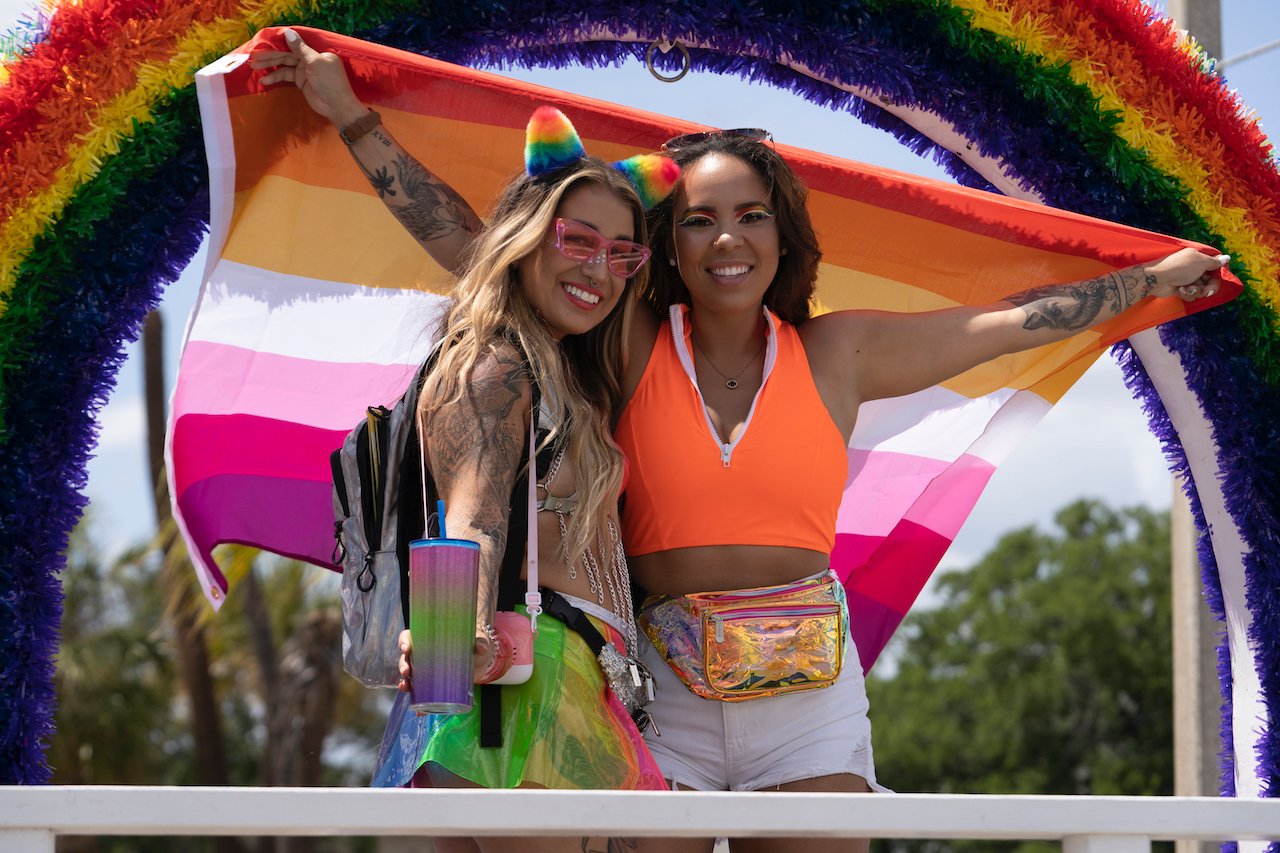 Summer Mitchell and Marissa Gialousis were already in a relationship before the show, and the same thing can be said for Haley Grable and Brianna Murphy. But the two couples didn't get along, and the cast members took sides.
Posner revealed who she is closer to. "Well, I mean, my loyalty goes to Summer and Marissa," she said. "I'll just leave it there." The artist explained her friendship with them is fairly new.
"Actually, those are two of the people that I got closer with on the show, and I really, really adore their relationship," she said. "Same with Nelly [Ramirez] and Ali [Myers] actually, I think they have the most cutest relationship. But yeah, no, we knew of each other, but we definitely grew closer toward filming."
Posner made a painting of Mitchell and Gialousis this season and it was revealed in the finale. Grable and Murphy didn't look very happy about it. When asked if Posner would be open to painting them, she had another suggestion. "I would absolutely paint Nelly and Ali," she said.
It's still unknown if the show will get a second season. But Posner claimed her producers said they'd love to show her family and dating life. "That was something that I really didn't go to in season one, my lovely, complicated dating life," she said. For now, she said she's crossing her fingers that there will be a second season on Amazon Prime Video.