'RHOC' Cast: Tamra Judge 'Disgusted' By Son Ryan's Custody Battle With Ex-Girlfriend
Tamra Judge has drama outside of The Real Housewives of Orange County that is all playing out on social media and not in front of the Bravo cameras. The Coto de Caza resident has weighed in on the nasty custody battle his son Ryan Vieth and his ex-girlfriend are involved in and things have gotten completely out of hand that police had to intervene.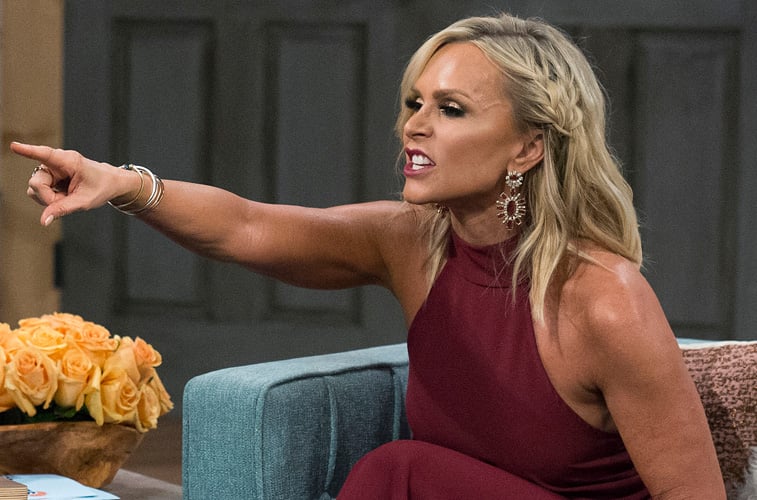 Tamra Judge's Son Sends Threatening Texts To Ex-Girlfriend
The drama between Tamra Judge's son and his ex-girlfriend, Sarah Rodriguez, has been making waves on social media. This past week, Rodriguez shared screenshots of a conversation she had with Vieth where he suggested she commit suicide.
"You talked sh** about my daughter several times today. She is a child. You are supposed to be a grown up," Rodriguez wrote in a text she shared in a now-deleted Instagram post. "And she acts like a little b*** just like you, Vieth replied.
But the most horrendous message was when Ryan texted: "Go kill yourself." In another screenshot, Ryan allegedly said, "this one is for you," with a picture of a bullet.
Did Tamra Judge Ambush Her Son's Ex-Girlfriend?
Things took a turn when Rodriguez took to Instagram again and claimed that the RHOC star had ambushed her.
"So I just got ambushed by Tamra and her mom at my door. She recorded me without my knowledge which is illegal and now she is going to take me to court to get Ava taken away from me," Rodriguez stated.
Ryan then said that there were police outside of Rodriguez's home that were preventing him from spending time with his daughter, he took to social media to react to a court order his ex-girlfriend shared online.
"That's from when I was working 12-hour days at 4:30 in the morning and my daughter was only a few months old and I didn't want to wake her up every single morning when I work. She knows what our schedule has been. Everyone around me knows what our schedule has been. I have my daughter every single Wednesday until Thursday. I pick her up again on Fridays and I drop her off on Sundays. It's been that way for years now," he explained.
"She wants to play the game because she's mad because I posted stuff about her? She's using my daughter as leverage… I'd call that child abuse," he added. "All I wanted to do was pick up my daughter on my day off like I always do… The only one that suffers is my daughter."
Ryan then posted an image outside of the O.C. courthouse and wrote: "One thing you dont [sic] do is mess with my daughter and I. You can play yoir [sic] games on social media but now im [sic] going to fight for what is right. I am an amazing father, everyone knows this. She is my world and to play like this is disgusting. I may not be the perfect human but to do this is lower than low. And its [sic] unfortunate that it has to be aired in the public but its time i stood my ground and do what i have to do."
Tamra Judge Reacts To 'Public Circus'
Tamra Judge has seen all this ordeal play out publicly and she posted her thoughts on Instagram which she later deleted.
"My son and his ex have created a public circus. I'm absolutely disgusted and my only concern is Ava. Not my circus. Not my monkeys," she wrote.
In a follow-up post, Tamra shared a quote without directing it to anyone in particular. "To anybody who's reading this, I pray that you or whatever you are constantly stressing about gets better," read the quote. "May the dark thoughts, the overthinking, and the doubt exit your mind right now. May clarity replace confusion. May peace and calmness fill your life."