Tarek El Moussa Was Extremely Nervous to Propose to Heather Rae Young – Especially to Ask Her Parents (Exclusive)
Tarek El Moussa from HGTV's Flip or Flop admitted he was extremely nervous to propose to Selling Sunset's Heather Rae Young – but he was even more nervous to ask her parents for their permission.
He recently described proposal jitters to Showbiz Cheat Sheet. Plus, the couple dished about the gorgeous rose-lined proposal and Young revealed if she was truly surprised.
Tarek El Moussa said he was nervous to ask Heather Rae Young's parents if he could marry their daughter
El Moussa set the proposal scene during a lavish getaway to Catalina Island and said he was definitely nervous to pop the question. "I was pretty nervous," he laughed. "But it was incredible. I'll never forget the moment of when I proposed. Her taking that turn. And that gorgeous dress and magic hour. The sky was glowing and like we were standing on the beach. And those are just memories that are going to stick with me for the rest of my life."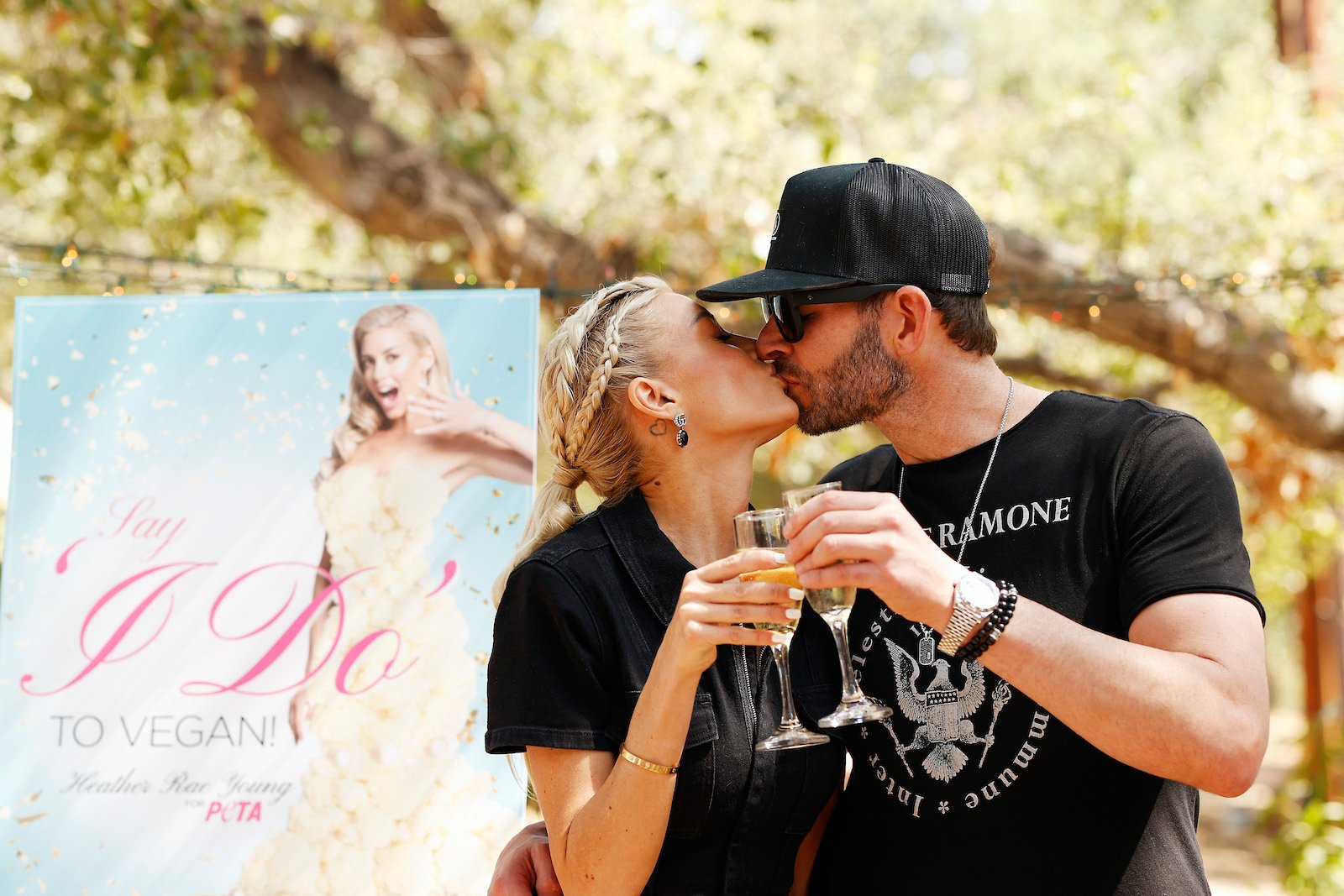 "But honey, you were more nervous to ask my parents to marry me, right?" Young asked her husband.
"Oh yeah apparently I didn't ask her parents," he recalled. "Apparently I sat down and said 'I'm marrying your daughter!' Like I was nervous to ask her parents!"
Did Heather Young have any idea Tarek El Moussa was going to propose?
The setting was too perfectly designed for a proposal, but Young revealed why she was still caught off guard. "Tarek and I had looked at rings three months in and he did tell me I need closer to a year," she said about a potential proposal. "Our one-year anniversary came around and we had a gorgeous dinner on our boat. And he had these amazing surprises planned. And then we were supposed to spend a quiet weekend on Catalina Island on our boat."
RELATED: Tarek El Moussa & Heather Rae Young Reveal Why She Finally Said 'Yes' to That First Date (Exclusive)
"Instead, he surprised me with, 'We're leaving the boat,'" she continued. "We're going to be on the island and then, you know, I had been filming a little bit with him on Flipping 101. And I was told by our assistant we were going to film some B-roll to go along with our episode that we had already shot. So, you know, I was new to TV. I didn't really know how it all works yet. I'd only filmed I think one or two seasons of Selling Sunset and I'm like, 'OK, sure, B-roll, whatever I think will be cute and fun.'"
Heather Rae Young never dreamed about her wedding
She had no idea she was walking into a proposal during that magical moment. "And so I kind of kept going with the flow and just wanting to like not overthink anything," she recounted. "And, you know, I think as a woman, you always think, 'OK, well, is he going to propose on this trip? Is he going to do it this trip?' And in my mind, I didn't want to get my hopes up if he wasn't going to do it. So I just didn't want to think about it."
RELATED: 'Tarek & Heather The Big I Do': Heather Reveals a Sweet Behind-the-Scenes Moment Before She Walked Down the Aisle (Exclusive)
"And honestly, I thought he was just going to have this beautiful romantic dinner planned for me on the beach," she shared. "I didn't know I would be walking to a proposal. So, you know, it was a whirlwind. I don't think I even realized it until I was walking down the flower candlelit aisle to him standing in a tux, looking so handsome, I think it finally hit me."
She wasn't one of those women who dreamed about her wedding either. "I never, ever thought about my wedding," she admitted. "And I never thought about a wedding dress. Also, I thought wedding dresses were ugly. I never thought about what kind of a wedding I would want. I was more obsessed with the ring." Adding, "My husband got me my dream ring."