How Taylor Hawkins and Dave Grohl's Drumming Differed
Taylor Hawkins and Dave Grohl's had their own techniques in drumming. They sounded like their idols.
Taylor Hawkins and Dave Grohl might have felt like long-lost twins when they met, but they had their differences. The pair came from different worlds in music. They had different backgrounds, influences, and distinct drumming styles. Grohl took the grunge scene by storm as Nirvana's drummer and then Foo Fighters' frontman. Hawkins was Alanis Morissette's touring drummer.
Wherever they came from and whoever inspired their skills, the two musicians loved playing together. However, Foo Fighters is back to having only one of the best drummers. Although, in light of recent events, it's doubtful that Grohl will ever return to the kit.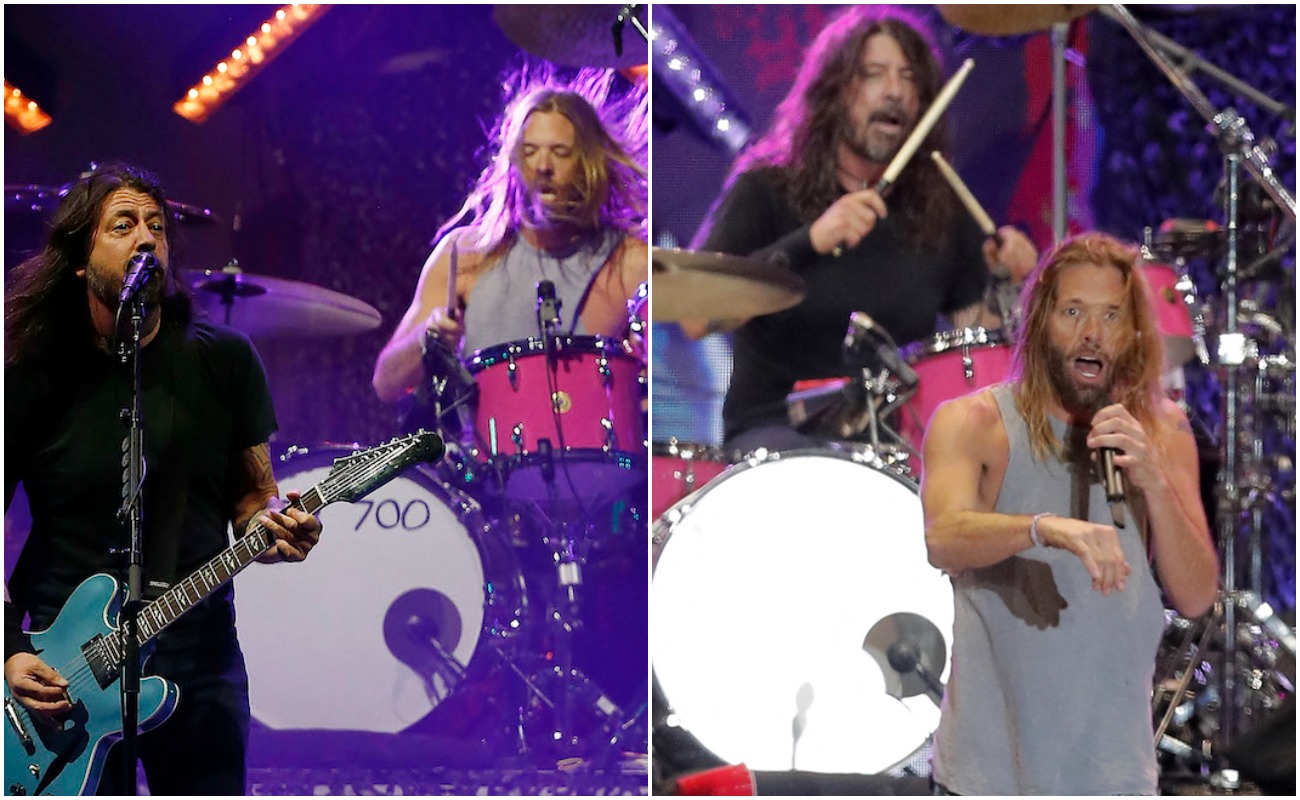 Taylor Hawkins explained how his and Dave Grohl's drumming styles differed
In a 2021 interview with Rolling Stone, Hawkins explained how his and Grohl's drumming style differed. The best way he could explain it was to compare each other their styles to some of rock's best drummers.
"There's a simple way to put it," Hawkins explained. "If he is the disciple of John Bonham, I'm a disciple of Stewart Copeland [of The Police]. I mean, that is really kind of the easiest way of putting it. I'm on top. I push just more like that, where Dave is not lazier in the sense of being a lazy person, but his feel is… behind the beat more.
"I mean he's actually got more of the preferred feel for a studio drummer or something like that."
Rolling Stone asked Hawkins if he could "consciously shift and go behind the beat as necessary." Hawkins replied, "Yeah, I can play slow songs behind the beat, no problem. I've never been great at playing midtempo songs. I tend to push them to a point of them getting out of the midtempo."
Hawkins didn't want to sound like Grohl when he joined Foo Fighters
When Hawkins joined Foo Fighters, he had the daunting task of being the drummer for one of the 1990s best drummers.
Grohl has said that he didn't ask Hawkins to join because of his skills; that was the least important thing to him. He just wanted someone to travel the world with, and Grohl already felt the chemistry between him and Hawkins. However, it was still intimidating.
During an interview in 2021 on The Howard Stern Show, Hawkins said, "I was super intimidated because I met Axl Rose, the first time he said, 'What's it like being the drummer for the greatest drummer of the '90s?' I'm like, 'Ah, hard.'"
So, Hawkins had to figure out his identity in the band. He knew one thing; he didn't want to sound like Grohl. "It was never my goal to sound like Dave," Hawkins told Rolling Stone.
"I mean, as much as I love his drumming and totally wish I had some of the skill set that he has as a drummer, just that behind-the-beat, giant thing that he does — no one could play Nirvana the way he plays Nirvana. And like I said, when I have to play his songs from the first two records, it just doesn't sound like him, and that's fine. 
"They sound like they were recorded off the One by One album or something and that's just the way it is. And I think that in itself lends itself to us what we are as a band, which is a very organic, especially live, band.
"The funny thing is when Dave has a guitar in his hand, he's not necessarily that behind the beat either. He's not necessarily rushing it, like, either, but he doesn't mind playing guitar like that. Like, his feel as a guitar player is much more comfortable on top than when he is playing drums. Naturally, his feel on drums is a big behind-the-beat feel. But on guitar, it's fine."
Grohl said it wasn't hard to give up the drums in Foo Fighters
Although Grohl is one of the best drummers of his generation, it wasn't hard for him to migrate to the front of Foo Fighters.
"When you have a drummer like Taylor Hawkins in your band, I don't necessarily miss being the drummer," Grohl told 60 Minutes, "because I have the greatest drummer in the world. But I do miss my head in the middle of all that noise."
"At first, it took me a while to find my place, it really did," Hawkins said. "But he never made it hard." Grohl added, "Taylor is a much more technically minded drummer than I am. Which I think makes the band work the way it works."
Foo Fighters had two of the best drummers in the world. Now, the band's fate is unknown in the wake of Hawkins' death. Grohl will either have to scour the Earth for another great drummer or jump back behind the kit again. Even more frightening, Foo Fighters may decide not to continue without Hawkins. Whatever the verdict is, fans will support them.