Taylor Hawkins Didn't Interfere With Dave Grohl's Process After Almost Quitting Foo Fighters
Taylor Hawkins didn't interfere with Dave Grohl's process after almost quitting Foo Fighters following a disagreement.
It was love at first sight for Taylor Hawkins and Dave Grohl. When they met in the 1990s, a connection formed that was unbreakable. They knew they were brothers from another mother before playing music together.
Still, brothers tend to fight, and boy did Hawkins and Grohl. They had a pretty bad argument in 2002 that ended with Hawkins quitting… for a brief moment. After they made up, Hawkins knew his place in Foo Fighters.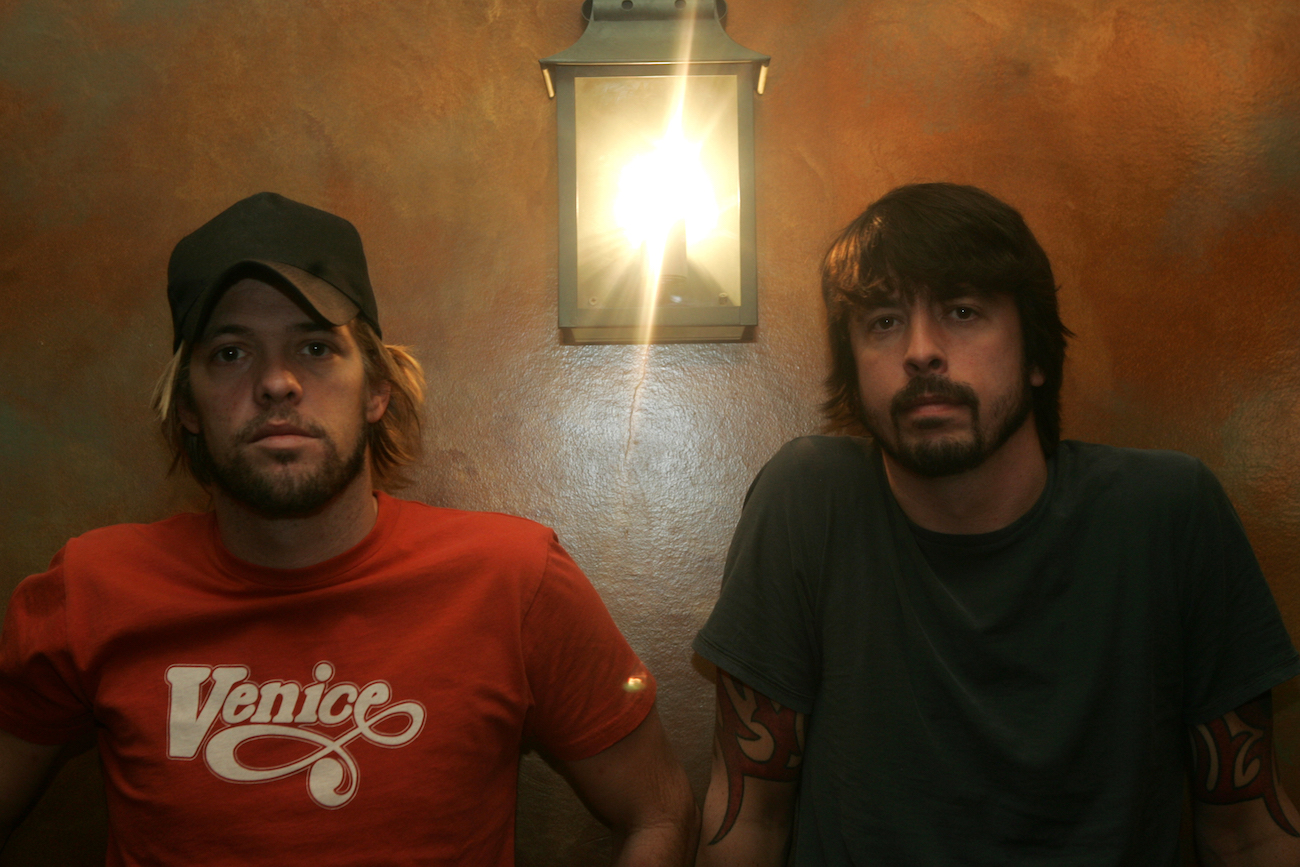 Taylor Hawkins was a 'loudmouth kid' who bugged Dave Grohl with his ideas
In 2021, Hawkins told Rolling Stone he always had an idea of perfection in his head. Initially, Hawkins pushed Foo Fighters to be perfect.
"It really was important to me that we maximize our potential as a live band and come up with cool endings and things like that," Hawkins said. "It was already happening. Dave was already there, but I definitely was like, 'We got to practice more. We got to practice more.'"
However, Hawkins realized that he couldn't get in the way of Grohl's process. "I was a loudmouth kid and I was like, 'I have ideas, I have ideas.' And finally I just went, 'You know what? You have the best ideas. And if you want an idea, you'll let me know.'
"I noticed with Dave, it's the best way to work with him. And even when we're writing songs, I just try not to say too much anymore. I don't want to get in the way of his process. And when I do really think I have an idea of something and he is stumped on something, which is very rare, I may say, 'Hey, maybe this.'
"Every once in a while it flies. And sometimes like, 'No, I don't like that.' OK. And I don't get butt-sore about it, and I move on, and I come back to my mansion next to the Kardashians, and I make f***ing records with my goofball friends that nobody gives a f*** about."
Hawkins said he came to this position after he almost quit Foo Fighters.
Hawkins almost quit Foo Fighters after a fight with Grohl
The Foo Fighters' drummer said it was "a real moment" when he realized Grohl was running the show. "It was when we were doing Coachella and he was playing with Queens of the Stone Age.
"It was a pivotal moment in the band's career, and it was definitely a make-or-break moment. We hadn't finished One by One, because it wasn't going so good. I was still coming out of my fog from London. And I was still coming out of my fog from thinking that this should be a complete democracy.
"We were doing Coachella, and we had a big argument, because I was being a f***ing smarta** and know-it-all, thinking I know what was right. And he just f***ing said, 'You know what? I'm going to tell you right now. This is how it is. It's my f***ing band. If you don't like it, f***ing beat it.' And I went, 'All right, I quit.'
"But we still had to do Coachella. And he was just looking at me like 'Yeah, sure you do.' And I came in the next day. 'That's fine. I'm not going to be in it anymore. Nyah, nyah, nyah.'
"And he's like, 'Yeah, whatever. OK, we're going to do this Coachella show and we have to do that, and we have to finish a couple songs. We have to finish 'All My Life,' and we got to write a couple more. I have a week in D.C. We're going to do that, and then I have to go do a Queens of Stone Age tour. And that is after the Coachella thing.'
"So I showed up to Coachella. I finally went and saw him play in Queens of Stone Age, because at first I thought he was making them a big band. He was. Then I also had to deal with the fact that 'Oh, there's the best drummer in the world again.'
"I'm the little dumbs*** behind him that just f***ing does whatever I'm told or whatever and tries to play 'Everlong' as good as him, and I can't. And I went and watched him play with Queens, and it meant a lot to him. I didn't know it at the time, really, but it did. He's said before.
"He never said that to me, because we don't have those kind of conversations. This would be uncomfortable and weird. But I think it meant a lot to him. I may be revising this. He may feel totally different about this, but this is my reality. And then we played that next night, and he was the front guy again, and we f***ing killed it. We were amazing."
The drummer was happy with whatever Grohl wanted to do
After that show, Hawkins and Grohl talked about their new album, One by One, and tour. Everything was right again.
"After we did that album and did our first headlining slot at the Reading Festival, that's when the fun began," Hawkins said. "And that album is where I could figure out how to be myself in the Foo Fighters on a record. I did all the drums on that record. [1999's] Nothing Left to Lose, I did half the drums. I was still figuring out how to record."
Hawkins said that they became hams whenever they got up on stage together.
"And I'm f***ing goofing around and he's goofing around, and we push each other in that department, not push each other in a negative way, but in a more, like, 'Let's take it to the next level. Let's see how far can you go in this jam.' There's times when we get in jams and it's a lot like the Who, a lot like Keith Moon and Pete Townshend.
"Those are the great moments. So yeah, he gets it. Whatever Dave says is good with me, I'm fine."
It's unimaginable what Grohl is going through now in the wake of Hawkins' death. They might not have had a perfect friendship all the time, but they always made up and had a blast on stage. Performing was the heart of Hawkins and Grohl's brotherhood.