Taylor Hawkins Was 'Mr. Fanboy' Whenever He Was Around His Idols
Foo Fighters drummer Taylor Hawkins made sure to show his idols how much he loved them. They inspired him to make a career in music, so he paid homage to them frequently. He was so enthusiastic around his heroes and was fortunate to form tight friendships with all of them, including The Police's Stewart Copeland, Queen's Roger Taylor, and Brian May, and the members of Rush. Hawkins was "Mr. Fanboy."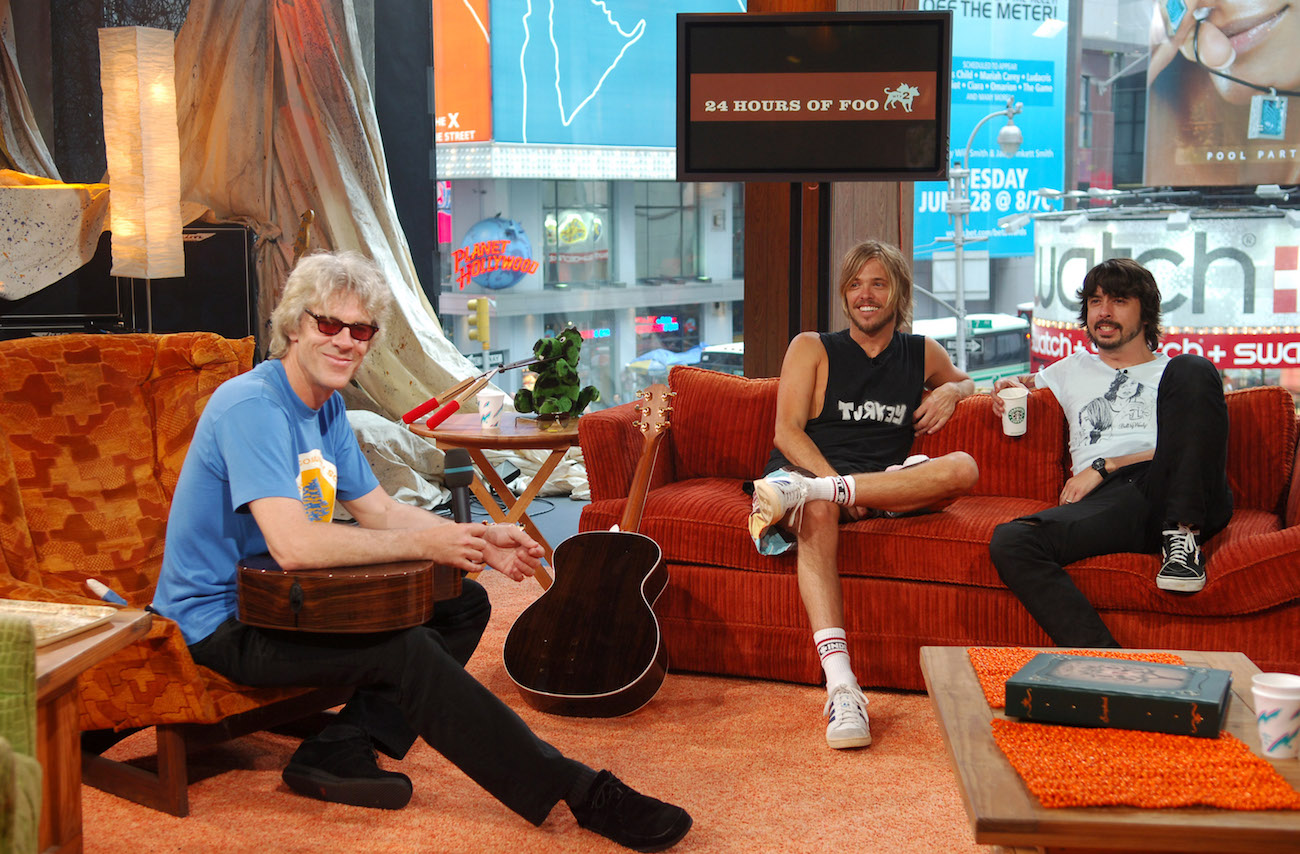 Taylor Hawkins was 'Mr. Fanboy' to all his idols
When Hawkins first started drumming as a kid, he looked up to The Police's Stewart Copeland and Queen's Roger Taylor. In 2019, Hawkins told the BBC about the first time he heard The Police.
"My brother handed me a copy of 'Zenyatta Mondatta,'" Hawkins said. "This was 1982. He goes, 'If you want to be good, you have to play it like this guy.' My two first major inspirations — probably the two guys that shaped a lot of what I do when I play drums in a rock band — are Roger Taylor and Stewart Copeland."
Hawkins and Copeland became close friends in the early 2000s. They hung out and jammed together frequently. Following Hawkins' death on March 25, Copeland told Rolling Stone, "He was always Mister Fanboy, but that was part of his shtick.
"'OK, OK, Taylor, calm down!' One of his social tricks was that whenever we were hanging out, he'd select a Police T-shirt from his extensive collection. When he hung out with Neil, he'd have his Rush T-shirt on. He was 50 years old going on eight.
"He was a fan of everybody, a real enthusiast. Even though he was a star, he was very interested in all the other people, how they got there and what they do. He knew it all — all the different things that everybody could do. Every flammadiddle and rattamacue as played by his heroes."
RELATED: Why Dave Grohl and Taylor Hawkins Weren't Allowed Entry Into Pantera's Strip Club
Hawkins surprised his idols
The Foo Fighters drummer also worshipped Queen. After seeing the band perform for the first time as a kid, he was so amazed that he couldn't sleep that night. However, his love for the band surprised guitarist Brain May.
May reflected on the drummer's love for Queen during an interview on My Planet Rocks. He said he was shocked that Hawkins was such a huge fan because he was cooler than Queen.
"The funny thing was, he turned out to be the greatest Queen fan in the world," May said. "That was always a shock to me because he seemed to be a lot cooler than we were."
May loves that Hawkins helped spread Queen's music to a younger generation. "I think Taylor Hawkins single-handedly made Queen cool to a new generation. He knew everything about us… everything!
"At that point, he and (Foo Fighters guitarist) Pat Smear gave us an award at some ceremony – I can't even remember what it was now – but it became obvious at that point really early on that they knew everything. They knew more about us than we knew! It's always been a great thing."
May asked Hawkins to contribute drums on the track "Cyborg," which he was honored to play. Hawkins had just joined Foo Fighters. It was a full-circle moment for him. Later, Roger Taylor gave Hawkins the snare drum he used during the Freddie Mercury AIDs awareness concert. It was one of Hawkins' proudest possessions.
"Multiple times in London, me and Taylor in the middle of the night walked to Freddie [Mercury's] house and just sat outside the gate," said Chad "Yeti" Ward, Hawkins' drum tech from 2005 to 2019. "That was his hero."
RELATED: Reps for Foo Fighters Deny Claims Taylor Hawkins 'Couldn't F***ing Do It Anymore'
The Foo Fighters drummer made a fan very happy a couple of days before his death
Hawkins managed to befriend nearly all of his idols, including Perry Farrell, Jane's Addiction frontman.
"What I loved about him is he wasn't afraid to say he was a fan," said Perry Farrell. "There are a lot of men that are afraid to say that because they might be envious of the other guy's talent. They don't want to give him any light.
"Taylor did not have that problem at all. If he thought you were great, he would talk about it. It was a very endearing, child-like quality he had."
Hawkins made sure his own fans knew he loved them just as much as his idols. Three days before his death, Hawkins made a fan very happy. On March 22, Foo Fighters canceled their concert in Asunción, Paraguay's capital city, due to bad weather.
Hawkins was in his hotel's lobby when he heard drumming coming from the crowd of fans outside. When he investigated, he found nine-year-old Emma Sofía Peralta, who was playing her heart out to Foo Fighters' "The Pretender" and "Everlong."
"That day was about to become the worst day of my life," Peralta told Rolling Stone, referring to the canceled concert over Zoom (with translation help from her dad, Julius), "and suddenly it became the best day of my life."
So, just as The Police and Queen gave hope to Hawkins as a kid, Hawkins gave hope to Peralta. Hawkins paid it forward.
RELATED: Prince's Comments on Foo Fighters' 'Darling Nikki' Cover Were Misquoted, Claims His Ex-Assistant