Taylor Hawkins Said He Didn't Sleep for Three Days After Seeing Queen Perform for the First Time
Taylor Hawkins said he didn't sleep for three days after seeing Queen perform for the first time in the 1980s. The concert had a big impact on him.
When Foo Fighters drummer Taylor Hawkins was a kid, he worshipped Queen and their music.
At 10, Hawkins' neighbor sat him down behind a drum set and taught him his first lesson. He was a natural. However, Hawkins didn't fully understand what it all meant until he saw Queen play for the first time. Hawkins grew up listening to The Beatles and Bee Gees, but from the moment he saw Queen on stage, he knew he wanted to be in a rock band.
The concert changed the drummer's life. Suddenly he wanted to be Queen's Roger Taylor.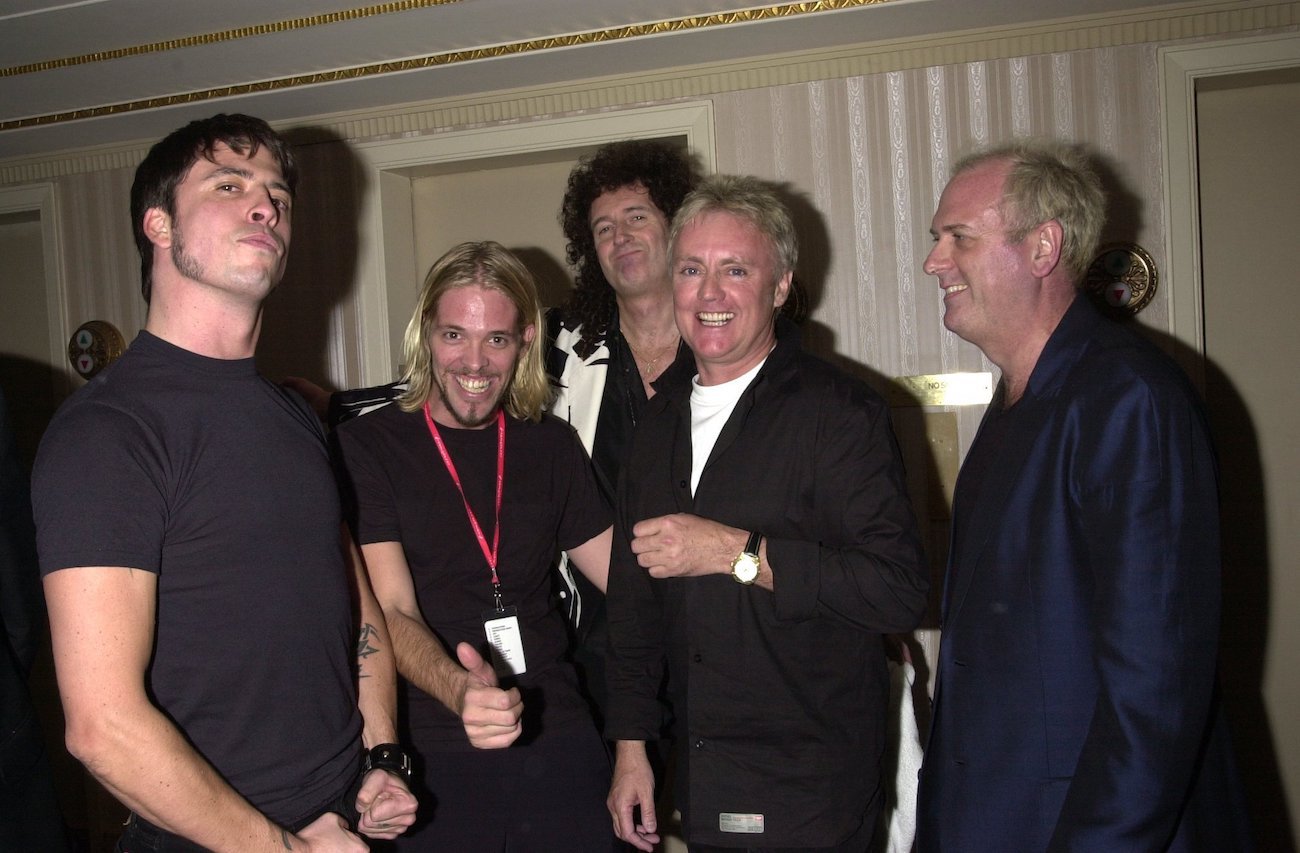 Taylor Hawkins didn't sleep for three days after seeing Queen perform for the first time
Excitement and adrenaline were undoubtedly pumping through Hawkins when he attained tickets to see Queen perform at the newly-built Irvine Meadows Amphitheatre on Sept. 11, 1982.
At the time, Queen was touring North America in support of their newest album, Hot Space. According to Kerrang!, the legendary rock band opened with "Flash" and closed with "We Are The Champions." The concert changed Hawkins' life forever. It impacted him so much that he couldn't sleep for days.
"After that concert, I don't think I slept for three days," Hawkins told Kerrang! "It changed everything, and I was never the same because of it. It was the beginning of my obsession with rock'n'roll, and I knew that I wanted to be in a huge rock band after seeing Queen.
"I was just starting to get into the drums, and [Queen skinsman] Roger Taylor became my hero. I remember telling my mom that I'd play there one day."
Fifteen years after seeing Queen in that life-changing performance and shortly after joining Foo Fighters, Hawkins played Irvine Meadows Amphitheatre like he told his mom he would.
"It's more of a reflective thing where you look back and can say 'I really did play Irvine Meadows like I told my mom I would,' but you really don't think about it at the time. It's hard to stop yourself in the middle of your work and say, 'Hey, smell the roses and enjoy this moment, you've accomplished something very few people do.'
"There's so much in what I do that is beyond hard work – there's luck and timing and just being in the right place at the right time with the right hairdo. I know I'm so fortunate."
Later, Hawkins appeared on Brian May's second solo album 'Another World'
Only a year after joining Foo Fighters, Hawkins had another full-circle moment. He collaborated with Queen's Brian May on his second solo album, 1998's Another World. Hawkins contributed drums on the track "Cyborg."
"It was wonderful," May explained their collaboration on My Planet Rocks. "Not because he was the famous Taylor Hawkins or the famous Foo Fighters, because they weren't famous by then – they were just starting off and they were great in those early days. There was a fantastic sort of raw magic.
"I remember seeing in Brixton Academy blowing the place apart. They didn't seem to take themselves seriously, they just kind of knocked down all the barriers and Taylor was a kid, really. He'd just come out of drumming for Alanis Morissette and he had an opportunity now to do what he really wanted to do, which was to play hard rock (music)."
"So, he was excited to come in and play (on 'Cyborg'). I was excited to have him in there because my god, I hadn't really seen anybody hit the drums like that."
In 2001, Hawkins and Foo Fighters frontman Dave Grohl inducted Queen into the Rock & Roll Hall of Fame. Hawkins said they were his first concert, but every concert since had been a letdown.
The Foo Fighters drummer became close with Queen
Hawkins told Radio X that the first Queen album he attached himself to was the band's live album, Live Killers. He said that Foo Fighters directly ripped off the album's "Keep Yourself Alive" on their song "Rope." Hawkins also told Rolling Stone that Foo Fighters stole Queen's lighting rig once. So Queen's influence has been everywhere in Foo Fighters' history.
Over the years, Hawkins had many more collaborations with members of Queen. In 2019, Roger Taylor collaborated with Hawkins on his solo album, Get The Money, with his band, The Coattail Riders. Taylor sang on a cover of The Yardbirds' "Shapes Of Things."
"I've known him for years," Hawkins told Kerrang! "The original version was by The Yardbirds, obviously, but the song is on the Jeff Beck Group's Truth record, too. We did more of a Jeff Beck version. [Former Sex Pistols guitarist] Steve Jones and Pat Smear played on that, too. Duetting with Roger was awesome."
Hawkins and Taylor became such good friends that the Queen drummer gave Hawkins the snare drum he used during the Freddie Mercury AIDs awareness concert, which recently had its 30th anniversary. Taylor also made Hawkins godfather to his son.
Days after Hawkins' death on March 25, Taylor was honored with an OBE. He dedicated it to Hawkins.