Taylor Hawkins' Wife Thanks Foo Fighters Fans for Support After His Death in Heartfelt Statement
Taylor Hawkins clearly loved music. He didn't fake the energy and enthusiasm he displayed as the Foo Fighters' drummer. Hawkins was an accomplished drummer, but he became a fanboy around his idols. One of those idols, The Police drummer Stewart Copeland, described Hawkins as a big kid, but his tragic death at age 50 on March 25, 2022, robbed music fans of that child-like energy and enthusiasm. Hawkins' wife, Alison Hawkins, released a statement thanking Foo Fighters fans for their love and support after his death ahead of two Foo Fighters concerts that will pay tribute to Hawkins.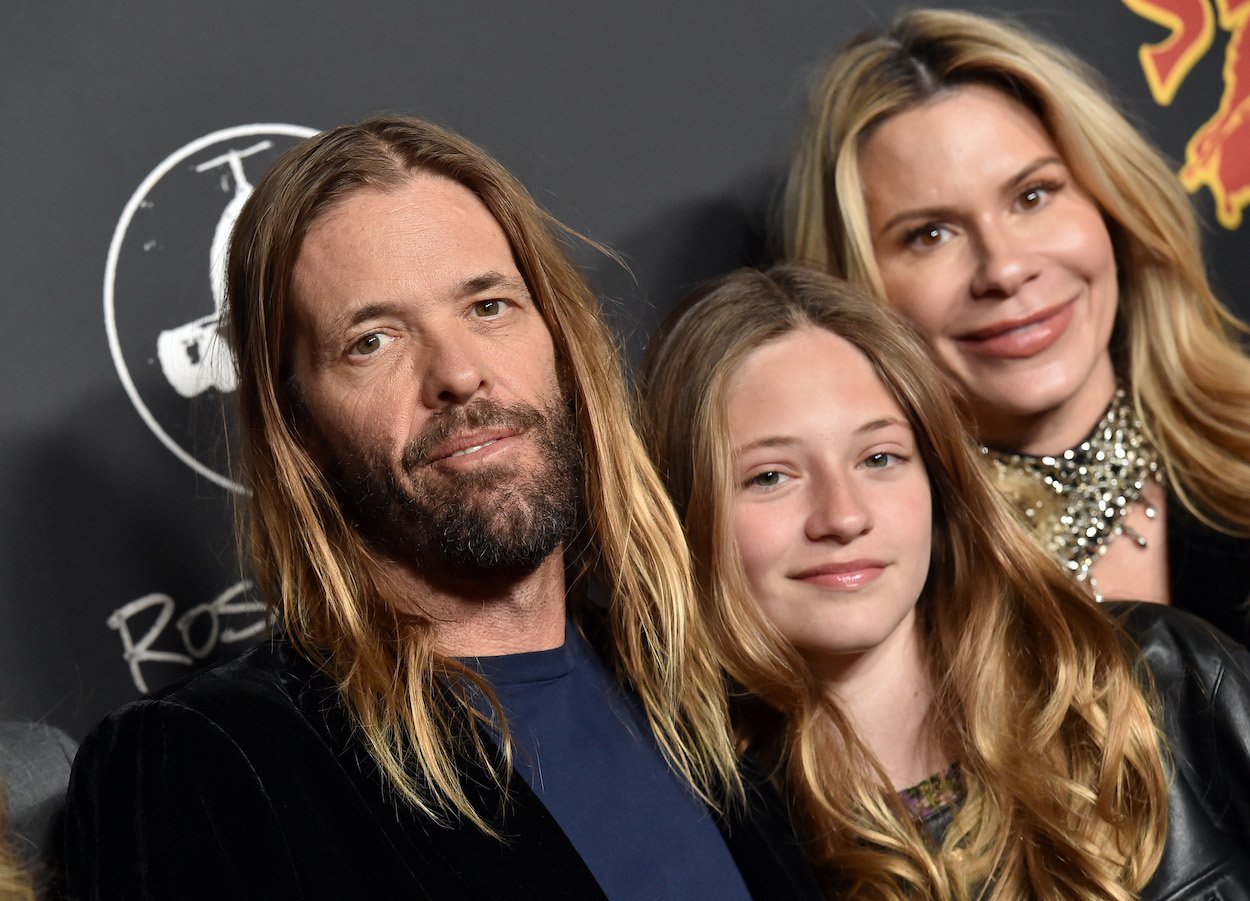 Taylor Hawkins drew inspiration from his wife and their three children
Hawkins' death took away a vital member of a popular band, robbed the world of a talented musician, and left Alison and their three children without a husband and father.
The silver lining is that the Hawkins' family relationship appears to have been a strong one. 
Taylor and Alison married in 2005 and had three children together — Oliver, Annabelle, and Everleigh — but they kept their personal life private, as The Sun reported. However, the drummer explained that the song "I Really Blew It" from the 2019 Taylor Hawkins and the Coattail Riders album Get the Money was inspired in part by his wife.
"There's a song on Get the Money called 'I Really Blew It,' which is for those men who think they can win an argument with their missus!" Hawkins said, per The Sun. "I only speak for myself, but the man will always lose because the woman has the power."
The Sun also reported the song "Middle Child" from the same album was inspired by Annabelle.
Alison Hawkins thanks Foo Fighters fans for love and kindness in a 'time of unimaginable grief' in a heartfelt message
Several weeks after he died, Hawkins' wife sent a message to the "Foo Fighters community and Taylor's fans far and wide."
She thanked them for the outpouring of love, expressing that the kindness and support have been an "invaluable comfort" during a difficult time.
"As Taylor's wife and on behalf of our children, I want to share how much you meant to him and how dedicated he was to 'knocking your socks off' during every performance," the statement reads. "Taylor was honored to be a part of the Foo Fighters and valued his dream role in the band every minute of his 25 years with them. We consider every band member and the extended Foo Fighters team our family."
Alison Hawkins' statement also said Taylor's legacy will live on through his music and collaborations, which fans can celebrate every day.
"Thank you all again for your love and sympathy. Taylor loved all of you & we love you, too. With gratitude, Alison Hawkins," the statement concludes.
Fans have an opportunity to celebrate Hawkins' life and legacy when Foo Fighters honor him with two concerts.
Foo Fighters will play two Hawkins tribute concerts in London and Los Angeles
Foo founder Dave Grohl once said Hawkins demoted himself when he signed on as the Foo Fighters' drummer. The former Nirvana timekeeper described Hawkins as a ​​"brother from another mother, my best friend, a man for whom I would take a bullet" in his 2021 book, The Storyteller, according to the CBC.
Now Grohl and the rest of the Foo Fighters plan to honor Hawkins with two 2022 tribute concerts. The first is Sept. 3 at London's Wembley Stadium, and the second is Sept. 27 at Los Angeles' Kia Forum.
The band will announce the full lineups for the shows soon. Tickets will go on sale on June 17 via the Foo Fighters' website. 
Alison Hawkins wife expressed gratitude for Foo Fighters fans' support after Taylor Hawkins' death. The world will have a chance to see a physical manifestation of that support in September.
For more on the entertainment world and exclusive interviews, subscribe to Showbiz Cheat Sheet's YouTube channel.
RELATED: Taylor Hawkins on the Worst Foo Fighters Song: 'It Was a Total Cop Out'