Taylor Lautner's Girlfriend Has 1 Huge Thing in Common With Taylor Swift
Taylor Lautner and Taylor Swift had a brief but memorable romantic affair back in 2009. Now, Lautner has a new girlfriend and, clearly, the 'Twilight' actor has a type.
It's been over a decade since Taylor Lautner and Taylor Swift were romantically linked, but that doesn't mean fans have completely forgotten about the couple. Though Lautner never publicly called Swift his girlfriend, fans of the Twilight alum and the folklore artist were certain that the pair were seeing each other. But why did fans think they were together?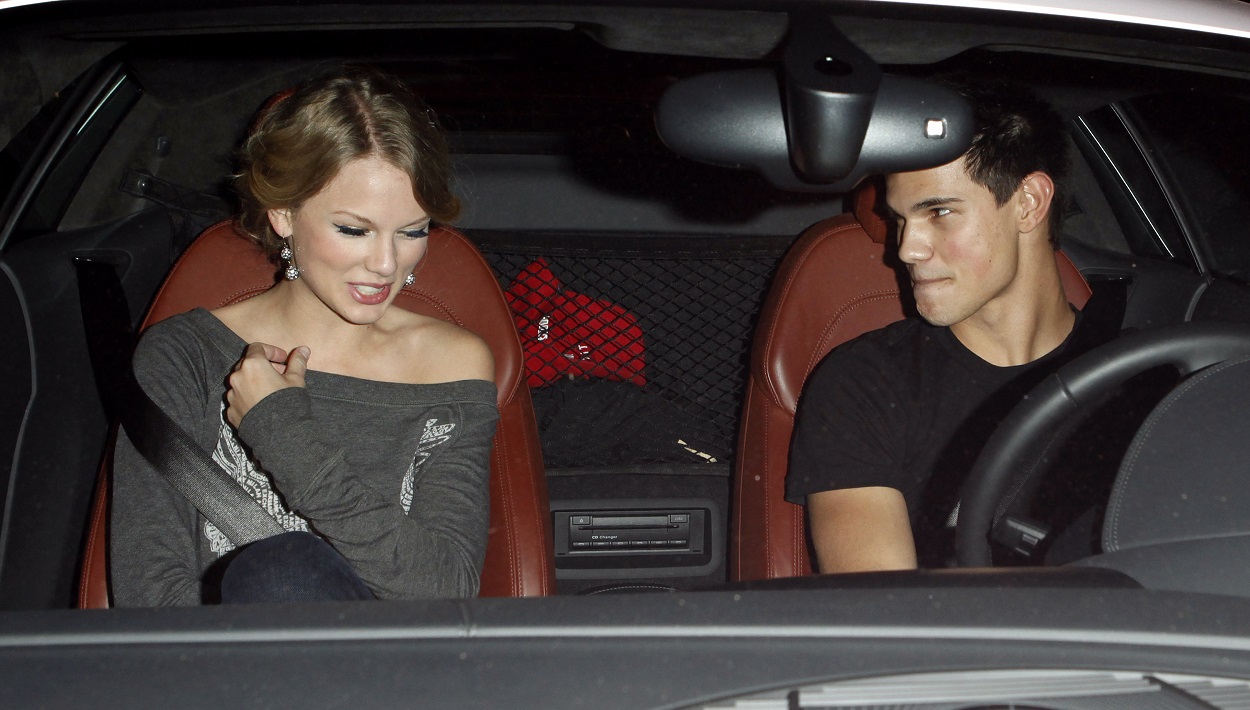 Back in 2009, Swift and Lautner both starred in a romantic comedy called Valentine's Day. In the film, the Fearless (Taylor's Version) artist played Lautner's girlfriend and fans couldn't help note that they had natural chemistry. When they were photographed by the papparazzi spending time together off set, dating rumors being to swirl.
Taylor Lautner and Taylor Swift were pretty tight-lipped about their romance
Still, Lautner remained tight-lipped about his possible courtship with Swift. When he was interviewed by Collider about what was happening between himself and Swift, he played things pretty coy. "Well, the very funny thing is that all of you have seen every single move I make so I guess I can leave that up to you to decide," Lautner shared.
But after Lautner appeared on SNL and referenced wanting to defend Swift after Kanye West infamously interrupted her the VMAs, fans seem to take it as confirmation that they were in a relationship. However, the relationship was fairly short-lived and after a few months, the couple's romance seemed to have fizzled out. Still, diehard Swifties are convinced that Swift's song "Back to December" is about Lautner.
The 'Twilight' actor's girlfriend shares a similarity with Swift
Naturally, many fans of the Eclipse actor were upset when the couple broke things off. A lot of people loved that the pair shared the same first name. Fans would often declare that if Lautner and Swift ever got married, and Swift changed her last name, she too would be Taylor Lautner. Funnily enough, Lautner's current girlfriend shares a huge similarity with Swift.
Lautner has been dating his current girlfriend since at least 2018. The pair are constantly posting one another on social media and seem to be very happy together. Coincidentally, Lautner's current girlfriend is also named Taylor. A nurse and vlogger, Taylor Dome, shares her life with her followers.
Lautner shows his love on Instagram
"Happy Birthday to this human from another planet," Lautner recently wrote about his girlfriend in an Instagram post for her birthday. "You are the most amazing soul I've ever had the honor of knowing. I strive to be more like you every day. This is going to be your best year yet and I can't wait to experience it with you. Love, boy Tay." Clearly, Lautner has a thing for Taylors. Only time will tell if Dome will eventually become Taylor Lautner as well.