Taylor Swift's BFF Todrick Hall Attacks Kim Kardashian West After Drama Over Leaked Call Unfolds
Taylor Swift's BFF Todrick Hall definitely has her back. In a series of now deleted Instagram Story posts, Hall took aim at Kim Kardashian West's response to Swift's comments about the leak of her full 2016 phone call with Kanye West. Bottom line? Hall is not a fan of Kardashian West or the rapper and went off in an NSFW rant.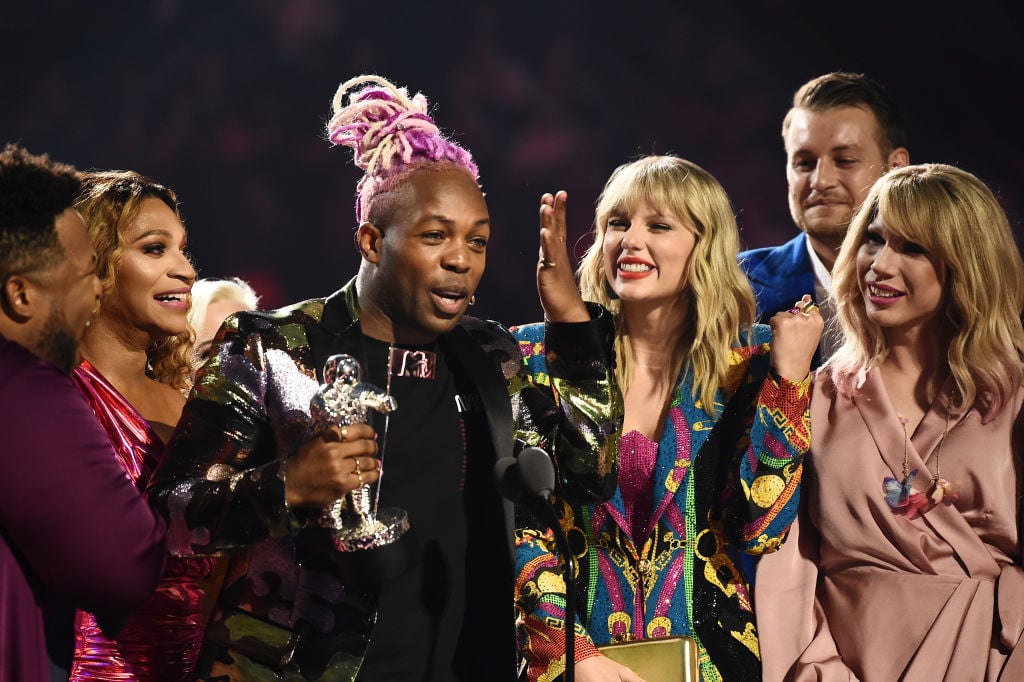 Swift responded to the leak
After the full phone call between Swift and West discussing his song "Famous" painted a very different picture than the previously edited version of the call, both the singer had something to say.
Swift took to her Instagram Story to make a brief comment on the matter (and shade West, of course) before shifting the focus to asking her followers to donate to coronavirus (COVID-19) relief funds.
"Instead of answering those who are asking how I feel about the video footage that was leaked, proving that I was telling the truth the whole time about *that call* (you know, the one that was illegally recorded, that somebody edited and manipulated in order to frame me and put me, my family, and fans through hell for four years)… SWIPE UP to see what really matters," she wrote. She then shared a link to organizations helping during the coronavirus outbreak.
Kardashian West had her say about the leaked call
Kardashian West couldn't let it slide and had plenty to say on the matter as well, calling Swift a liar and saying that she was embarrassed to even have to address the situation.
"I didn't feel the need to comment a few days ago, and I'm actually really embarrassed and mortified to be doing it right now, but because she continues to speak on it, I feel I'm left without a choice but to respond because she is actually lying," the reality star tweeted and shared on her Instagram Story. "To be clear, the only issue I ever had around the situation was that Taylor lied through her publicist who stated that 'Kanye never called to ask for permission…' They clearly spoke so I let you all see that. Nobody ever denied the word 'b**ch' was used without her permission."
She continued, "At the time when they spoke the song had not been fully written yet, but as everyone can see in the video, she manipulated the truth of their actual conversation in her statement when her team said she 'declined and cautioned him about releasing a song with such a strong misogynistic message. The lie was never about the word b**ch, It was always whether there was a call or not and the tone of the conversation."
Hall went off and called out Kardashian West
Hall clearly cares about his friend, based on his response to the drama. "I cannot stand this woman!," he wrote, adding, "Kim Kardashian posted these on her Story and is clearly, still missing the point."
He continued: "1. Taylor didn't reignite anything, Kris [Jenner] probably leaked this footage her damn self. 2. After your Ray J video and publicly documenting every crevice of your vagina … I HIGHLY doubt that you're embarrassed NOW to respond to this. 3. Just apologize, you self-absorbed, entitled little queef."
He wasn't done, however, adding, "She was CLEARLY uncomfortable with the situation & after you publicly embarrass someone TWICE on national television, I think these calls should be going through management or some legit form fo professional contact."
Hall had more to get off his chest, in part explaining: "1. No one would ever give permission without ever hearing the song. If they had time to shadily record all this footage, they had time to shoot over an email with the finished product for approval once the song was done."
"2. They failed to mention they were going to have a life sized nude figure of Taylor in the bed with Kanye in the video," he continued. "You want to make Taylor and Kim naked in the video but not himself, show those cakes Kanye if you're going to force the women in your video to be naked. Double standards and just shady boots dot com."