Taylor Swift Considered Quitting Music for This Heartbreaking Reason
It's been a phenomenal Summer for Taylor Swift. With the release of her seventh studio album, Lover, the first album which Swift fully owns, the musician has shattered records worldwide. Not to mention she has been constantly in the press, scoring the coveted September issue of Vogue and gracing the cover of Rolling Stone. Calling Lover's release, one of the best weeks of her life, Swift seems to be on top of the world these days. But, Swift remembers all too well a time where she felt anything but happy.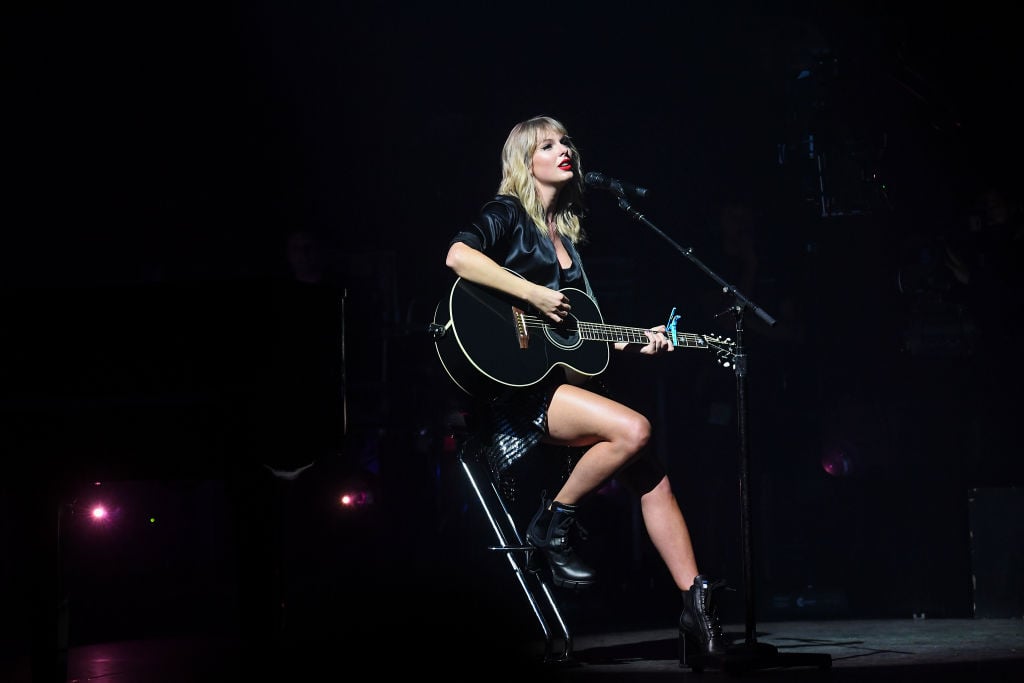 Summer of 2016
"This Summer is the apocalypse," Swift penned in her journal in the Summer of 2016. (Bits and pieces of her journals from over the years are available for fans to read via the deluxe editions of Lover.) At the time, the songstress was going through a very public feud with Kanye West and his wife Kim Kardashian West and, as a result, people were spewing tons of hate her way. Twitter erupted with memes and gifs of Swift being "canceled" and people seemed to take pleasure in the fact that Swift had finally fallen from grace.
Swift considers quitting the music industry
Eventually, Swift stopped trying to defend herself, got quiet, and stepped out of the spotlight for quite some time. However, Swift recently opened up about this dark period in her life. In fact, she felt the situation was so dour that she seriously considered quitting the music industry altogether. In a recent interview with Rolling Stone, Swift confessed how close she came to throwing in the towel on her music career.
"I definitely thought about that a lot. I thought about how words are my only way of making sense of the world and expressing myself — and now any words I say or write are being twisted against me. People love a hate frenzy. It's like piranhas. People had so much fun hating me, and they didn't really need very many reasons to do it. I felt like the situation was pretty hopeless," the 29-year-old shared.
Coping mechanisms
The "False God" artist then went on the share just how she managed to cope with the mass hate she was receiving. "I wrote a lot of really aggressively bitter poems constantly. I wrote a lot of think pieces that I knew I'd never publish, about what it's like to feel like you're in a shame spiral. And I couldn't figure out how to learn from it. Because I wasn't sure exactly what I did that was so wrong," Swift admitted, not understanding how things went awry so quickly.
Self-examination
But this wasn't an easy process, Swift admitted it took some deep self-reflection to try to understand how her world got turned upside down. "That was really hard for me, because I cannot stand it when people can't take criticism. So I try to self-examine, and even though that's really hard and hurts a lot sometimes, I really try to understand where people are coming from when they don't like me. And I completely get why people wouldn't like me. Because, you know, I've had my insecurities say those things — and things 1,000 times worse," the singer confessed.
A new age
We can only imagine the life of a well-known celebrity has no small amount of challenges. It's great that Swift was able to use her pain and heartache and pour it into her artistry. It obviously worked out for her, as the Reputation tour remains the highest-grossing tour in U.S. history. While Swift has made several errors in years past (and who wouldn't after being in the spotlight for so long), we're glad she decided to stick out her tough times and continue with music. We're certain that she has more hits in store for her millions of fans.