Taylor Swift Defends Bebe Rexha Against Ageist Comments; "Drag Them"
Bebe Rexha recently called out a music executive for ageist and sexist comments on Instagram. Now Taylor Swift is defending the songwriter.
It may be 2019, but sexism and ageism are still alive and well, especially in the entertainment industry. The most recent example comes from Bebe Rexha. Rexha made headlines today after she called out a male music executive who told her that she was too old to be posting sexy pictures of herself on Instagram. Fans of the songwriter were absolutely outraged by the audacity of the executive and instantly defended Rexha. Among her defenders was another famous 29-year-old songwriter, Taylor Swift.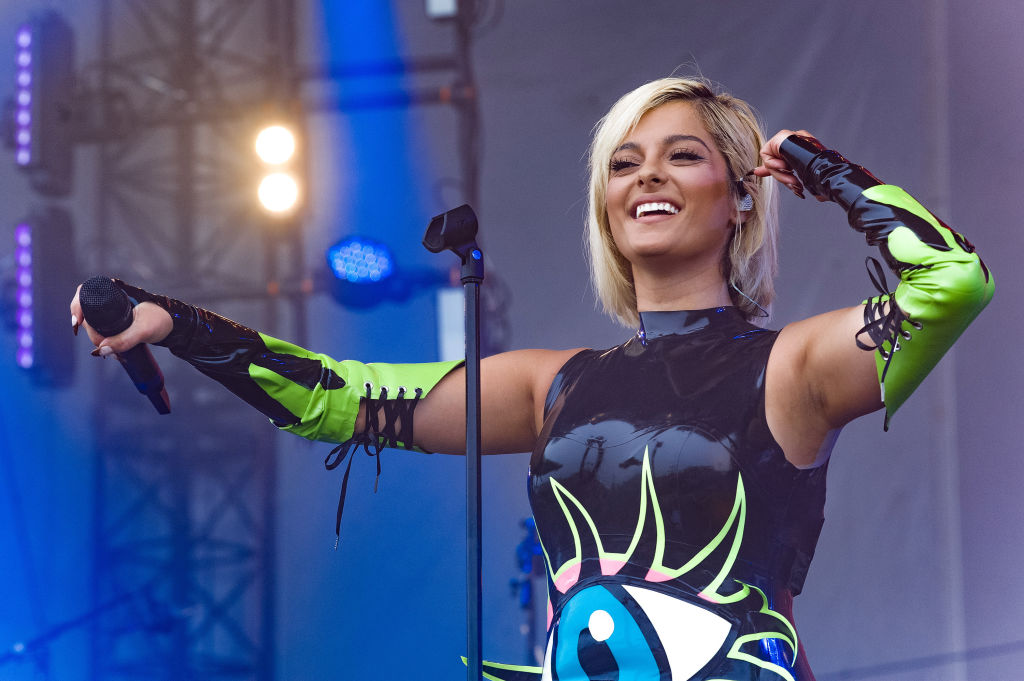 Rexha calls out sexism and ageism on Instagram
Yesterday, Rexha took to her Instagram page to post a sultry picture of herself in a bra and panties. In the photo, she is staring at herself in what appears to be a bathroom mirror and pouting her lips. The songwriter then used the caption to launch into a story of the sexism and ageism she experienced. "I recently had a MALE music executive tell me that I was getting too old and that my brand was "confusing." Because… I'm a songwriter and I post sexy pics on my Instagram and that's not what female songwriters are supposed to do, especially for my age. I'm 29," the singer began.
Rexha is proud of her age
Rexha continued on to express her disdain for the way women are treated in the industry, especially in regards to their looks. "I'm fed up with being put in a box. I make my own rules. I'm tired of women getting labeled as "hags" when they get old and guys get labeled as sexy with age. Anyways, I'm turning 30 on August 30 and you know what, I'm not running away from it. I'm not gonna lie about my age or sing songs that I feel will sell better because they sound "younger." I'm gonna celebrate my age because you know what, I'm wiser, I'm stronger and TRUST ME I'm a much better lover than I was 10 years ago," the 29-year-old stated adamantly.
Of course, fans immediately threw their support behind Rexha and her empowering message. Thus far, the post has already has garnered over 1.2 million likes and over 24,000 comments. Other celebrities were quick to cosign Rexha also. "My sexy songwriting Queen You are beautiful, getting sexier with age and your talent SINGS for itself. Keep making those rules," singer, Rita Ora, commented on the post. But perhaps the most famous celebrity to openly show their support has been none other than Taylor Swift.
Taylor Swift shows Rexha her support
"DRAG THEM. 29 YEAR OLDS UNITE," the "Lover" singer commented enthusiastically, under Rexha's post, signing off with copious amounts of heart emojis. This is not the first time that Swift (whole also turns 30 later on this year) has shut down the media for deigning to place strangely stereotypical expectations on her because of her age and gender.
Earlier this year, the singer shut down a reporter who asked the singer if she was planning to settle down and have kids in the preparation of her 30th birthday on December 13th. "I really don't think that men would be asked this question when they turn 30 So I'm not going to answer that now," the 29-year-old said expertly.
Age ain't nothing but a number
Kudos to both of these talented musicians for standing up against ageist and sexist remarks. It's a shame that there are some people who believe that 29 is too old for a woman to show off her body. Sexiness and confidence don't equate to any specific age and women should be free to express both at any stage in their life. We wish Rexha a happy early, golden birthday and hope she continues pissing off stupid music execs by posting any sexy pictures she wants.