Taylor Swift Dispels Rumors of a Feud With Ariana Grande Ahead of International Women's Day 2020
Pop star feuds bring out some of the hottest gossip on the internet. But let's be real — most of the time, they're way overblown. Taylor Swift has had her fair share of these, but even her long-standing beef with Katy Perry appears to be over. As for her status with another one of the biggest names in the game, Ariana Grande, here's what we know.
Taylor Swift and Ariana Grande have gotten along in the past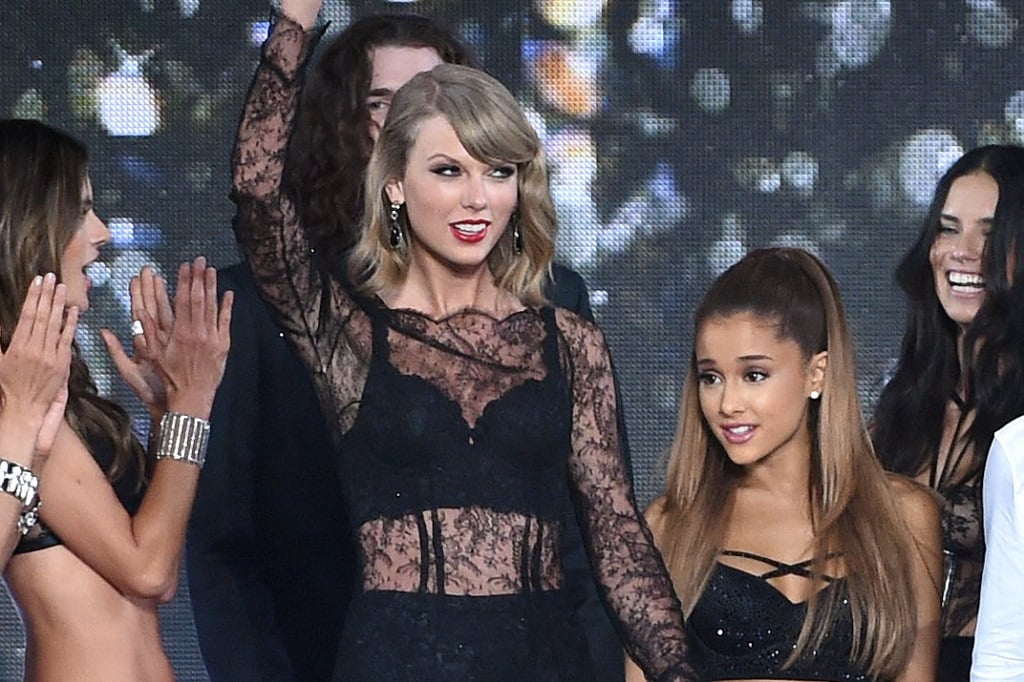 Grande and Swift aren't known for being enemies. They just haven't spent very much time together. Aside from both performing at the 2014 Victoria's Secret fashion show and a few scattered run-ins at award shows, they just don't seem to run in the same circles. And there's nothing wrong with that.
But both have been kind to one another online. In 2015, Grande tweeted about sexist double standards and how she wants the media to focus more on her music than her love life. Swift was definitely on board with this message, as anyone whose heard her songs "Blank Space" and 'The Man" can attest.
Grande even joked about joining her 'girl squad'
Speaking of female empowerment, for years, Swift surrounded herself with a group of women who became known as her "girl squad." Comprised of models like Karlie Kloss and Cara Delevingne, as well as fellow singers such as long-time friend Selena Gomez, it soon became a popular topic of conversation within the music industry.
In 2016, Grande was asked in an interview if she's want to be a part of the "squad." She said that "would be so crazy," adding, "All those girls are really nice. I would just be so down." So we can assume, at this point, that though Grande never became a member, she and Swift were on good terms.
Did Grande call Swift out for not being vocal about politics?
The relationship between Grande and Swift remained positive through 2017, when Swift was among those who reached out with a kind message after the Manchester Arena bombing during Grande's May 2017 concert. However, in 2018, the Thank U, Next artist was thought to have called out Swift, if inadvertently.
In an Elle cover story, the writer calls out Swift's reluctance to speak about politics in comparison to Grande, who said, "Not everyone is going to agree with you, but that doesn't mean I'm just going to shut up and sing my songs." For her part, Swift has since addressed her silence during that time, and has backed Democratic candidates as well as spoken out on specific issues in the last two years.
Swift is in a feud with Grande's manager
For the record, we don't believe Grande necessarily has it out for Swift, or vice versa. However, in 2019, the tables turned, and Swifties felt that Grande was the one remaining silent on an important issue. Specifically, that of Swift's master recordings.
Swift's feud with Scooter Braun has been well-documented, so there's no need to rehash it, beyond stating that he is the Grande's manager. Some felt that Grande should have used her position as Braun's client and a woman in music to advocate for Swift as she asked to buy back her masters. But Grande hasn't chimed in.
She shared a positive message in 2020
Despite Grande's lack of support on that issue, Swift doesn't appear to have any ill will towards her. On March 5, 2020, Spotify revealed the most-streamed female artists on its platform. And Swift, who was No. 2 on the list, shared the top five in her Instagram Story, writing, "I love these ladies!!!"
Billie Eilish, who Swift shared a moment with at the 2019 Billboard Women in Music Awards, is No. 1, while Grande comes in at No. 3. The final two slots are taken by Halsey and Camila Cabello, respectively. And we know how Swift feels about them, as she brought them onstage during her 2019 AMAs performance. Given the evidence, we think Grande and Swift are just fine.