Taylor Swift vs. Donald Trump: Every Time the Singer Has Pushed Back Against the President
Pop star Taylor Swift has been a part of many feuds within the music industry. But aside from music manager Scooter Braun, her current most notable adversary is Donald Trump. Here's a look at the times she's called him out, from subtle digs to her straightforward tweet.
The 2019 MTV Video Music Awards 
After supporting Democratic candidates in her home state of Tennessee, Swift's next move was to take things to a national level. The first time she notably called out Trump was when Swift accepted the Video of the Year award at the MTV VMAs for her second Lover single, "You Need to Calm Down."
The music video included a link to the petition for the Equality Act, which Swift addressed in her speech. Specifically, she noted the number of signatures it earned, which was "five times the amount that it would need to warrant a response from the White House." Swift then tapped her wrist, seemingly asking where that response was.
In interviews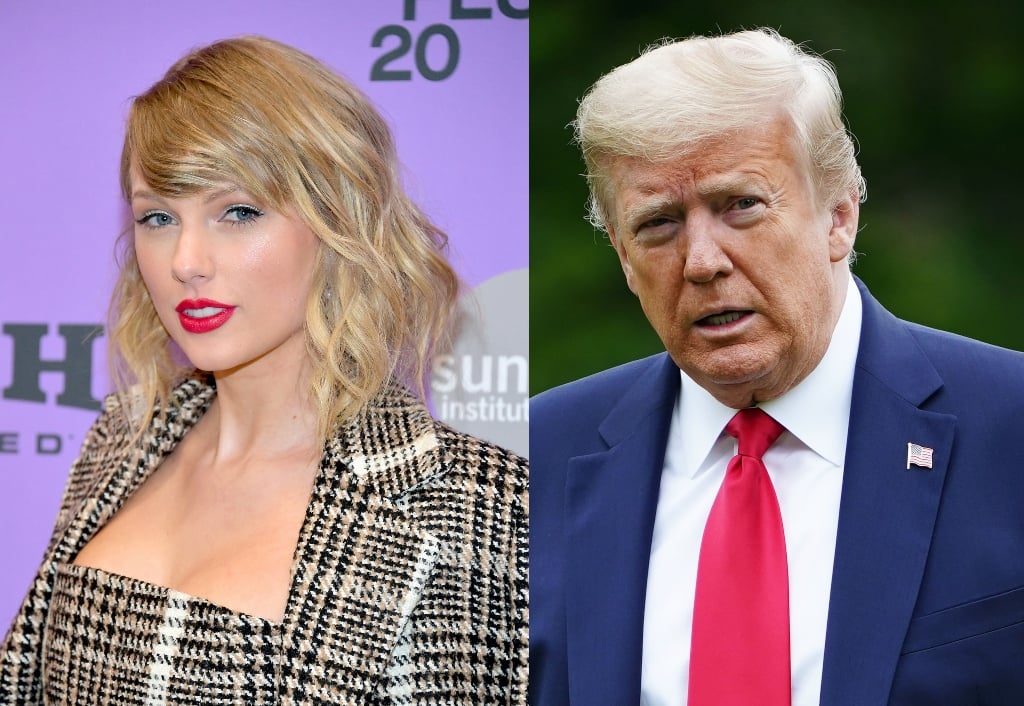 Around this time, Swift also began to talk about Trump in interviews. She told the Guardian in August 2019, "I really think that he thinks this is an autocracy." And in her Vogue cover story, she called him "a political opponent who was weaponizing the idea of the celebrity endorsement." But it was when she broke down the lyrics to her Lover track "Miss Americana and the Heartbreak Prince" that she revealed her feelings about him.
"I have that line 'I see the high-fives between the bad guys' because not only are some really racist, horrific undertones now becoming overtones in our political climate, but the people who are representing those concepts and that way of looking at the world are celebrating loudly, and it's horrific," she told Rolling Stone in another September 2019 interview.
In 'Miss Americana'
For a long time, Swift kept her political views under wraps. This is explored further in the documentary Miss Americana, which debuted on Netflix in 2020. The audience sees her decide to speak out against Marsha Blackburn, a staunch Trump supporter ahead of the 2018 midterm election. And she alludes to Trump and his administration while explaining her choice.
Swift's dad proposes a headline to her: "Taylor Swift comes out against Trump." "I don't care if they write that! I'm sad that I didn't two years ago, but I can't change that, she responds. She adds of her decision to support Blackburn's opponent, Phil Bredesen, "I need to be on the right side of history."
When she tweeted at him in 2020
If there was any doubt of Swift's feelings against Trump, she made them perfectly clear in a May 2020 tweet. In response to Trump's flagged Tweet about sending the military in to control protests following George Floyd's death, Swift tweeted the following:
"After stoking the fires of white supremacy and racism your entire presidency, you have the nerve to feign moral superiority before threatening violence? 'When the looting starts the shooting starts'??? We will vote you out in November," she ended it by tagging the president himself. There's no more hesitation here: Swift hates Trump.