Why Taylor Swift Fans Think Her 'Red (Taylor's Version)' Announcement Is 'Unhinged'
Since Taylor Swift dropped her first re-recorded album, Fearless (Taylor's Version), her fans have been eagerly awaiting the next announcement. She revealed that Red (Taylor's Version) is up next. But an Easter egg involving the release date led to some calling the artist "unhinged."
Taylor Swift announced 'Red (Taylor's Version)' in June 2021
After months of waiting, Swift fans finally got the announcement they'd been waiting for. "The next album that I'll be releasing is my version of Red, which will be out on November 19. This will be the first time you hear all 30 songs that were meant to go on Red. And hey, one of them is even ten minutes long," she added, referring to fan-favorite track "All Too Well."
For those who don't know, Swift began re-recording her first six albums in late 2020. She chose to do so after music manager Scoot Braun, who purchased her master recordings with the sale of her former label, Big Machine Records, refused to sell them to her. By re-recording and releasing, the artist hopes fans will only play the new versions of her songs.
Her fans identified a pattern in her announcements
RELATED: Did Taylor Swift Tease Her Next Re-Recorded Album During Her iHeartRadio Music Awards Appearance?
As with her past re-record announcements and drops, Swift revealed the upcoming date for Red (Taylor's Version) on a Friday. (Specifically, Friday, June 18, 2021, which several fans pointed out was Braun's 40th birthday, wondering if maybe it was a dig at him). And quickly, Swifties noticed a pattern.
A photo shared by Twitter user @SOURtoBurn (with credit to @idkjustworkhere for the idea) includes a chronological list of dates: Fearless (Taylor's Version) announcement on February 11, its release on April 09, Red (Taylor's Version) announcement on June 18, and its release date on November 19.
Listed in chronological order, the last digit of those dates reveals another number: Swift's birth year, 1989, which is also the name of her acclaimed fifth studio album. "ummm…blondie is truly unhinged," the fan wrote. "the announcement and release dates just line up that well?"
Swift's given hints surrounding '1989 (Taylor's Version)'
Notably, this isn't the first time Swift's hinted that 1989 (Taylor's Version) is on its way. She's planted Easter eggs throughout various social media posts, performances, and appearances made over the past couple of years. A photo of a slice of New York pizza during an interview with Stephen Colbert, for instance, led fans to look to her NYC-focused album as the next on the docket.
Because Swift released her first Album of the Year Grammy-winning album first, many thought her second one would come next. (With 1989, the musician earned the coveted award for the second time. She did it again with her 2020 album, Folklore.) So the Red announcement surprised some.
How some fans knew 'Red' was coming first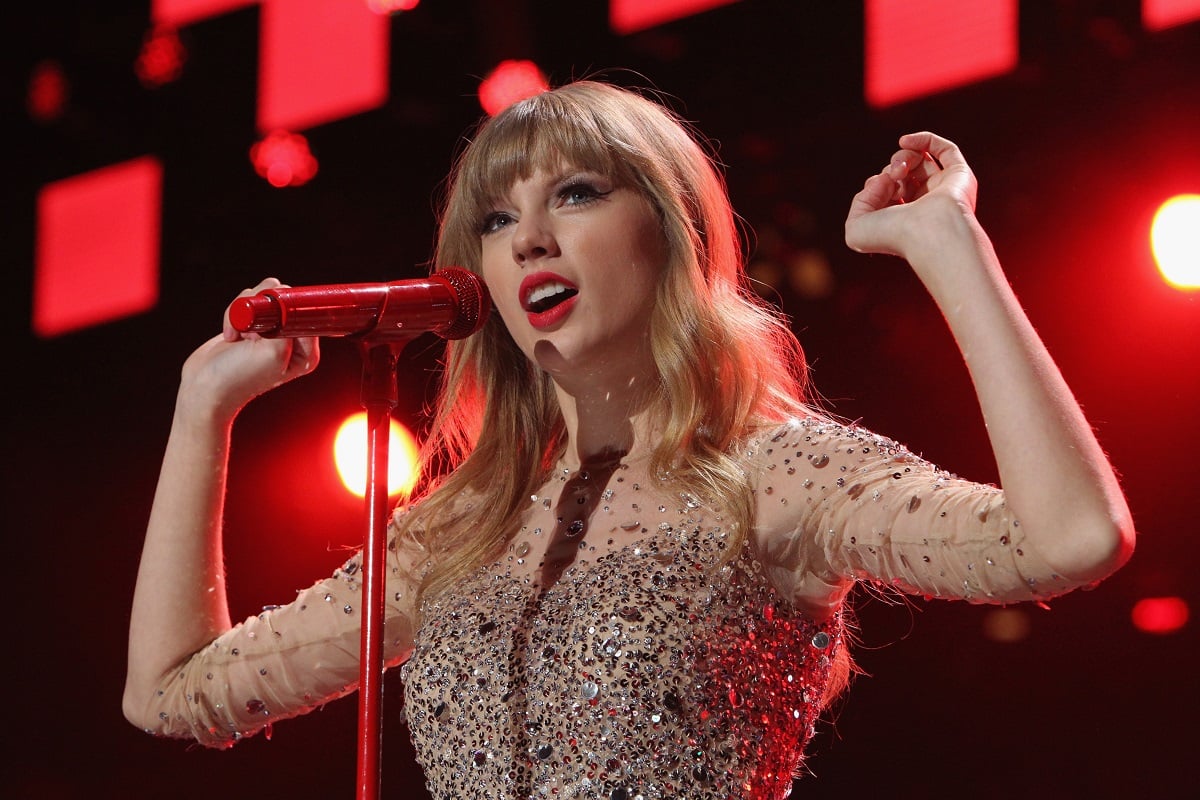 RELATED: How Taylor Swift Responded to the Scooter Braun Feud At the 2019 AMAs
Though 1989 remained a contender to follow Fearless (Taylor's Version), other theories pointing to Red held firm. In fact, one of the earliest regarding her re-recorded album release order, dating back to 2019, may have been the key to solving this puzzle all along.
At the 2019 American Music Awards, Swift performed a medley of old and then-new songs. She went from Lover single "The Man" to "Love Story" (from Fearless) to "I Knew You Were Trouble" (from Red). Keeping with this pattern, 1989 should be next, as she then performed its single "Blank Space."