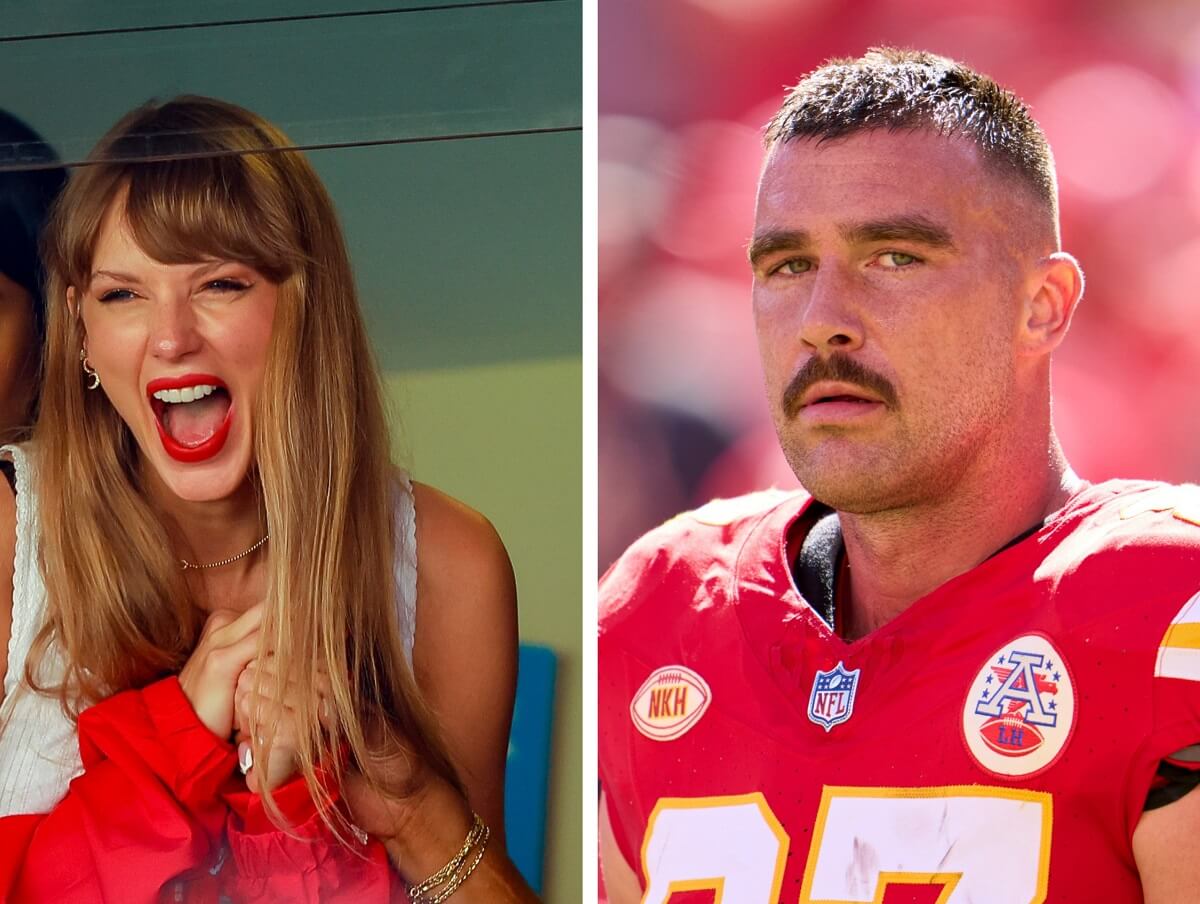 Taylor Swift Fans Are Trolling Their Husbands Over Travis Kelce With This Hilarious Prank
These men were totally shocked listening to their wives talk about what Taylor Swift is doing for Travis Kelce after they sparked dating rumors.
All anyone wants to talk about these days is the rumored relationship between pop superstar Taylor Swift and NFL tight end Travis Kelce. The "Anti-Hero" singer caused quite a stir when she was spotted at a Kansas City Chiefs game cheering on the athlete alongside his mother.
When that news circulated online, Swifties everywhere did what some of them wouldn't normally do and tuned in to the football game. In the weeks to come they may be more interested in the sport for that reason, and many of the star's fans are having a little fun with their football-loving husbands over Kelce and Swift's potential romance. Here's the hilarious prank being pulled on their spouses' and the reactions they got.
Husband left stunned in Travis Kelce-Taylor Swift prank video
So if you're a Swiftie and don't know much about football, you might start following a certain team and player now that the "Love Story" songbird may have found her Romeo. And if you're a Swiftie, who already knows all about the hitmaker's potential love interest, you can still give everyone a good laugh by pranking your husband. Some Swifties are doing just that by taking to TikTok and posting videos in which they tell their partners how much the "Blank Space" artist is "helping" the eight-time Pro Bowler with his career and publicity.
In one TikTok video titled: "It was way too easy to get him going with this," a woman named Kelley starts talking to her husband about Swift dating Kelce. Kelley explains that she thinks it's "awesome" that Swift is going to "help him get his career going" and "put him on the map."
She continues saying that no one knew who Kelce was until Swift went to the game. The man is truly stunned and responds by asking her: "Oh his career didn't explode when he was winning Super Bowls before?!"
The video has garnered over 17,000 comments and more than 600,000 likes and counting.
Some commenters noticed that the man in the clip appeared offended for Kelce. He even told his wife never to repeat what she just said ever again, as he was embarrassed for her even thinking such a thing.
Husband left speechless in Travis Kelce-Taylor Swift prank video
In another TikTok video, which has garnered thousands of likes and hundreds of comments a woman secretly records her hubby's reaction to how she pretends to about Swift and Kelce possibly dating.
The man in this video can't believe it when she says that the Chiefs player is "going to have a career now because of [Swift]" and asks her: "What are you talking about?!"
They go back and forth as the woman's husband tells her Kelce doesn't need Swift's help because "Homie is already on the map … he's like the best tight end in the NFL." She then opines that the athlete is "a C celeb" who could "probably become a B celeb now" thanks to "A celeb" Taylor Swift. At that point, the man is left speechless.
Of course, these were just pranks and anyone who knew of Kelce before he was linked to Swift knows that he doesn't need any extra "publicity" or "help" as the two-time Super Bowl champ is and has been an absolute beast on the field for years. However, there's no denying two facts: Kelce's jersey sales have jumped 400% since Swift attended the Chiefs game on Sept. 24, and the game's broadcast had the highest female audience for ages 12-17 and 18-49 of any program that week.