Is Taylor Swift Friends With Billie Eilish?
Taylor Swift has a few celebrity friends in her 'squad.' She's even shown her love and support for the singer behind 'Bury a Friend,' Billie Eilish.
Taylor Swift has a "reputation" for having a "squad" of celebrity friends, including Selena Gomez and Halsey. She also has a reputation for supporting younger artists throughout their musical careers, recently posing for a picture with Olivia Rodrigo. 
Is Billie Eilish friends with the "You Need to Calm Down" singer? Here's what we know about the relationship between these Grammy Award-winners.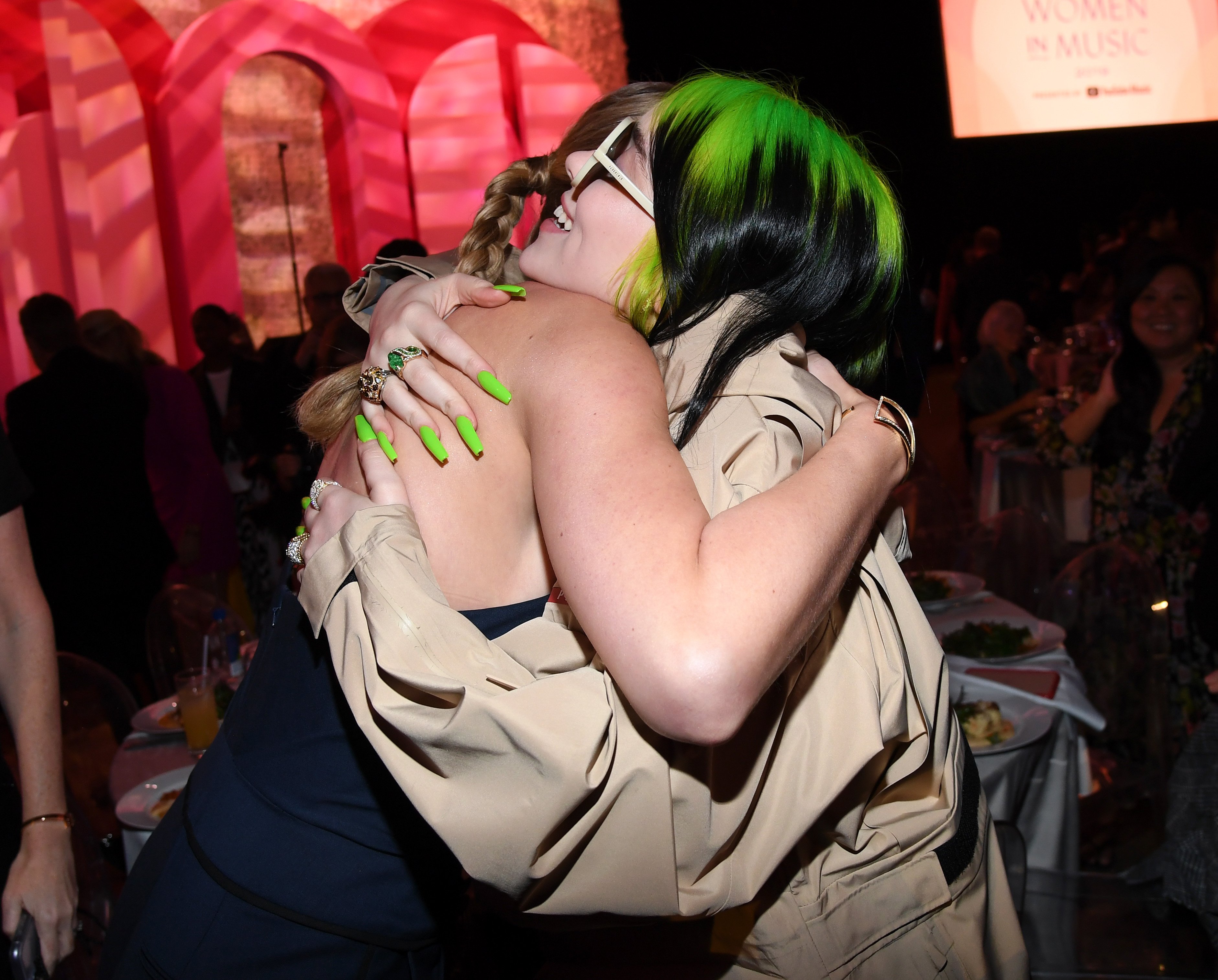 Billie Eilish is an unapologetic fan of Justin Bieber and artists like Taylor Swift
She's the performer behind songs like "Everything I Wanted," "My Future," and "Ocean Eyes," taking home several awards during the 2020 Grammy Awards.
Eilish is a Grammy Award-winning artist herself, but the "Bury a Friend" singer often shares her love for other performers. That includes Justin Bieber, who even appeared on a remix of her song "Bad Guy." 
During one interview with Billboard, Eilish shared her love for old-school Swift music. That includes songs from her self-titled album, released in 2006. 
Are Taylor Swift and Billie Eilish friends?
These are both Grammy Award-winning artists with millions of streams on the music platform Spotify. Although they've never collaborated before, Swift and Eilish have met on several occasions.
At Billboard's Women in Music event in Los Angeles, the two hugged it out. At later award ceremonies, including the 2021 Grammy Awards, these two cheered for each other. However, it's unclear if there will ever be a collaboration between the performers.
This wouldn't be the first time Swift supported a younger artist. When Rodrigo released her song "Drivers License," Swift shared love for her music on social media. Eventually, the two met up and posed for a picture together, posted to Rodrigo's Instagram account.
Some of the people in Swift's closest circle include Jack Antonoff, Halsey, Selena Gomez, and according to Capital FM, Ryan Reynolds. Eilish's circle includes her brother, Finneas.
Billie Eilish was a fan of Taylor Swift since she was a child
A few years separate these artists. Swift was born in 1989 and released some of her early music during 2006. Eilish was born in 2001, making her about 12 years younger than the "Love Story" artist. 
"I used to love ['Picture to Burn' by Taylor Swift] when I was like 4, no, probably older than that. Probably like 6," Eilish said during an interview with Billboard.
"It's crazy. It's very country," Eilish continued. "When I listen to it now, I'm like, wow. I totally didn't realize how country this was. But I loved this song back then because I thought it was so bad-ass. I thought it was so cool and mean. I just loved it."
Music by Taylor Swift, including the song "Picture to Burn," and music by Billie Eilish is available for streaming on music platforms like Spotify and Apple Music.