The Real Reason Taylor Swift Put Katy Perry In 'You Need To Calm Down'
Taylor Swift is back at it again. The 29-year-old songstress released her new music video for You Need To Calm Down earlier this morning on Good Morning America. The song has been sitting at number one on both Apple Music and Spotify, but the music video has taken it to the next level. The star-studded video features countless celebs, from Ryan Reynolds to the cast of Queer Eye, to Todrick Hall. But, perhaps the most surprising cameo was made by none other than Katy Perry. But what's the real reason that Perry was in the video to begin with?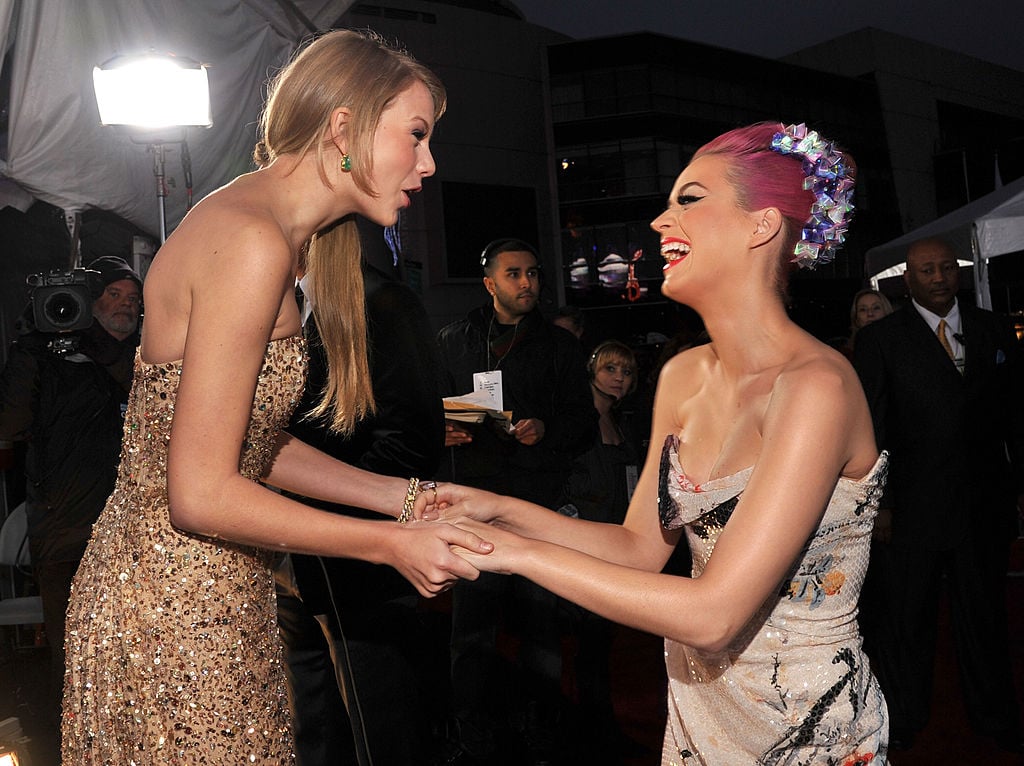 Bad Blood
We can't forget that back in 2015, Swift and Perry were in a massive feud. Having been friends in the past, the two experienced a very public falling out. The culmination of the feud resulted in the production of "Bad Blood", which Swift wrote about Perry. Similar to "You Need To Calm Down", Swift created a video filled to the brim with famous faces and later received a GRAMMY award for Video of the Year. 34-year-old Perry famously wrote a response on Twitter stating "Beware of the wolf in sheep's clothing" confirming to fans that she was, in fact, the subject of Swift's wrath.
Katy Perry
But despite the bad blood, the two pop stars seem to have made amends. Perry left the Internet shook when she posted pictures of homemade cookies that were labeled "peace at last" and tagged Swift. This proved to fans that the two had finally worked out their differences. But, Swit always has a trick up her sleeve. She surprised fans by not only including Perry in her new music video. but also making her a focal point for the ending.
Where's the beef?
In the video, Swift is seen wearing a fry costume in a crowd of people who are dressed in normal clothing. She appears sad until she spots Perry, who is donning a burger costume. The two stare at each other in disbelief, before walking towards each other and embracing. But how did Perry even come to be a part of this video? In a recent interview with BBC Radio 1 Swift opened up about this came to pass.
Peace at last
"We have been on really good terms for a while. She sent this beautiful note and olive branch to the opening night of the Reputation Stadium Tour awhile ago. And from then on, we've been on good terms. We hadn't seen each other though, so the first time we saw each other, it was at this party" the "ME!" singer began.
"And when we saw each other, it was just very clear to both of us that everything was different… that we had grown up, that we had grown past, um, allowing ourselves to sort of be pitted against each other. It was just really, really clear that we remembered how much we had in common" Swift confessed.
The "Delicate" singer then confessed that she had no idea if Perry would be opening to take their mended friendship public. "So both of us have been in a really good place for a while, but I don't think either of us really knew if we were ever going to talk about it publicly," Swift said.
You Need To Calm Down
The 29-year-old-songstress then spoke to how she approached Perry with the video. "So I thought of this concept for the video and I wrote the treatment, and I thought of this idea. I thought, you know, I'm going to ask her if she's interested, but I would be totally fine if she'd rather keep it private and keep it between us. But, I sent it to her and she was like 'I would love for us to be a symbol of redemption and forgiveness' and I feel the same way about it" the "You Belong With Me" singer admitted.
Swift also admitted that the inspiration for the costumes came from Perry herself. Swift got the idea when she saw Perry wearing a burger costume at a Met Gala after party. She loved it and thought of how she could use it as inspiration in her music video. She loved the idea of a burger and fries pairing to represent two people who belong together. Seems like a sweet ending to the fiery feud between the pair.
LGBTQ allies
We're happy that these two musicians have worked out their issues. It's great that they came together for the important cause of supporting the LGBTQ community and LGBTQ rights, which is far more important to talk about then celeb drama anyway.