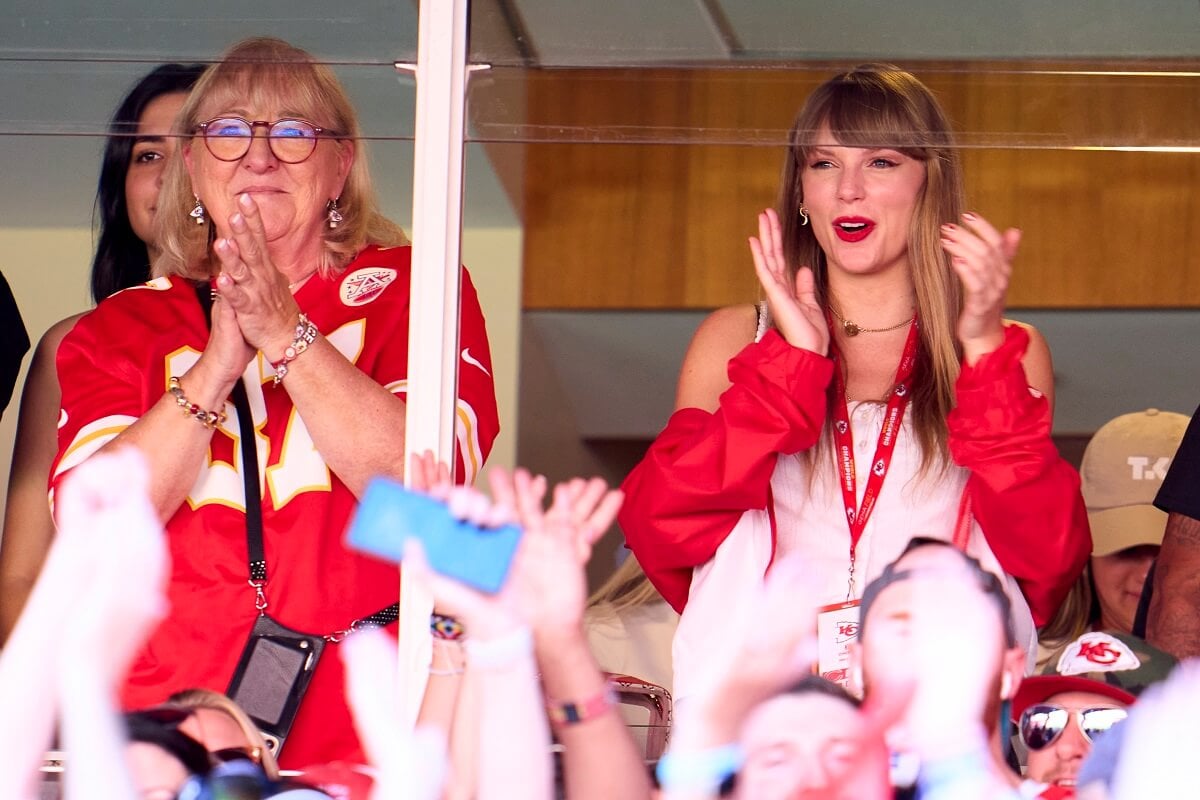 While Taylor Swift Looked 'Happy' With Travis Kelce After Game, a Body Language Expert Noticed Sign That They're Not Romantically Involved
We all thought the romance rumors between Travis Kelce and Taylor Swift were confirmed after she was spotted cheering him on, but a body language expert says not so fast.
Fans can't stop talking about a romance between global pop star Taylor Swift and NFL superstar Travis Kelce after the "Anti-Hero" singer was spotted at a Kansas City Chiefs game cheering on the tight end. But while dating rumors are now swirling everywhere, a body language expert analyzed footage of the pair when they were leaving the game together and is pointing out why there may not be anything romantic yet.
Here's more on what may or may not be going on between the athlete and the "Shake It Off" singer.
Swift was seen cheering for Kelce during Chiefs game
After weeks of speculation, Kelce addressed rumors that he was dating Swift on The Pat McAfee Show telling the hosts: "I threw the ball in her court. I told her, I've seen you rock a stage in Arrowhead and you might have to come see me rock the stage at Arrowhead. We'll see what happens in the near future."
Well on Sept. 24, Swift took him up on that invite and was seen cheering for the football player alongside his mother, Donna, in one of the suites at GEHA Field at Arrowhead Stadium. Her appearance became a focal point of the broadcast and had many Swifties take to social media to declare that they're dating.
But not everyone is convinced this is a love story just yet.
Why expert says there doesn't appear to be anything romantic between them yet
Darren Stanton is a body language and behavioral expert with a degree in psychology. He previously worked as a police officer and used his expertise to uncover the truth when interviewing hundreds of suspects. He later moved into media and TV as a consultant and has been dubbed the "Human Lie Detector." Stanton has also analyzed the body language of several celebrities. And now, he's giving his take on what he observed between Kelce and Swift as they left the game together.
The expert pointed out that he didn't see any evidence that they are in fact a couple now.
Speaking on behalf of Spin Genie, Stanton explained: "From the photos and footage taken at the game, there's nothing to suggest Taylor Swift and Travis Kelce are romantically involved. As she walked alongside Travis, they were not holding hands. She didn't have her arms in his, so I can't see anything that could allude to them being romantically involved at the moment. She did seem genuinely happy when cheering him on, but there are no gestures when they are together that suggest anything of a romantic nature."
The two left the stadium in Kelce's convertible and reportedly grabbed a bite to eat afterward at a restaurant where they paid to have the entire place to themselves.
So we'll just have to wait and see if things between them blossom and if Swift decides to write a song about their relationship.
Showbiz Cheat Sheet acknowledges conditions and cultures can impact body language and is sensitive to all backgrounds.