Taylor Swift 'Lover' Tour Plans Revealed: Why She Wants Her Concerts to 'Feel Smaller'
When will Taylor Swift announce her Lover tour? Not too soon, according to the singer, who revealed that she's taking her time in planning the tour, though she does have some ideas for how to switch it up from what she's done in the past.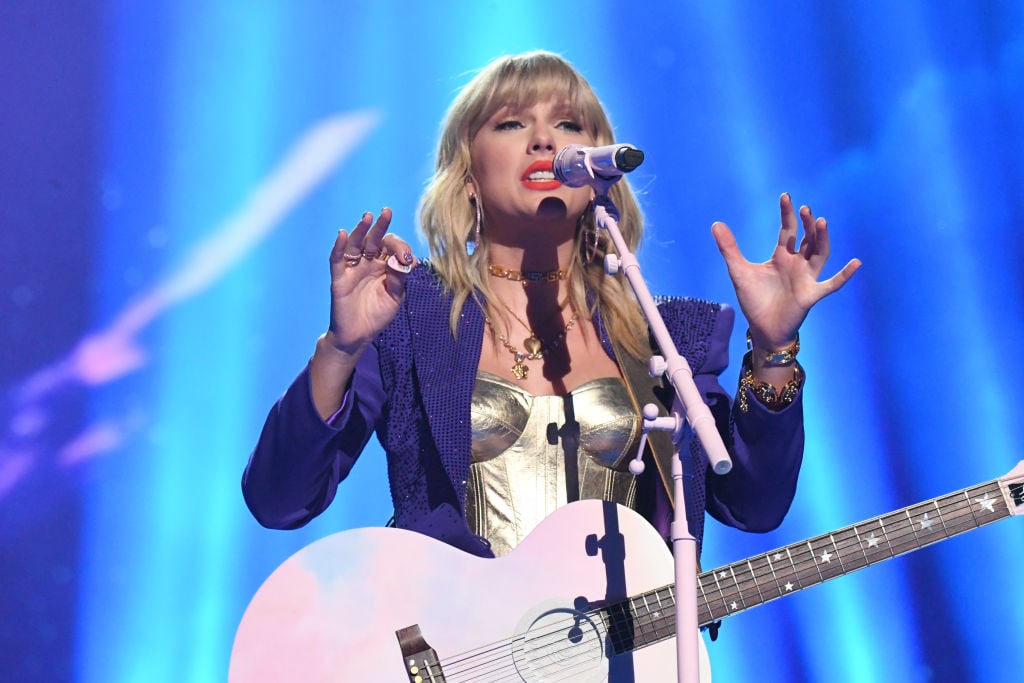 Fans have been hoping for a tour announcement
After Swift released her seventh studio album, Lover, fans have been waiting for her to make a tour announcement. When she performed at the 2019 VMAs, the crowd went wild and fans started envisioning how awesome her next tour will be.
No tour announcement has come yet and Swift has a good reason for why she's taking her time, as she shared during an interview with Ryan Seacrest on his On Air With Ryan Seacrest radio show.
Swift explained: "I'm not quite sure what we're doing with touring because with this album, I was so full-on planning this album release and directing the videos and putting all these different clues in these videos and trying to make this album release experience the most fun one for my fans, that I didn't wanna plan what we're gonna do in terms of live and I don't want to do the same thing every time because I don't want my life to feel like I'm on a treadmill."
Planning a tour is involved
Swift noted that "there's a lot that goes into touring that nobody knows," including how stadiums have to be reserved "like a year and a half in advance and that to me is like a lot."
The singer added, "Like, with Reputation, I knew that nobody would really fully understand this album until they saw it live because I knew what I had planned for it live was going to make people understand what I had made on the record. But this album is different because people are seeming to get this album on a first listen basis which is so wonderful. I can't even tell you how much easier that is."
She's in no rush to tour
Swift did share that there isn't as much of an urgency for her to get a tour plan firmed up yet, noting: "I'm waiting to figure out what I'm going to do with touring… I don't want to feel like I have to do the same thing every single time. I definitely want to play this album live for a lot of people. I definitely want to give fans an opportunity and give me the opportunity to vibe with them on these songs in a live setting and see them sing the words back, but I don't really know exactly what way that's going to happen."
She did admit that her team came to her six months ago to get the ball rolling on reserving the stadiums for her tour and she wanted a bit of a breather instead. She noted, "I really can't feel like my life is just album tour, album tour, album tour, album tour."
She added: "I think part of me growing up has been realizing my fans have been so generous to me and they've given me the opportunity to be able to change things up every once in a while if it's feeling like it's too much of a pressure situation because I never want to 'phone in' a show. I never wanna be like this wasn't what I wanted. I want to give them 113% every show so I need for it to be in a way that feels right."
She's considering something a little more intimate this go around too, perhaps not going the stadium route. Swift shared, "This album is so personal, so detailed, like, Reputation was very external, very loud… this is an album that is very personal, vulnerable, emotional so my goal for whatever live setting that we decide to do things in, is gonna be to try to make wherever we are… make it feel smaller like a living room. That's my goal. That's my objective, [but] I truly don't know what we're doing… I haven't had the meetings yet."