Taylor Swift Spent All Day at a Recording Studio — Does that Mean a New Album is on The Horizon?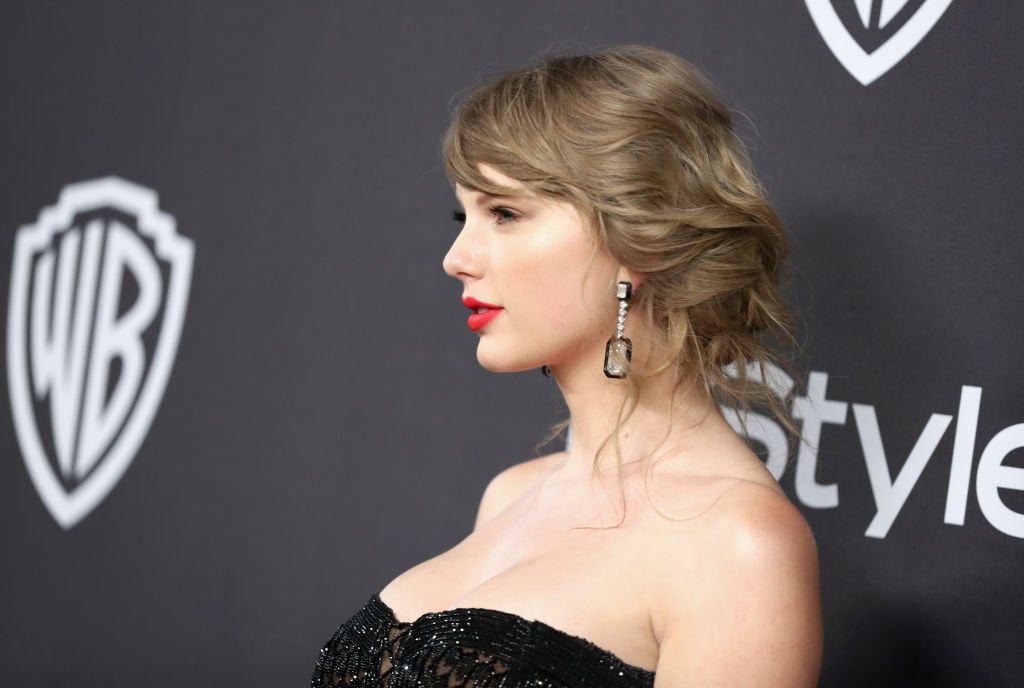 Taylor Swift was recently seen entering and exiting Electric Lady Recording Studios in New York City. She was dressed in head-to-toe black: oxfords, leggings, a peacoat, and her hair pulled back in a ponytail. Sounds like the perfect outfit to record an award-winning album in, or so Swifties are hoping and praying.
"The fact that @taylorswift13 was leaving the recording studio has me SHAKINGGGG," writes a Twitter user.
"It appeared she was there all day as she was not spotted leaving until after 9 p.m.," a source told E! News. The source also noted that the singer looked to have had a "pretty intense full day of recording." She definitely had her game face on as she exited the building.

Swifties have been speculating for months whether Swift has an album cooking (or maybe, for Swift, baking is a more appropriate term) and, if so, what that album could be about.
How we know Taylor Swift will release another album
At the 2018 AMAs that took place in October, Swift said a few words about "the next chapter."
"Guys, I always look at albums as chapters in my life. And I'm so—to the fans, I'm so happy that you like this one," she said of Reputation. "I'm so happy that this means that you like this one. But I have to be really honest with you about something, I'm even more excited about the next chapter."
So if albums equal chapters and she's "even more excited about the next chapter," it's pretty safe to assume an album's already in the works. Now all we need to do is wait.
Here's what fans think Taylor Swift's new album is about
While we wait, Swift's devoted following have been taking to the internet to make their best guesses concerning what this "next chapter" could be about.
The most popular guess? Mermaids.
Swift isn't a stranger to dropping little hints and clues concerning her next moves for her fans. Since her AMAs speech, fans have noticed a mermaid theme.
She can be seen in Taylor Swift Reputation Stadium Tour on Netflix skipping around backstage in a shirt with mermaids on it. She also dressed as The Little Mermaid at her New Year's Eve bash. The evening's theme was "childhood heroes." Also in attendance were Blake Lively as Dorothy, Gigi Hadid as Mary Poppins, McCall Koenig as Nancy Drew, Leah McCarthy as Avril Lavigne, Ashley Avignone as Gwen Stefani, and Abigail Anderson Lucier as Posh Spice.  
"Trust me, @taylorswift13 has planned TS7 ages ago!! All these mermaid hints, and connection to the Little Mermaid… ugh her mind !? Another interesting facts [sic], The Little Mermaid just turned 30 this year, and who else is turning 30 this December of 2019!?" writes another excited Twitter user.
Swift has turned her fan base into full-blown detectives.
A quick Google search of "mermaid symbolism" brings up words like 'love' and 'goddess-like.' Themes that Swift's legion of die-hard fans can passionately get behind.
Swifties Are Excited About a Possible Mermaid Album
Some Swift fans have made comments about how they're excited for this album to concentrate on love and relationships again.
"So if Taylor's dropping hints through mermaids, all I'm getting is that TS7 is going to be romantic album- and I'm all for it," says another Twitter user in the Swiftie fandom.
"Old Taylor" certainly sang about love, crushes, and heartbreak quite a bit, but it's been a while since we've heard a good old fashioned love song from Swift. Maybe this new album will be filled with siren songs of the heart. Swifties certainly think so, and Swifties are rarely wrong.
Check out The Cheat Sheet on Facebook!