Taylor Swift Reveals This Was the Hardest Track to Write On 'Lover'
Writing music isn't always easy. Sometimes, lyrics come from a darker place. Here's the 'Lover' track Taylor Swift struggled with the most.
Singer-songwriter Taylor Swift's music comes from her oft-discussed love life, of course. But there are plenty of other influences as seen in the lyrics of her songs, dating back to her earliest years in the business. On her latest album, Lover, "You Need to Calm Down" is about haters on the internet and LGBTQ+ rights. And there's at least one more track about something other than romance. Here's what we know.
'Lover' comes out on Aug. 23, 2019
Fans are anticipating the new album, Swift's seventh, which drops on Friday, Aug. 23, 2019, at midnight Eastern. The artist has given more clues than with past albums, and hunting for Easter eggs in her lyrics, a pastime for Swifties, was very fruitful.
At a YouTube Live session, the artist delved deeper into her past, sharing personal diary entries from her younger years. She talked about what it was like to be 13 and the day that she adopted her first cat. Swift also spoke about showed samples of items in her new line of merchandise with Stella McCartney.
Swift spoke to fans in a YouTube Live session
For the special event, Swift went live n order to talk about the album. She answered quite a few fan questions, ranging from the silly (she was asked which Cats character her new album would be) to the series.
Swift was also quick to offer advice for aspiring singer-songwriters. "Try your best to own your own work. [That] is something nobody told me," she said, bringing to mind her recent feud with Scooter Braun and Big Machine Records. "Being a writer gives you more of a control of your own legacy, she added, encouraging creative to "just keep trying." 
This was the hardest track for Swift to write
The album so far has given off an air of rainbows and sunshine (seriously, just look at that color palate). Swift even said, "This album felt to me [like] very daytime, very sunlit fields. She added, "I pictured this and wrote music from a much more open and free, romantic, whimsical place."
However, that doesn't mean there isn't any sadness involved. The track "Soon You'll Get Better," which features the Dixie Chicks, was "really, really hard to write," Swift said. She added that it was "a family decision" whether to put it on the album, which she adds is "something that I am so proud of."
Here's what we know about her mother's cancer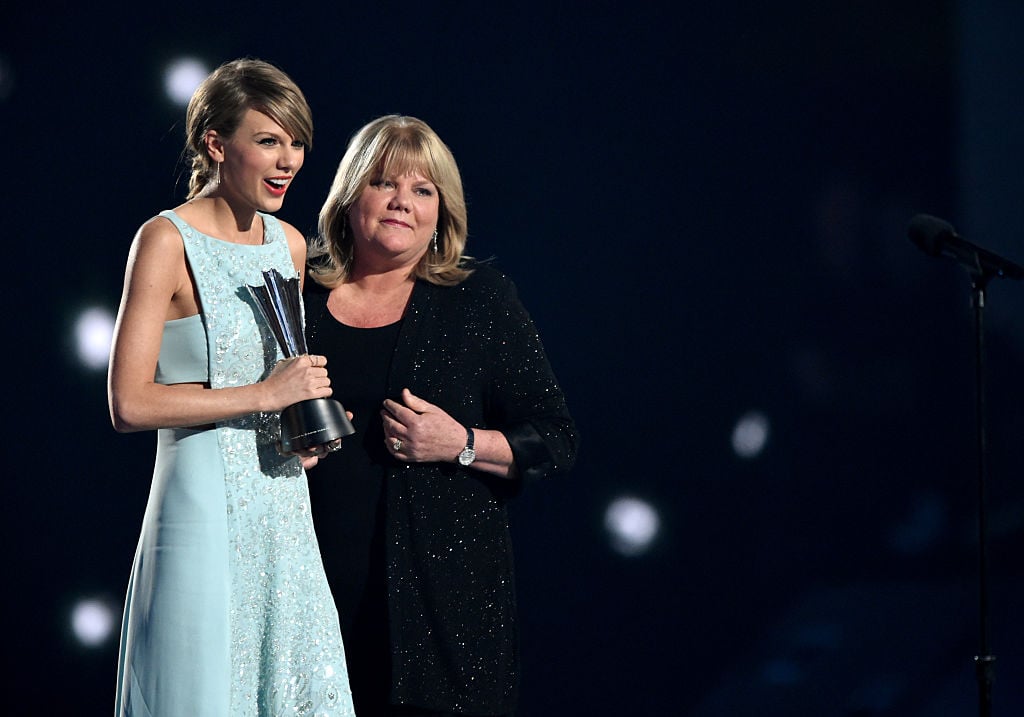 What could Swift be talking about in regards to a family decision? It seems pretty obvious to those that know a lot about her. Swift's mother, Andrea, has been suffering from an ongoing battle with cancer. And we don't know much about it.
In her Elle Magazine profile in March 2019, Swift wrote that "both of [her] have had cancer, and my mom is now fighting her battle with it again." She was first diagnosed in 2015, which Swift revealed on Tumblr to her fans. 
Swift also talked about a few other tracks
Understandably, Swift didn't elaborate on talking about her mother's health. But she did drop a few more hints about a few more songs off the impressive 18-track album. Most notably, "London Boy."
Why did she talk about this track (which sounds as though it must be about Joe Alwyn)? Because she namechecks McCartney on it. She brought the designer in to hear the song firsthand, and that's how they decided to collaborate. A shirt shown during the YouTube Live event bears the words, "Like a Tennessee Stella McCartney," which makes us think those may be the lyrics in question.