Taylor Swift Reveals Her Favorite Song and the First Song She Learned on Guitar
Taylor Swift may be a well known artist now but there was once a time she was just starting out. Here's what she first learned on the guitar.
Taylor Swift has been topping the charts for more than ten years now. She is known for having numerous hit singles, such as "You Belong With Me," "I Knew You Were Trouble," "Shake It Off," Blank Space," "Bad Blood," and "Lover."
While a lot of people love Swift's music, not many know about the songs that she herself likes. In fact, like anyone else, Swift also has songs by other artists that are significant to her.
Taylor Swift is known for her songwriting skills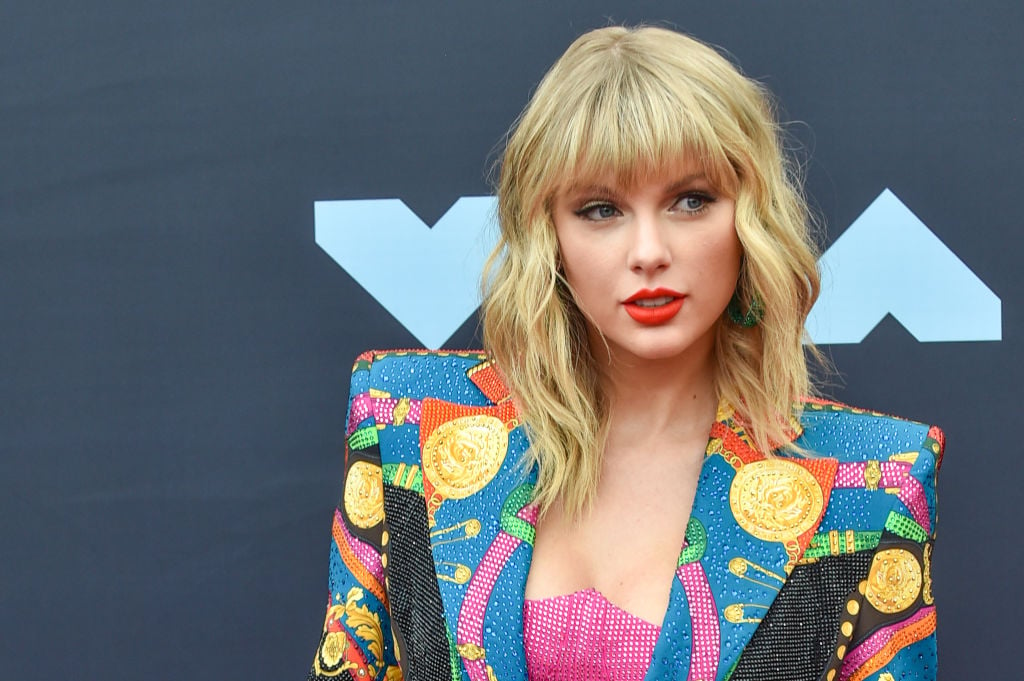 Swift is a pop singer, though she is different from many of her colleagues in that she actually writes most of her music. When Swift first rose to fame in the mid-2000s, she gained a lot of fans for her songs that tell stories about her own life. At the time, she was a teenager, so Swift's music was full of lyrics about young love, heartbreaks, and other things that teen girls could relate to.
Over the years, her songs matured as she grew up, though Swift's albums continue to provide fans with access to her thoughts and emotions as she goes through life. In addition to writing songs, Swift plays a few instruments as well. The guitar is what she is mostly known for as she has been seen playing it often in music videos and on stage. However, she can also play the banjo, ukulele, and piano.
Taylor Swift started playing the guitar when she was 12
Swift's first instrument was the guitar, which she started learning how to play when she was 12 years old. The person who taught her was a computer tech.
Swift shared in a 2009 promotional DVD: "When I was about 12 this magical twist of fate (happened). I was doing my homework [when the tech fixing my computer] looked over and saw the guitar in the corner. And he said, 'Do you play guitar?' I said, 'Oh. No. I tried, but . . . .' He said 'Do you want me to teach you a few chords?' and I said, 'Uh, yeah. YES!'"
The tech — a man named Ronnie Cremer — revealed to New York Daily News that he came over to Swift's house two times a week to teach her how to play the guitar and write songs. He was paid $32 an hour by her parents.
"In all honesty, I thought she was a pretty good student," Cremer shared. "I said, 'Here's your chorus. Here's your verse. Move these around, and look what you've got. You can write one verse, one chorus, and then you've got a song.' That just clicked to her, and made sense."
The first song that Taylor Swift learned on the guitar
Swift has revealed that country artists like Shania Twain and Faith Hill inspired her to learn the guitar. However, the first song that she learned to play on the instrument was not actually a Twain song or a Hill song. It was not even really country.
During an interview with Vogue in 2016, as well as the Name That Song Challenge with Jimmy Kimmel, Swift shared that the first song she learned on the guitar was the 1998 hit "Kiss Me" by Sixpence None the Richer.
Taylor Swift's favorite song overall
When it comes to what song Swift loves in general, it is something that fans might not expect. She is a fan of many genres, and during the Name That Song Challenge, Swift revealed that Nelly's 2002 hit "Hot In Herre" is her favorite song.
Back in 2015, Swift even got the chance to perform the song on stage with Nelly himself. During a show in St. Louis, she was joined on stage by fellow singer Haim and the legendary Nelly. Swift and Haim created their own dance to "Hot In Herre" while Nelly performed his famous single for fans.