Are Taylor Swift & Selena Gomez Still Best Friends?
Taylor Swift and Selena Gomez are two of the most popular singers in the world. The two have been best friends since 2008, but are they still close today?
Taylor Swift is no stranger to star-studded music video releases. Who could forget when she released "Bad Blood" back in 2014, which featured no less than 18 celebrities and won the GRAMMY award for Video of the Year. Just this morning, Swift shattered her own personal record with the release of "You Need To Calm Down", which also featured a bevy of celebs. Noticeably missing from the video was Swift's long-time bestie, Selena Gomez. Gomez's absence led fans to start questioning whether the two are still best friends today. Let's take a look at the facts.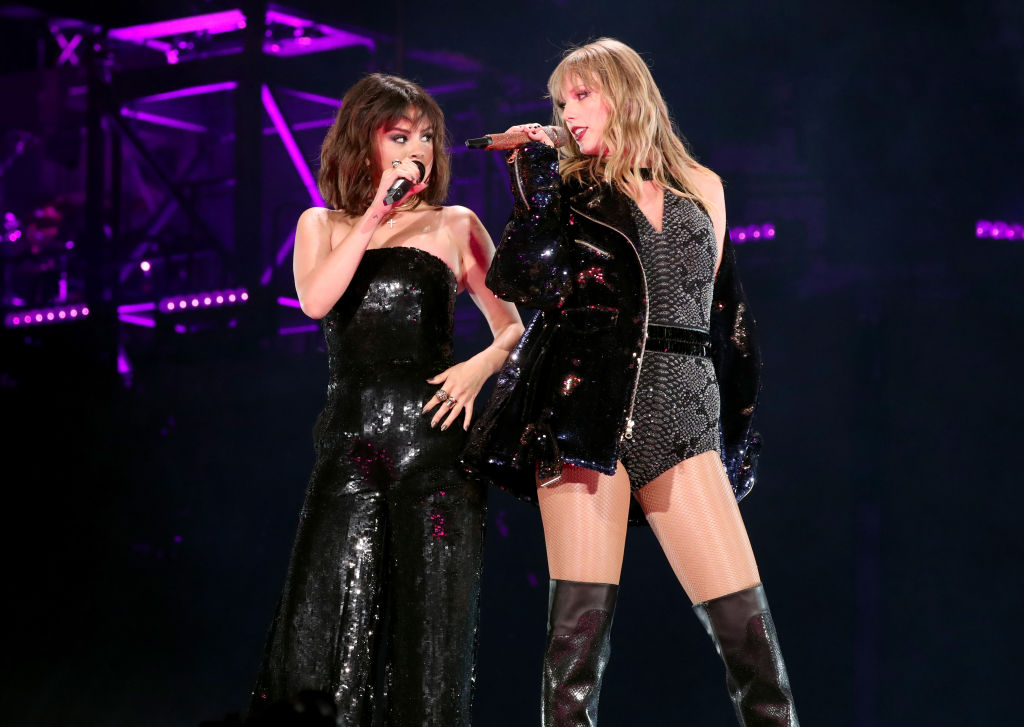 Jonas Brothers
The friendship between Gomez and Swift stretches all the way back to 2006 when the pair began to be spotted together around town. Though there are three years between them, it was clear immediately that the two had a very close bond. We can actually thank the Jonas Brothers for the friendship between the two. According to Gomez, the pair clicked when she was dating Nick Jonas and Swift was simultaneously dating Joe Jonas.
"We actually dated the Jonas brothers together! It was hysterical. It was amazing because she was the girl with the big curly hair and all the bracelets and the cowboy boots. And I was definitely up-and-coming, and we just clicked. It was the best thing we got out of those relationships" the "I Can't Get Enough" singer confessed.
Friendship
But, this wasn't the first or last time that Gomez gushed about Swift. Last year, the singer was asked on Instagram live how Swift was doing and she had nothing but sweet things to say about her bestie. "Taylor's awesome. I love her. She's amazing. I just talked to her today. She's literally like my big sister. I tell her everything. She's so smart it freaks me out." The Dead Don't Die actress said fondly.
Reputation tour
And Gomez hasn't been the only one to show her love publicly. Swift also has an affinity for showing support for her bestie. During the Reputation Tour, the pair continued their tradition of surprising the audience and performing a duet together. Singing Gomez's hit song "Hands To Myself" the pair wowed the crowd. Following the performance, Swift shared the sweetest message about Gomez.
"To the person I could call at any time of day, who has been there no matter what… you absolutely KILLED IT tonight and everyone was so excited to see you. I love you, and 60,000 people at the Rose Bowl loved you too, Selena Gomez" the ME! singer wrote in a heartfelt caption.
ME!
If we needed any further proof that these two performers are still friends, we need look no further than Swift's new song "ME!" which was the first single released from her upcoming album, Lover. For months, Swift teased fans by dropping easter egg clues about her next single title. But what fans may have missed is that Gomez dropped the original clue way back in December of 2017! When Gomez wished Swift a happy birthday, she casually dropped the name of the song in the caption and even stylized it correctly.
"I'm glad you were born. You write all the thoughts some aren't able to articulate. (ME!) Thank you for giving a voice to this world that is authentic and inspiring. I wish some knew how big your heart actually is… it's fierce, bold and freaking wild with light. I'm glad you protect that. Love you Taylor Swift" the 26-year old wrote. This obviously serves as evidence that the pair are still very close if they still talk about their music in great detail. Especially given how secretive Swift is known to be about her music.
2019 and beyond
And the friendship between Gomez and Swift has continued into present day. At the top of the year, Swift posted an image of her and Gomez ringing in the new year together laughing and enjoying wine. As the pair lives on opposite coasts (Gomez currently lives in the O.C., whilst Swift oscillates between New York and Nashville) it's great to see that they still make the effort to get together in person and spend time with one another.
You Need To Calm Down
Though the two women are fiercely private about their personal and social lives, it's clear that they still maintain a close friendship today. For everyone who is constantly making up rumors that these two singers are no longer best friends, we have one thing to say to you, "You Need To Calm Down."