Taylor Swift and Selena Gomez Have Been Trolling Fans for Years
Taylor Swift and Selena Gomez have been best friends since 2006. And while they aren't always super vocal about their friendship, they definitely make time to troll their loyal fans.
For years, Taylor Swift and Selena Gomez have been dubbed "friendship goals" by their millions of fans. The pair met way back in 2006 when they were both dating Jonas brothers and struck up a fast friendship. Their constant support for one another has been well-documented over the years. If fact, fans even have a name for the long-time besties and refer to them as "Taylena."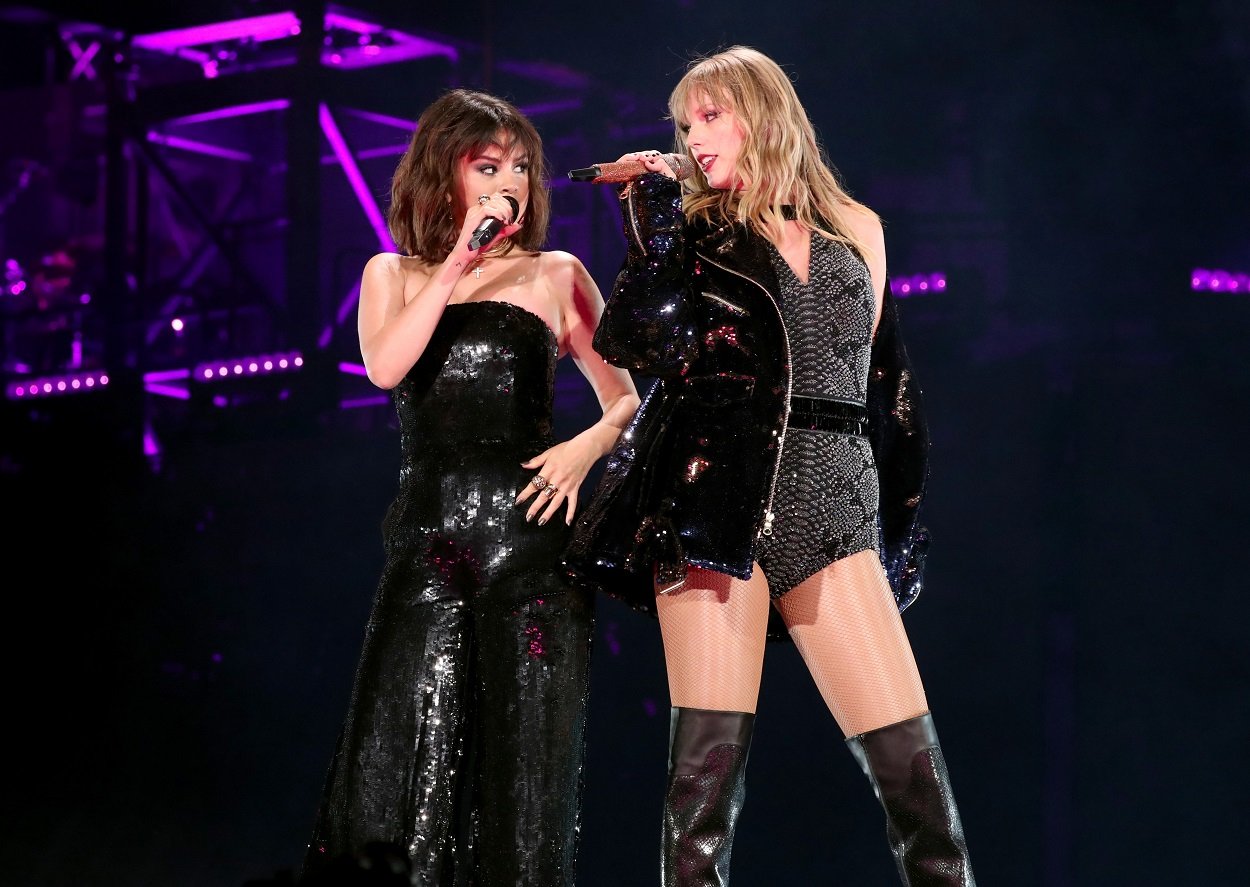 Though the folklore artist and the Only Murders in the Building star have shared that they keep most of their friendship private, they frequently shout each other out. Swift has brought Gomez out as a surprise guest on tour on more than one occasion, and Swift even popped up on an episode of Selena + Chef in summer 2020. Furthermore, the singers are constantly championing each other's music on social media.
Taylor Swift and Selena Gomez are constantly dropping Easter eggs for fans
But what fans may not realize is that the besties also love teasing their fans with Easter eggs. In fact, on more than one occasion, the famous friends have sneakily dropped major clues about the other's music long before it came out. A good example of this is when Gomez teased the name of Swift's first single of her seventh studio album, Lover.
Though Lover released to the world on Aug. 23, 2019, Gomez dropped a hint about the song, "ME!" way back in December 2017. In a birthday Instagram post for Swift, the "Selfish Love" singer carefully hid the name of Swift's first single in the post, even using the correct stylization.
Gomez teased Swift's first single from 'Lover' on Instagram
"I'm glad you were born," Gomez wrote. "You write all the thoughts some aren't able to articulate. (ME!) Thank you for giving a voice to this world that is authentic and inspiring. I wish some knew how big your heart actually is… it's fierce, bold and freaking wild with light. I'm glad you protect that. Love you, Taylor Swift."
And Swift has certainly returned the favor. She actually teased the name of Gomez's latest EP, Revelación, which released on March 12, 2021, way back in December 2019. In an interview with New Music Daily With Zane Lowe on Apple Music's Beats 1, Swift got candid about Gomez's first No 1 single, "Lose You to Love Me" and called her a revelation, which is, obviously, the English word for revelación.
"She came over, she played me the video. I'm so proud of her," Swift shared about Gomez playing "Lose You to Love Me" for her. "She's been through so much. I've watched so much happen in her life and had a front-row seat to so much, and I'm so proud of her. She is such a revelation because now she's making her best stuff."
Will Gomez and Swift finally collaborate on a song?
Clearly, the besties love trolling their fans by dropping Easter eggs on one another's behalf. In fact, when Gomez recently posted a throwback photo of them, fans began speculating that they were finally planning to collaborate on a song. While Gomez isn't featured on Fearless (Taylor's Version), we're sure Selenators and Swifties are hoping that a song from the duo is coming in the near future.