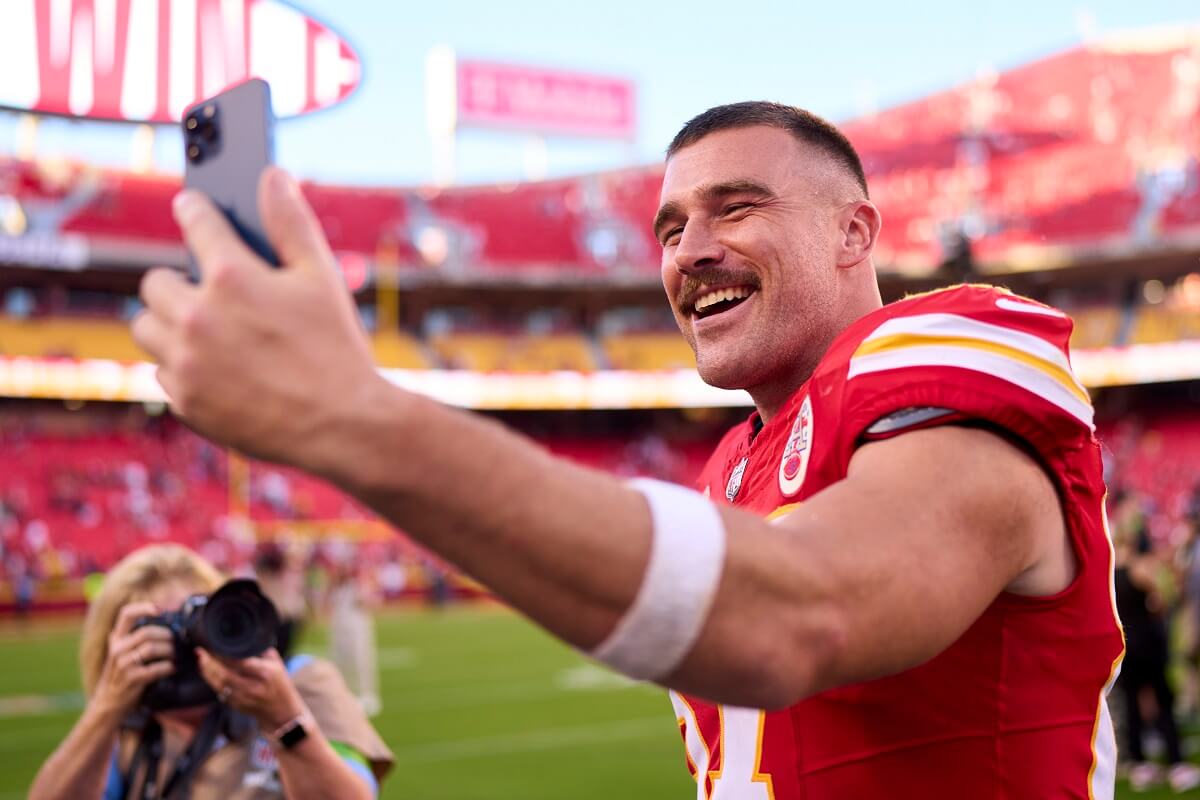 Before Taylor Swift, Travis Kelce Dated 50 Women — at One Time
Long before he sparked romance rumors with one of the biggest pop stars in the world, Travis Kelce made headlines for dating dozens of women at the same time.
It seems no one can stop talking about Travis Kelce and Taylor Swift after the pop star was spotted at a Kansas City Chiefs game in a suite next to his mother cheering him on. But Kelce's girlfriends and love life made headlines in the past including that one time he dated 50 different women all at once.
Here's more on that and what happened with the NFL star and "Anti-Hero" singer after they left the game together. Plus, the warning one of Kelce's exes has for Swift.
Premises of 'Catching Kelce' and the 'extremely awkward' experience
Long before Kelce sparked dating rumors with one of the most famous women in the world, he was looking for love and turned to reality TV to find it.
Back in 2016, the Chiefs player starred in Catching Kelce, which was basically a sports version of The Bachelor. But in his dating show, the athlete had 50 eligible women–one from each state–vying for his heart.
In 2023, the tight end reflected on filming the show and called it an "awkward experience."
"It was extremely awkward because I really didn't have much to say about what we were doing on the show … They came to me with an offer financially. I was just like, 'Alright, man, I've got to do this.' I was so bad financially my first couple of years," Kelce said during an episode of The Pivot Podcast, adding that he "went through [his] first couple checks like it was nothing."
He continued: "I was having so much fun buying whatever the hell I wanted to, going wherever the hell I wanted to. I wasn't financially looking at this as I need to have money down the line. So I heard about this situation where I could make six figures in two weeks and I was like, ah, and 50 ladies, I'm like, 'This is actually starting to sound a little better' … At the end of the day, I don't think I got portrayed as myself. I know that I'm not going back into reality TV."
Who Kelce chose to be his girlfriend and her warning for Swift
In the end, Kelce chose Maya Benberry from Kentucky. The two dated but broke up after filming the show.
Kelce then began dating reporter Kayla Nicole. They were together for five years and split in 2022 before the athlete was linked to Swift.
After the Chiefs game on Sept. 24, Kelce and Swift left GEHA Field at Arrowhead Stadium together in his car. According to several reports, the duo were spotted at a posh restaurant they rented out for themselves, friends, and family.
Following news of their potential romance, Benberry had a warning about Kelce for Swift.
"Taylor seems like such a fun girl with a beautiful spirit, so I wish her the best of luck," the Catching Kelce winner told the Daily Mail. "But I wouldn't be a girls' girl if I didn't advise her to be smart! I'm sure by now she has mastered the ability to see who is really there for her – and who is just using her … Only time will tell but like the saying always goes, 'Once a cheater, always a cheater.'"
Meanwhile, the NFL world and Swifties alike can't stop buzzing about these two including New England Patriots head coach Bill Belichick who joked that Kelce has had "a lot of big catches" over the course of his career, but Swift is his "biggest catch."