Taylor Swift vs. Ariana Grande: Which Pop Star Has the Higher Net Worth?
As two of the biggest pop stars in the world, Ariana Grande and Taylor Swift are often compared. Much about them is different, from the way that they sing to their public personas. But both are very well-off financially. Discover who has a higher net worth here.
Taylor Swift began her music career in 2006
RELATED: Taylor Swift Reflects On Older Songs 'All Too Well' And 'Blank Space'
Swift got an early start in the industry. She put out her self-titled debut album in 2006, kicking off her career as a young country star. She released subsequent country albums Fearless, Speak Now, and Red, before pivoting to pop with her fifth studio album, 1989.
Though primarily known for her music, Swift is also an actor. She has had small roles in the films Valentine's Day, The Giver, and the 2019 musical Cats. Additionally, she has guest-starred in two TV series: CSI and New Girl.
Ariana Grande started as an actor before releasing her first album
RELATED: 'Victorious' on Netflix: Ariana Grande's Best Moments From The Show
Grande is a few years younger than Swift. She began her career with the Broadway musical 13 in 2008. Grande then gained notoriety as Cat Valentine in the Nickelodeon series Victorious and its spinoff Sam & Cat. She released her first studio album, Yours Truly, in 2013. And by the shows had ended, she was blowing up as a pop star.
Like Swift, Grande's focus is typically on her music. She's put out four more albums: My Everything, Dangerous Woman, Sweetener, and Thank U, Next. However, she hasn't completely abandoned acting. Grande had a recurring role in the series Scream Queens and guest-starred in an episode of Showtime's Kidding.
Swift is fighting with Grande's manager
RELATED: Why Ariana Grande Fans Believe Her Relationship With Manager Scooter Braun Is Rocky
Swift's second pop album, Reputation, was released in 2017. It was her final album with Big Machine Records. She signed with Republic Records in 2018. Then, in 2019, it was announced that music manager Scooter Braun had purchased Big Machine, including the rights to all of Swift's master recordings.
The feud between Swift and Braun has rocked the music industry. But Grande has never spoken about it publicly. However, as one of Braun's clients, many believe they already known which side she is on.
Here's how much they are each worth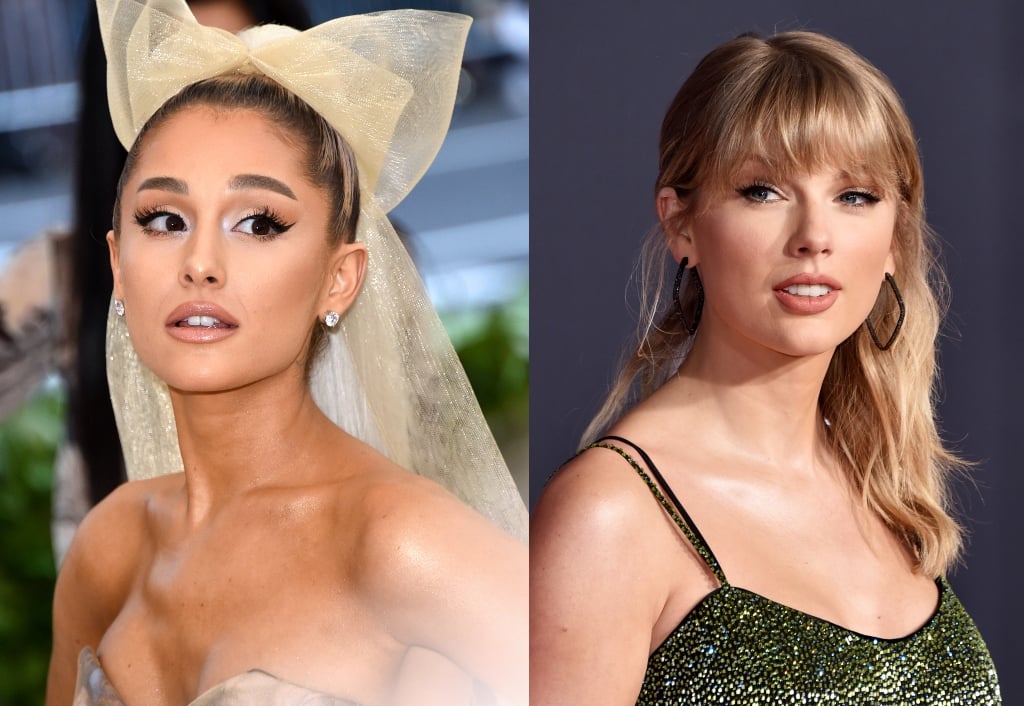 RELATED: What Is Ariana Grande's Net Worth?
Though Swift isn't earning much (or, possibly, anything) from her old music, she is still very well off. According to Celebrity Net Worth, she is thought to be worth around $400 million following her latest album, Lover. Just two years ago, her net worth was around $320 million.
Meanwhile, Grande is estimated to be worth around $100 million. According to Forbes, her 2019 Sweetener Tour brought in $146 million. So while she currently has a lower net worth than Swift, Grande's earnings are on an upswing. In fact, she is the highest-paid female musician on the Forbes list, having earned $72 million in 2020 as of June 4.