Taylor Swift vs. Katy Perry: Who Has The Highest Net Worth?
Taylor Swift and Katy Perry go way back. They burst onto the music scene around the same time and eventually became close friends. But in the early 2010s, some work-related drama drove the entertainers apart.
A bitter back-and-forth ensued between them, with both stars snubbing each other on various occasions throughout the years. But the singers would eventually reconcile in 2018 when Perry sent Swift a literal olive branch.
Today, they remain in communication and are actively working on their friendship. But in the spirit of competition, let's take a closer look at which singer has been the most successful and achieved the highest net worth.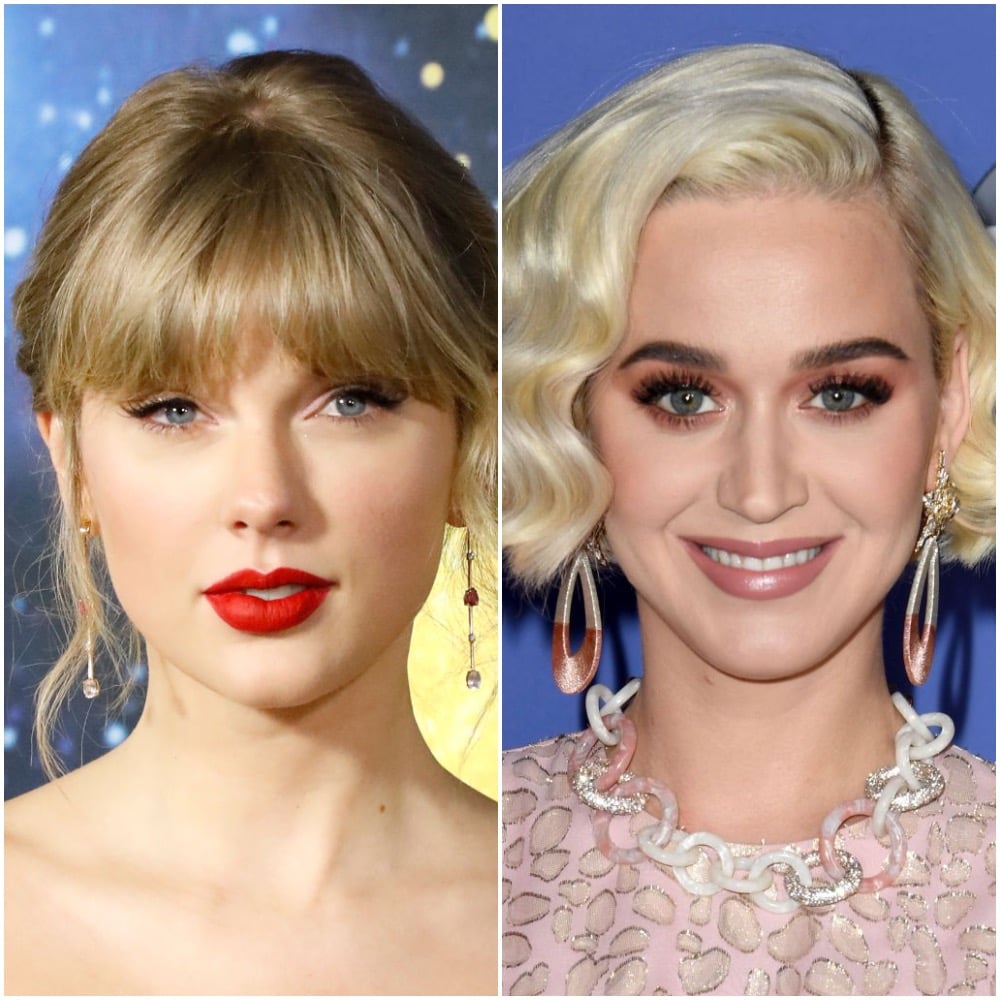 Katy Perry's net worth
Perry began her career in the early 2000s as a Christian artist operating under her birth name, Katy Hudson. But her rise did not begin until she rebranded and released her 2008 single "I Kissed a Girl." The song became a smash hit and propelled Perry to superstardom essentially overnight.
She has since released four albums, most of which have debuted to favorable reviews and achieved commercial success.
Perry, 35, has also carved out a space for herself in the television world, having appeared on shows such as The Simpsons, How I Met Your Mother, and American Idol — where she reportedly earns a $25 million salary.
Oh, and there's more. The "Roar" singer has also established herself as a businesswoman. She's released multiple fragrances, a shoe collection, and her very own mobile game.
With a work ethic like that, we're not shocked that her net worth is $330 million (via Celebrity Net Worth). But how does that compare to Swift's?
Taylor Swift's net worth
Swift's claim to fame is the 2008 hit "Love Story," which appeared on her beloved second studio album Fearless. She went on to release five widely successful albums — the most recent being 2019's Lover, which earned positive reviews and several Grammy nominations.
While she sees lots of income from her music alone, a good chunk of it comes from her tours. Her 2018 Reputation tour is actually the highest-grossing one in American history, attracting more than $340 million, per Billboard.
In addition to that, Swift, 30, also takes home money from endorsement deals and her songwriting.
She has penned many of her biggest hits — from "You Need to Calm Down" to "Look What You Made Me Do" — and sometimes writes for other artists. She famously wrote Little Big Town's "Better Man," Calvin Harris' "This Is What You Came For," and Miley Cyrus' "You'll Always Find Your Way Back Home."
Given her success, it's no surprise that Swift has a $400 million net worth, (via Celebrity Net Worth). But while hers might be higher than Perry's, it's worth pointing out that both are immensely talented and still growing in their careers. So who knows what will happen in the future.
Read more: What Is Dave Chappelle's Net Worth?
Check out Showbiz Cheat Sheet on Facebook!