'BIP': Tayshia Adams Respond to Critic Telling Her to 'Close Your Legs, Girl'
Ever since she competed for love on reality TV, Tayshia Adams has been living her life in the public eye. With over 786,000 Instagram followers, the 29-year-old has quite a large fan base. Adams competed on Colton Underwood's season of The Bachelor and made it to the top three before Underwood infamously jumped a fence and quit the show to pursue Cassie Randolph.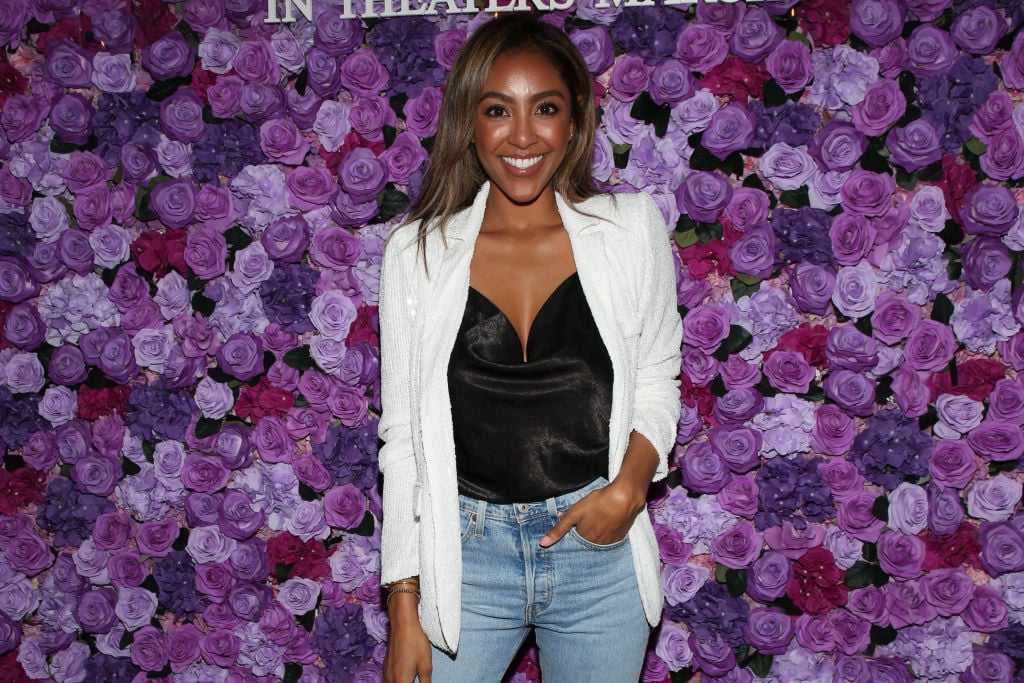 But, Adams wasn't single for long. Just a short while after her breakup with Underwood, she went to Mexico to compete on Bachelor in Paradise. Whilst there, Adams became a fan favorite and was pursued by a number of men. However, she ultimately struck up a romance with John Paul Jones, and the pair dated for a brief period of time before calling it quits.
Tayshia Adams celebrates a new collaboration on Instagram
Because of her participation on the popular shows, Adams developed somewhat of a cult following. In fact, many of her supporters were outraged when Clare Crawley was chosen as the next Bachelorette over Adams. But, with increased support also comes increased scrutiny. Even though the 29-year-old has a hefty Instagram following, she is often subjected to harsh criticism, even from people who consider themselves fans.
On May 20, 2020, Adams took to Instagram to share photos celebrating her recent collaboration with Erin Fader Jewelry. In the photos, Adams sits cross-legged on the floor and dons a large hat, a blazer, bikini bottoms, and, of course, jewelry. "Gotta secret, can ya keep it?✨#tayshiaXerinfader" Adams captioned the post. To date, the post has racked up over 37,000 likes, but not everyone was impressed with the photos.
'The Bachelor' alum responds to criticism
"Close your legs girl! Otherwise, I like this photo," one Instagram user demanded in the comments, racking up 84 likes on their comment. Seeing this comment, Adams chose to respond. She expressed that she wanted more women to support other women and also explained her reasoning for choosing and posting the photos that she did.
RELATED: 'BIP': John Paul Jones Is Allegedly Upset With Tayshia Adams
"Why don't we just start being positive and only lifting up other women. You bringing light to something that's so silly is making it a thing. Yes this is the pose I chose and to be honest, I think it's dope, that's why I posted it. ✨💗" the Bachelor in Paradise alum fired back, easily defending her Instagram post.
Fans of Adams rush to her defense
Of course, ofter fans of Adams were quick to jump to her defense as well. Some vehemently argued that the post was tasteful while others were disgusted with the constant policing of women's bodies, especially by other women. "People really be so uncomfortable with a woman who is owning their body how they want they feel the need to tell empowered women what to do with their bodies, 🤷🏻‍♀️" one Instagram user wrote.
"This pic is FIREEE girl!!! Why are these WOMEN out here pressed over a WOMANS BODY?!?! I will never get it… You look beautiful and very modelesque! Keep shining and doing you, boo! ✨" another person wrote, complimenting Adams. Unfortunately, life in the public eye means that there will always be criticism no matter what you do. But, Adams has once again proved that she can handle critiques well despite how misplaced they are.