Tayshia Adams Responds to a Critic Who Shamed Her for Instagram Ads
Tayshia Adams has always had a number of Instagram followers even before she competed on Colton Underwood's season of The Bachelor. As a former SoulCycle instructor, people followed Adams for motivation and support. But, her following has only increased following her stint on The Bachelor and the subsequent spinoff, Bachelor in Paradise.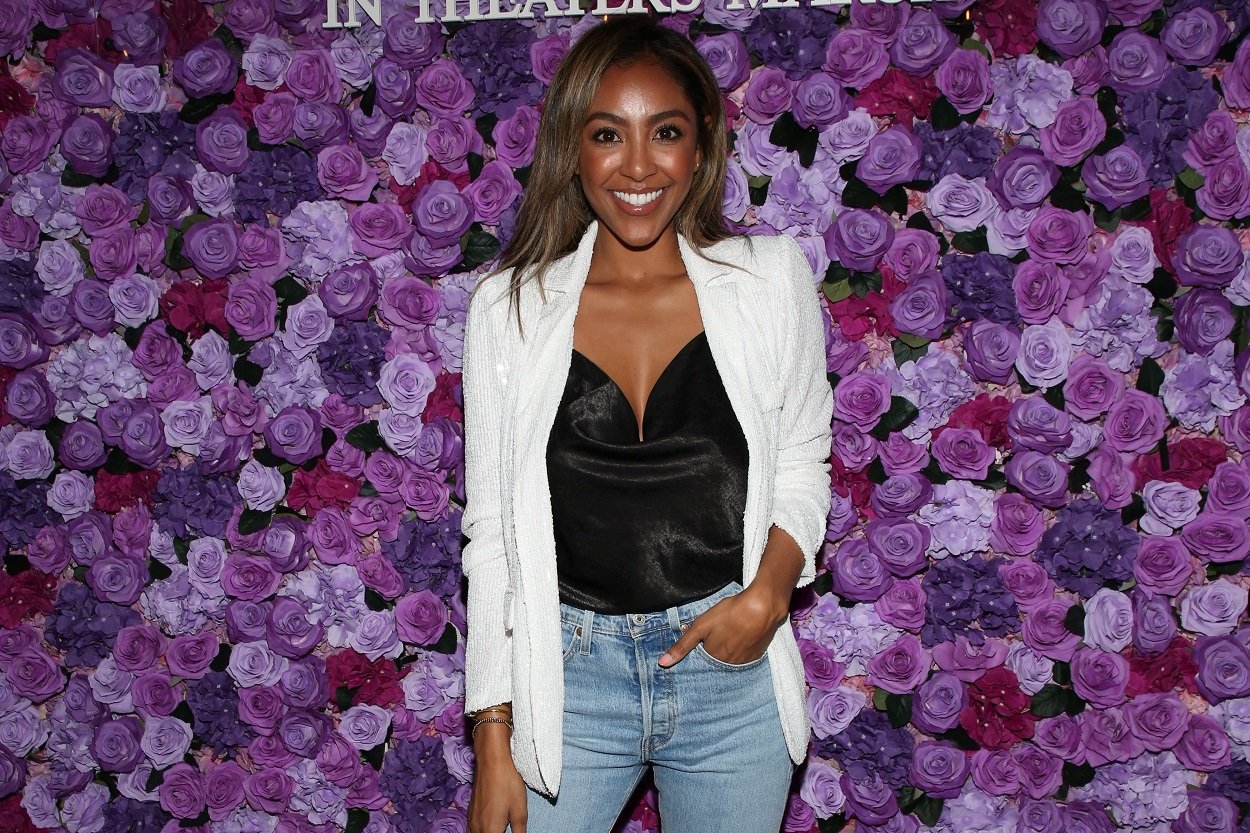 After competing on Underwood's season, Adams made it all the way to fantasy suite week. However, when Cassie Randolph quit the show, Underwood broke it off with Adams and Hannah Godwin in order to pursue the Huntington Beach native exclusively. But, Adams remained a fan-favorite and even decided to give her Bachelor journey another try by competing on Bachelor in Paradise.
Tayshia Adams and John Paul Jones became fan favorites on 'Bachelor in Paradise'
While Adams was filing in Mexico, multiple men expressed interest in her. But, she elected to give things a try with John Paul Jones. Though they made an odd pairing, they gained a ton of support in Bachelor Nation. But, their courtship was relatively short-lived and they broke up not too long after the show stopped filming. When the pair broke it off, fans were hoping that Adams would become the next Bachelorette. But, the producers of the show decided to select Clare Crawley instead.
Despite not being selected as the next Bachelorette, Adams still maintains a large and loyal social media following. On Instagram alone, the 29-year-old boasts 778,000 followers. Because she has a large following, she is able to make money as an influencer. By partnering with brands and promoting products and services, she is able to make money off her posts.
Sponsored content for Secret
Most recently, Adams took to her Instagram page to promote some deodorant. "Kick the stink💃🏾 I've been on the hunt for the perfect deodorant that protects against sweat AND uses scents that I already love. @secretdeodorant with Essential Oils does the job! that's my secret 😉 #allstrengthnosweat#secretdeopartner," The Bachelor alum captioned photos of her showing off the products.
RELATED: Cassie Randolph Revealed Why She Really Did 'The Bachelor' Interview
An Instagram user shades Adams for her influencer job
The photo racked up over 15,000 likes and 81 comments. But, one that caught Adams' eye was from someone who was judging her for doing sponsored content. "Any way to make a buck!" one Instagram user penned after seeing the ad. Adams was quick to fire back that there was no shame in sponsored content and she was putting the money she earned to good use. "More like, one step closer to paying off my student loans! 😉 respect the hustle! 🙌🏾" the 29-year-old responded.
Fans of 'The Bachelor' alum support her decision to do ads
Many of Adams' fans rushed to her defense and encouraged her to keep hustling to become debt-free. "Do the ads! Pay off the loan, make some money, it's okay. Love following you," one person wrote. "Respect! Get that hustle! 🙌🏼🙌🏼🙌🏼" another person chimed in.
Some fans even cited that they were able to learn about new products via Adams that they hadn't otherwise heard about. "Okay but like essential oils in deodorant IS a new thing and I'm just finding out about this now so she's making money and helping some sisters out!!!" one person shared. Clearly, Adams' fans don't have a problem with her doing sponsored content. Furthermore, we'd wager that if more people could pay off their student loans by promoting deodorant, they'd jump at the chance.