Ted Danson 'Felt Sorry for' D'Arcy Carden When They First Started Shooting 'The Good Place'
Though Ted Danson has been in his fair share of TV shows, his role on the hit NBC comedy, The Good Place is certainly one of his best in recent years. The show earned Danson three Emmy nominations and allowed him to have fun and form incredible bonds with his castmates: Kristen Bell, William Jackson Harper, D'Arcy Carden, Manny Jacinto, and Jameela Jamil.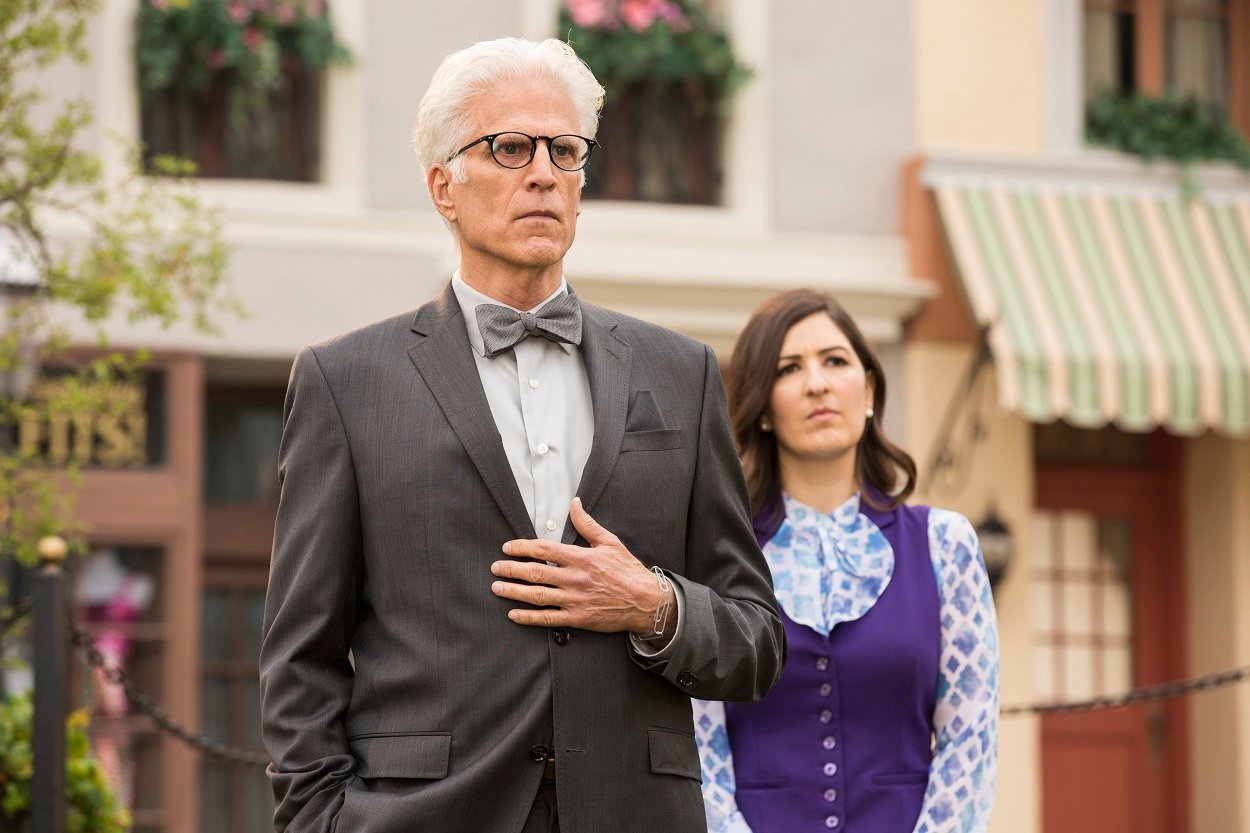 Of course, all six of the main characters in The Good Place have incredible arcs. Danson's character, Michael, arguably has one of the biggest transformations; but Carden's character, Janet, is probably the character who has the opportunity to experience the most range. Fans of the show will recall that Carden was able to play multiple versions of her character throughout the show's duration and even play the Janet version of her castmates' characters.
Ted Danson had no idea about the arc that Janet would have in 'The Good Place'
But the cast of The Good Place didn't originally know that Carden would have the opportunity to play more than one version of her character. Michael Shur, who created the show, informed Carden that there would be a Bad Janet in her audition. However, he didn't tell her, Danson, or any other cast member that Carden would be the one playing the role until after they began filming season 1.
RELATED: 'The Good Place': Ted Danson Was Terrible at Keeping the Shocking Twist Under Wraps
Because Danson wasn't aware of Janet's arc right off the back, he recalled feeling sorry for his fellow actor because he felt that Carden's role wasn't as fun as everyone else's. Fortunately, he was quickly proven to be wrong. In an interview with International Business Times, Danson recalled how quickly he changed his mind once he got to know the full depth of Carden's role.
Why the 'Cheers' alum initially felt sorry for his castmate, D'Arcy Carden
"It's kind of funny," Danson recalled. "I remember the first couple of weeks of shooting The Good Place, I felt sorry for D'Arcy. Here the rest of us gets to do all these fun things and she's just this informational system robot. It turns out to be one of the most astounding characters because she gets to play Good Janet and Bad Janet, and Good Janet falling in love and kind of is becoming humanized herself. Watching her play that and walk that fine line is really impressive. I'm astounded by the work she did this year."
RELATED: 'The Good Place:' D'Arcy Carden Says This Part of Playing Bad Janet Felt 'Kinda Shi*ty'
Of course, Carden would continue to impress Danson and she embodied not just Good Janet and Bad Janet but Neutral Janet, Earth Janet, Chidi Janet, Eleanor Janet, Jason Janet, Tahani Janet, and much more. Fortunately, Carden's background in improv meant that she was more than up for the challenge of creating different versions of her character. We can certainly understand why Danson felt sorry for his fellow actor prior to knowing the full extent of her role. But, when it was all said and done, it seems like Carden was given one heck of an acting opportunity.