'Ted Lasso': 'Beard After Hours' Was Not Originally Part of the Plan for Season 2
Ted Lasso's ninth episode of season 2 — "Beard After Hours" — was an episode unlike any other. Fans finally got a peek at one of Coach Beard's (Brendan Hunt) crazy adventures, which took place during an all-night odyssey through London after AFC Richmond's brutal loss to Manchester City.
The assistant coach's evening featured sneaking into an elite club populated by British scholars, switching out his pants at a seductress' flat, getting chased by her menacing boyfriend, and making a death-defying jump.
There was also a scuffle with Jamie Tartt's dad and his crew, as well as some dancing and epic hula-hooping at a rave. It was a crazy night, but this unique bottle episode was not supposed to be a part of season 2.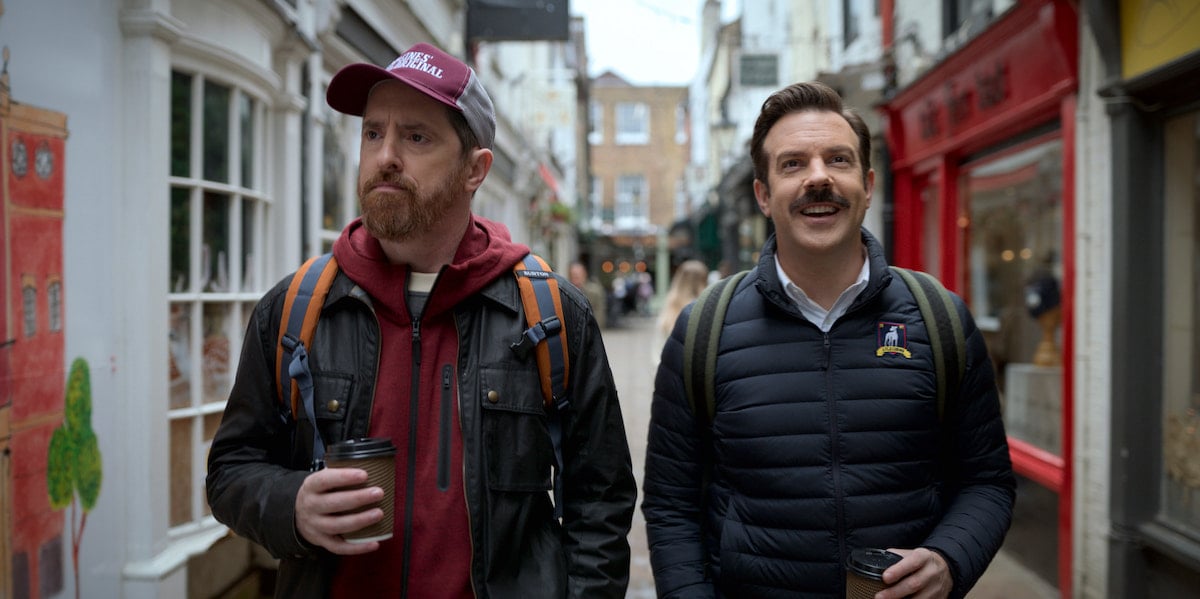 This 'Ted Lasso' episode was influenced by Martin Scorsese's 'After Hours'
Fans immediately noticed that "Beard After Hours" was an aesthetic departure from a regular Ted Lasso episode. At times, the episode felt like a movie. According to Hunt, that's because it drew upon Martin Scorsese's film After Hours in "a lot of different ways."
"Jason [Sudeikis] originally had said it should be shot on an iPhone," Hunt told TVLine. "But what he really meant was it should be handheld and should feel intimate and up-close in a way that the show isn't really. The idea of making it look different from other episodes was always part of the package."
Fans still don't know Coach Beard's first name
At one point in the episode, a club host asked Coach Beard for his name. It looked like it could be the moment fans found out his first name. But instead, he didn't give it to her. And Hunt said that wasn't even an option in the writer's room.
"We might do it someday, but it was never on the table to do it this episode," Hunt explained. "We never thought of this as an episode where we find out a lot about Beard, just that this is an episode where we put Beard through something."
Hunt added that if they ever do reveal Beard's name, it won't be for a while. There's also a chance they will just keep it a mystery.
'Beard After Hours' was not originally part of 'Ted Lasso' Season 2
Beard's bizarre night out was a unique Ted Lasso episode, and Hunt said it wasn't even part of the plan for season 2. He explained that when they were putting the season together, the original order from Apple TV+ was for 10 episodes.
When they start the writing process for a season, the writers pitch a bunch of ideas. About 20 of those ideas are good ones, and then they whittle those down to the top 10. Hunt revealed that "Beard After Hours" was not part of the final 10, but then Apple changed its episode order.
"We were starting to write the scripts as season 1 was being released, and Apple was so enthusiastic," Hunt recalled. "They said, 'First of all, you're picked up for season 2. And second, could you do two more episodes in season 2?' So we went back to the discard pile and everybody picked their favorites. In the end, Jason Sudeikis had the final say and he said, 'All right. We're going to do a Christmas episode, and we're going to do Beard After Hours.'"
Brendan Hunt had the most fun filming the club sequence
Hunt said the scene that was the most fun to shoot was when Coach Beard makes it to the rave to show off his hula hoop skills. But it was also the most difficult. It was fun because he loves dancing and he loves those pants. He also "got a kick out of" the hula hooping in the script.
"I like hula hooping, and to be able to do it here was something I was really looking forward to, but it was difficult because we shot all the running scenes and all the fighting scenes in the days before the club sequence," Hunt explained.
He continued: "It's COVID, I'm in a foreign country, and I did not have the access to my Pilates teachers that I usually have, so by the time we got to the dancing, I was old and broken. I look at that scene with a bit of regret, because I'm not actually doing my best dancing there."
'Beard After Hours' was not a dream
Even though it was a bottle episode that doesn't have an effect on the rest of the season, Hunt made it clear that everything in Coach Beard's night actually happened. Nothing was a dream or a hallucination — except for the appearances by Thierry Henry and Gary Lineker.
"Oh, I think absolutely everything really happened. The only thing that is in his head is Thierry Henry and Gary Lineker, who are legends by the way — actual sporting legends," Hunt said.
He continued: "[Henry] is a big part of the reason why I fell in love with the sport, and thus he's a big part of the reason why Ted Lasso even exists. So, yeah, the only thing that's imaginary is those guys. Those guys are the devil on his shoulder, the bad voice in his head. They're like his version of Fight Club's Tyler Durden."
New episodes of Ted Lasso drop every Friday on Apple TV+.