'Ted Lasso' Biscuits Don't Actually Taste Good, According to Hannah Waddingham: 'You Have No Idea How Bland They Are'
Long to be part of Ted Lasso's "biscuits with the boss"? Jason Sudeikis plays the title character and not only is he the coach of AFC Richmond but he can also bake a mean batch of shortbread cookies. The team's new owner loves the biscuits but it turns out they don't taste good.
Ted Lasso brings Rebecca Welton mystery biscuits
When Ted arrives in England to coach AFC Richmond he's ready to make a good impression on the new owner Rebecca Welton (Hannah Waddingham). Unbeknownst to him, Rebecca's goal is to sabotage the team.
So when he shows up with biscuits, or what appears to be shortbread cookies, in a small pink box for what he calls, "biscuits with the boss," Rebecca doesn't want any part of it. She tells Ted she doesn't have the time.
While Rebecca turns down Ted's offer to have morning chats she comes to love the biscuits. Sudeikis' character gets in the habit of stopping by her office and dropping off a box of biscuits which Rebecca immediately begins chowing down on.
It even gets to the point where she asks Ted to divulge where he gets the delicious biscuits. He refuses and it's only later viewers (and Rebecca) learn Ted's been making batches of them himself.
Hannah Waddingham says she does the 'greatest acting job' of her 'life' pretending the biscuits taste good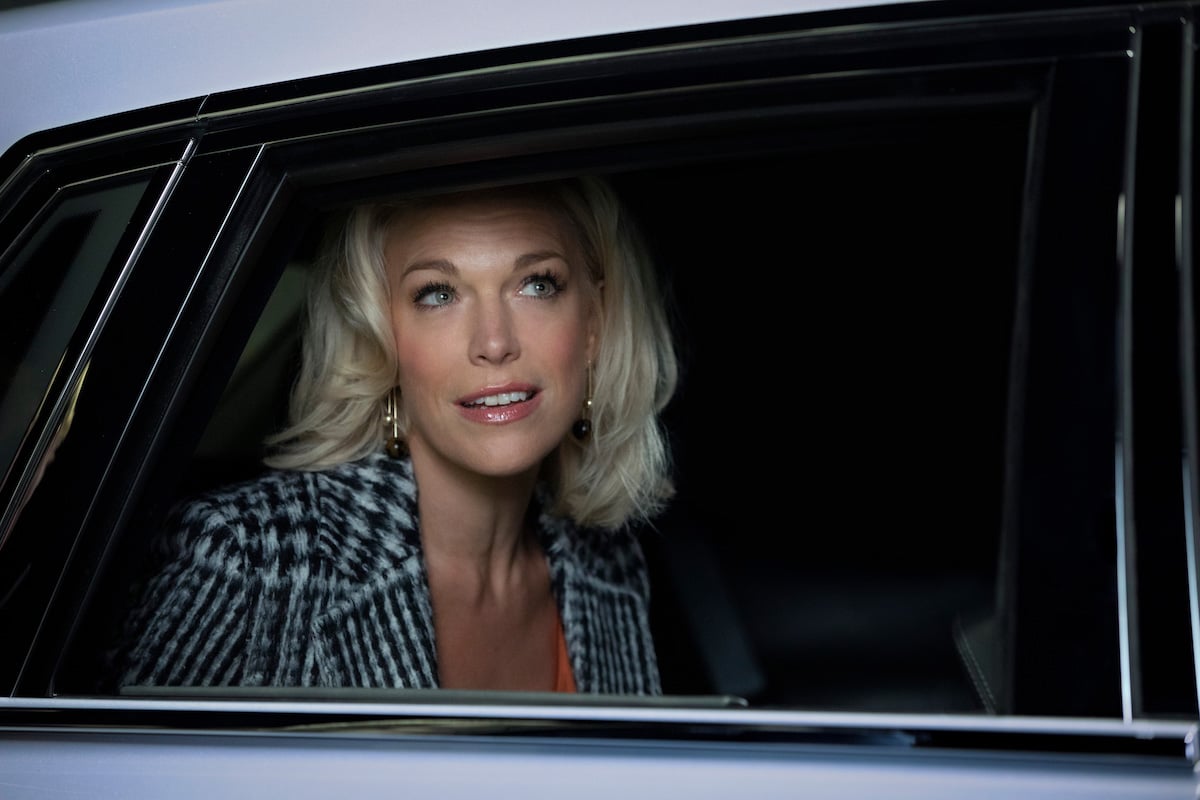 RELATED: 'Ted Lasso: Hannah Waddingham Wants Rebecca to Get 'More Colorful' and 'Reach Deeper Depths' in Seasons 2 and 3
Ever wonder what Ted puts in the biscuits he gives Rebecca that make them so delicious? Turns out, they're really not that good. In a January 2021 Awards Daily interview Waddingham shared they actually taste terrible. 
"You have no idea how bland they are," she said.
The Game of Thrones alum continued, saying her pretending she likes the taste of the biscuits is nothing short of her best acting performance ever.
"Oh my god. Honestly. It's the greatest acting job of my life," she added with a laugh. "So many people have said, 'Those biscuits look so good,' and I go, 'Do they?'"
"I hope you rewatch it and go, 'Damn, she's good,'" Waddingham said jokingly. "I added in the sniffing thing, like a panic sniff. When she's having a particularly s—– moment, when she's like, 'Gimme the box, gimme the box' Sniff!"
So next time Ted Lasso is on and Rebecca's practically drooling over Ted's biscuits, remember that Waddingham is putting on an act. It's difficult to believe they taste bad given how much her character loves them. Maybe it's part of the reason why Waddingham's up for an Outstanding Actress Emmy.
Apple teased Ted Lasso's biscuit recipe ahead of season 2 
RELATED: 'Ted Lasso' Dart Scene Was Perfected Last-Minute by Jason Sudeikis, Hannah Waddingham Says
Ted's sharing his biscuit recipe. Well, to be more accurate, Apple is. According to The Verge, Apple teased Ted's shortbread biscuit recipe at their Spring Loaded event in April 2021. 
At one point a graphic featuring a barely visible recipe for "Ted Lasso's Secret Shortbread" appeared on screen. After some sleuthing, an eagle-eyed developer tracked the recipe down to find it's very similar to a New York Times recipe for shortbread cookies. 
Ted Lasso Season 2 is currently underway. New episodes drop on AppleTV+ every Friday.