'Ted Lasso': Breaking Down Every Single Romantic Comedy Easter Egg in 'Rainbow'
Ted Lasso really loves romantic comedies. In the season 2 episode "Rainbow," the Apple TV+ series made that abundantly clear when the titular character told his players at AFC Richmond that he believes in "rom-communism." Which is a philosophy that is all about "believing everything's gonna work out in the end." 
The episode then proceeded to pay tribute to a number of classic rom coms with various quotes and tropes. There's also a love story between one of the characters and the sport of football.
Here is a breakdown of every single romantic comedy easter egg from Ted Lasso's "Rainbow."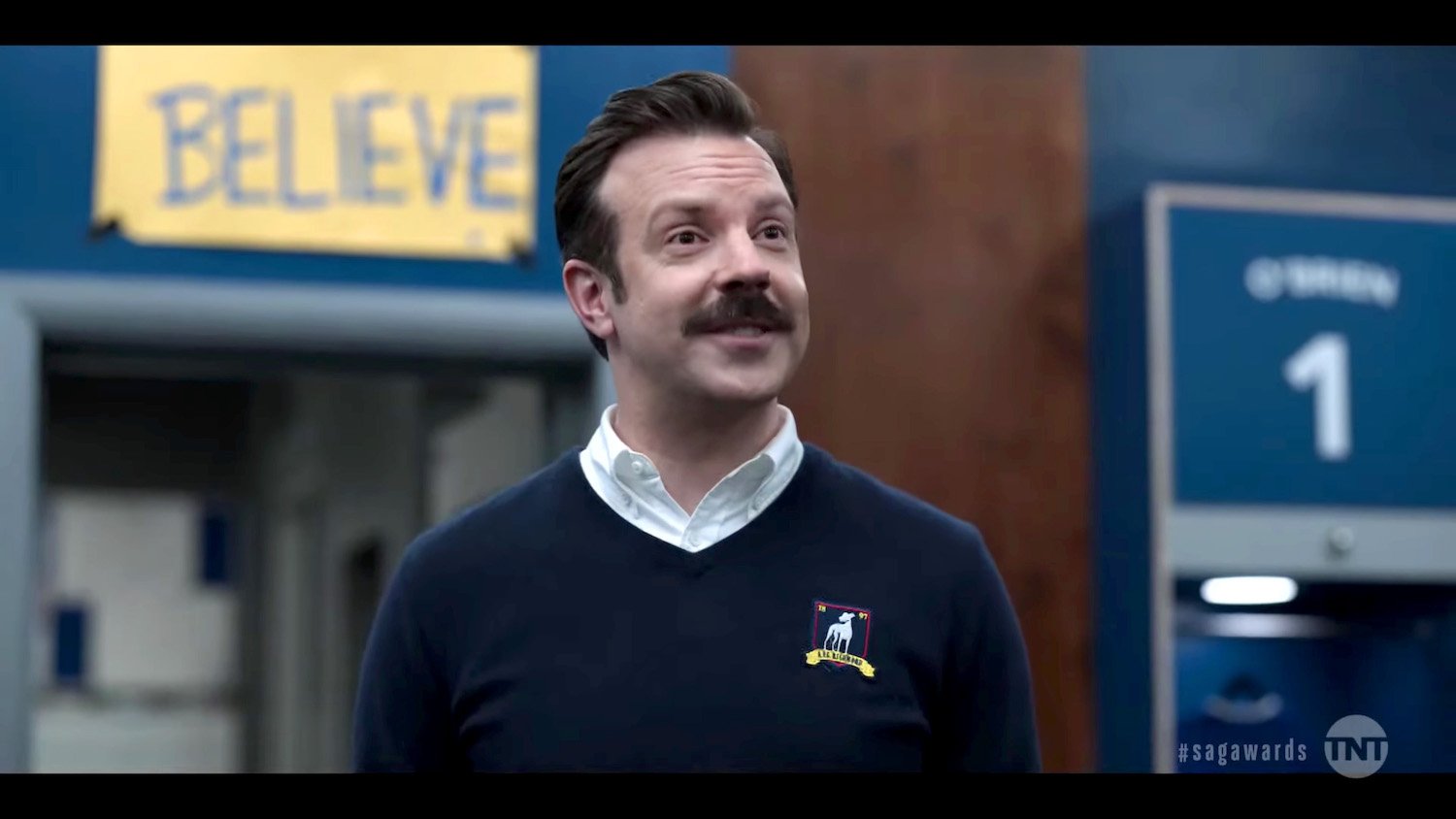 13. Ted Lasso made a ton of RomCom references in his speech to the team
When the episode opens, the team is still in the middle of a lengthy losing streak and Ted (Jason Sudeikis) takes the opportunity to give them a pep talk. He declares that he believes in communism, or more specifically, rom-communism. Which means he's confident that the team will bounce back and things will work out.
"Look, the point is, fellas, if all those attractive people with their amazing apartments and interesting jobs — usually in some creative field — can go through some lighthearted struggles and still end up happy, so can we," Ted says. "Now it may not work out how you think it will. Or how you hope it does. But believe me, it will all work out, exactly as it's supposed to."
Ted's creative use of language sparks a debate among the players and coaches over their favorite rom-com stars. The name drops include "the three Kates" — Beckinsale, Hudson, and Winslet.
Tom Hanks, Meg Ryan, Julia Roberts, Hugh Grant, Drew Barrymore, Matthew McConaughey, Renee Zellweger, and Jennifer Lopez also got mentions.
12. Nate's Lessons are a nod to 'Pretty Woman'
Nate's (Nick Mohammed) storyline in the episode focuses on his attempt to get a window table at his father's favorite restaurant to celebrate their anniversary. He keeps getting denied by the hostess, just like Julia Roberts' Vivian was turned away from a Rodeo Drive retailer in Pretty Woman.
Nate gets some lessons from Rebecca (Hannah Waddingham) and Keeley (Juno Temple) to hone his skills before giving his reservation attempt another try.
11. A shout out to 'The Parent Trap'
There are two subtle nods to Nancy Meyers' remake of The Parent Trap, starring Lindsay Lohan. One is the use of Nat King Cole's L-O-V-E during the episode. The other is a complex handshake between Ted and Isaac (Kola Bokinni), just like Lohan and her butler.
10. 'Ted Lasso' included three references to 'When Harry Met Sally'
At the end of the episode, an older couple is sitting in the stands at a football match who we've never seen before. And we won't see them again. Just like in the 1989 classic When Harry Met Sally, the couple breaks the fourth wall and addresses the camera directly to tell their love story.
Another reference to When Harry Met Sally is when Ted meets Roy Kent (Brett Goldstein) at the Kabob Shop and tells the server "I'll have what he's having." Ted also paraphrases Billy Crystal's speech from the film when he offers Roy a coaching job at AFC Richmond.
"When you wanna spend the rest of your life coaching with somebody, you want the rest of your life to begin ASAP."
9. 'You've Got Mail'
Rebecca is using the dating app Bantr, and her username is "Bossgirl." She's also talking to a mystery man who goes by "LDN152." This is a reference to Nora Ephron's You've Got Mail. Meg Ryan's character had the username "Shopgirl," and Tom Hanks' character was known as "NY152."
8. 'Four Weddings and a Funeral'
While flirting on Bantr, Rebecca's mystery man quotes a line from famous poet Rainer Maria Rilke, which causes her to swoon. The Rilke reference is a nod to Four Weddings and a Funeral, which features the poem "Funeral Blues (Stop All The Clocks)" read aloud during a funeral scene. That poem was written by WH Auden, whose mentor and single biggest influence was Rilke.
7. 'Notting Hill'
While trying to convince Roy to take the coaching job, Ted gives his version of Roberts' famous "I'm just a girl standing in front of a boy" speech.
6. 'The Princess Bride'
After Roy rejects Ted for the last time, he tells him "As you wish," quoting Cary Elwes' declaration of love from The Princess Bride.
5. 'She's All That'
The setting of Ted and Roy's conversation at the Kebab Shop is the Easter Egg here. It's reminiscent of the falafel restaurant Rachel Leigh Cook's character Laney worked at in She's All That.
4. 'Ted Lasso' tells Roy's love story with AFC Richmond
Amid all of the references, there is a love story in "Rainbow." It's between Roy and AFC Richmond, and it's structured like your basic rom-com. Roy has retired from playing for the football club and is now a media sensation as a pundit on Sky Sports.
As Screen Rant describes it, Roy's "expletive-laden, no-nonsense approach to sports punditry" has made him quite popular. But he misses being on the field, and Ted knows it. At first, Roy turns down Ted's coaching offer. But while he's live on the air, Roy realizes coaching is exactly what he should be doing.
He rips off his mic, exits the studio, and hails a cab to try to make it to the stadium before the match is over. Roy's cab ride is a nod to the familiar taxi trope that has appeared in numerous rom coms over the years.
3. 'The Holiday' and others
When Roy's cab ride is cut short by a roadblock, he is forced to leave the car and run the rest of the way so he can reunite with his one true love. This is a reference to The Holiday, starring Cameron Diaz and Kate Winslet, as well as Bridget Jones's Diary, and just about every other romcom from the 90s and 00s.
2. 'Sleepless in Seattle'
When Roy says "Jeff, I have to go now" before running out of the Sky Sports studio, it's a nod to Sleepless in Seattle. This is the line Meg Ryan uses to leave her fiancee Walter at the climax of the movie, and Goldstein absolutely nailed his delivery.
We should also mention that the team therapist, Dr. Fieldstone, shares a name with Dr. Marcia Fieldstone of Sleepless in Seattle.
1. 'Ted Lasso' closes out 'Rainbow' with a fantastic 'Jerry Maguire' reference
The first Jerry Maguire reference in the episode was when Ted told Roy "you complete our team" when offering him the coaching job. The second reference comes at the end, when Roy breathlessly arrives on the field and the crowd starts chanting his name. Roy finally tells Ted that he accepts his coaching offer by saying, "You had me at coach."
Season 1 of Ted Lasso is now playing on Apple TV+, with new season 2 episodes dropping every Friday.