Did the 'Ted Lasso' Divorce Plot Come Before Jason Sudeikis and Olivia Wilde's Split?
Sometimes art imitates life, and sometimes, it's the other way around. Right after his character goes through a divorce, news broke that Ted Lasso star Jason Sudeikis and Olivia Wilde had broken off their engagement. So did his personal life influence one of the TV show's most heart-wrenching subplots?
'Ted Lasso' premiered in August 2020
The Apple TV+ series Ted Lasso premiered in August 2020 on the streaming service. The show follows the eponymous football coach, who moves from the U.S. to England to coach the sport he refers to as soccer. It was subsequently picked up for two more seasons.
While watching season 1, viewers learn that Ted took the job at the encouragement of his wife, who wanted some space. She and their son come to visit in one episode, and she reveals she wants to make their split official. In another episode, Ted has a panic attack as he delays signing his divorce papers.
Olivia Wilde and Jason Sudeikis split the same year
About a month after Ted Lasso Season 1 ended, Sudeikis made entertainment headlines for a different reason. He and his long-time partner, Wilde, announced their breakup. Though they never married, they were engaged for several years and share two children, Otis and Daisy.
"The split happened at the beginning of the year," a source told People at the time. "It's been amicable and they've transitioned into a great co-parenting routine. The children are the priority and the heart of the family's relationship." Wilde then began dating her Don't Worry Darling co-star, Harry Styles.
Sudeikis says 'one has nothing to do with the other'
In both cases, Sudeikis (or the character he's playing) separates from the mother of his child(ren) while he's spending most of his time working across the pond. So it's easy to see how some fans drew a comparison between the actor's personal life and Ted Lasso's.
But his co-star (and fellow writer, creator, and producer) Brendan Hunt says they came up with the Ted Lasso plot in 2015. Sudeikis himself told Entertainment Weekly the parallel story is "inconsequential to anything going on with me. One has nothing to do with the other," and left it at that.
Wilde encouraged Sudeikis to make 'Ted Lasso'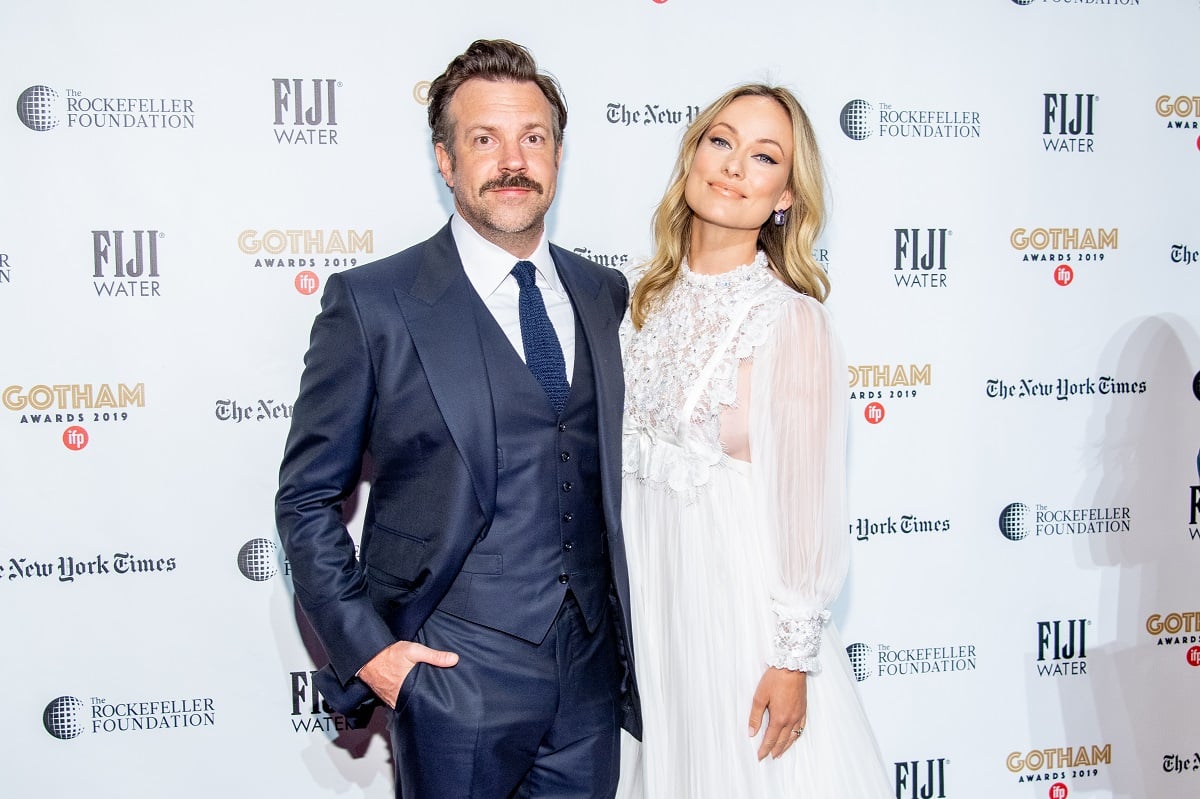 RELATED: SAG Awards 2021: 'Ted Lasso' Poked Fun at Jason Sudeikis' Golden Globes Look
Not only did Sudeikis not conceive of Ted Lasso's monumental break up because of his own, but his now-ex was instrumental in getting the show off the ground. After he played the Ted Lasso character in commercials for NBC, "Liv was like, 'You should do [a] TV show or a movie [about him]'" Sudeikis said.
This led to the 2015 meeting mentioned above, which took place over a week with Hunt and writer-producer Joe Kelly. "We beat out a pilot and then it sat dormant for a couple of years," said Sudeikis. It wasn't until 2017 that he brought the concept to Bill Lawrence, and Ted Lasso really began.