'Ted Lasso': How Every Emmy Acceptance Speech Was in Character — Jason Sudeikis, Hannah Waddingham, and Brett Goldstein
Hannah Waddingham, Brett Goldstein and Jason Sudeikis all stayed completely in character to deliver their 'Ted Lasso' acceptance speeches at the 73rd Primetime Emmy Awards.
Did Ted Lasso characters Roy Kent, Ted, and Rebecca Welton deliver those Emmy Award acceptance speeches, or was it Jason Sudeikis, Hannah Waddingham, and Brett Goldstein? Viewers felt that all three Emmy speeches were entirely in character. Take a look at the moments that fans noticed the Ted Lasso cast strikingly resembling the characters they portray.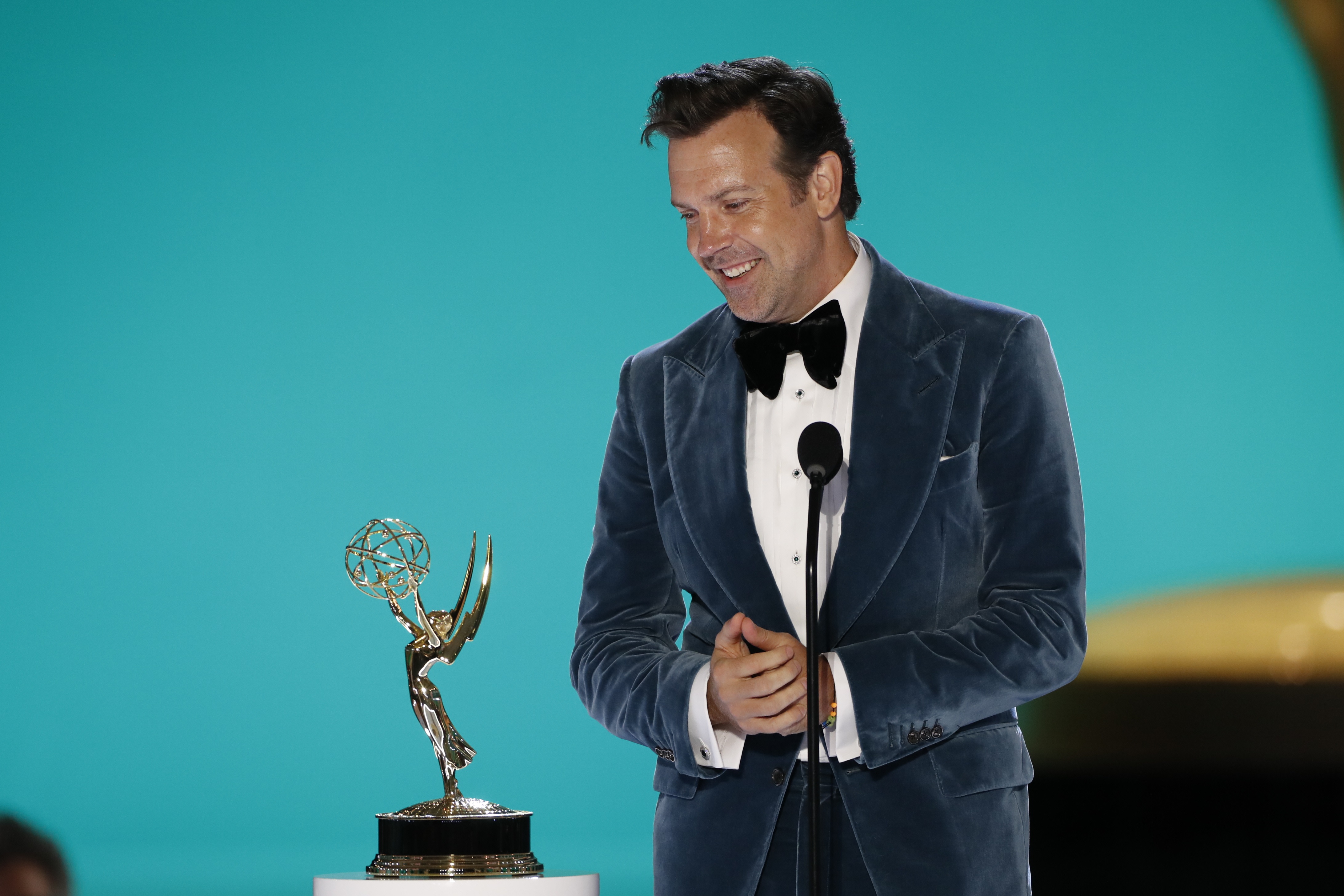 Brett Goldstein's 'Ted Lasso' acceptance speech at the 2021 Emmy Awards
In Ted Lasso Season 2, When Roy Kent tries out as a pundit at Sky Sports, he heavily curses on-air. Although the other pundits disapproved, the public loved his commentary. Sky Sports hired Roy, and for a few episodes, he appeared on Soccer Saturday. Although he toned down the cursing, Roy still dropped a few expletives during each segment. So, in true Ted Lasso fashion, Brett Goldstein's Emmy speech for Outstanding Supporting Actor in a Comedy Series contained a few bleeps.
"I was very, very specifically told I'm not allowed to swear, so this speech is going to be f***ing short," Goldstein began his Emmy speech. "Thank you Warners, thank you, Apple, thank you…the team. To my teammates that I'm nominated with and all my team. This cast makes me sick; they're so good."
The middle of his speech was full of gratitude.
"And I want to say to my mum, my dad, Tara, Matt, Zebby, and Bo and Beth, I love you," he continued. "And lastly, I want to say to Jason, Bill, Brendan, and Joe Kelly thank you for making this show. Thank you for making me a part of it. It has been one of the greatest honors, privileges, and privileges — I just said that twice — double privilege! It's the most privileged privilege and pleasures of my life."
However, as Roy Kent would end any speech, Goldstein dropped another expletive for good measure.
"…and this is the f***ing icing on the cake," Goldstein concluded. "I'm so sorry. Please have me back!"
Hannah Waddingham's Emmy Awards acceptance speech
Before Waddingham took the stage at the 2021 Emmy Awards, she embraced her Ted Lasso co-star, Juno Temple. It was evident from the heartfelt hug and Waddingham's speech that the two became very close while filming. (Temple plays Rebecca's close friend in Ted Lasso, Keeley Jones). Then the new Emmy Award winner walked up on stage and screamed!
"Jesus Christ on a bike, sorry," Waddingham began her Emmy speech. "Oh my gosh, I am not responsible for anything that pulls out of my face in the next 30 seconds. Jason, you've changed my life with this and, more importantly, my baby girl's. I will work for you for as long as you'll let me because I'm honestly, I'm so privileged to work with you. I really am." 
Jason Sudeikis heartfelt 'Ted Lasso' acceptance speech at the 73rd Primetime Emmy awards
When Sudeikis won his Emmy Award for Outstanding Lead Actor in a Comedy Series, he thanked many women. The actor also took a moment to stare at his golden statuette before giving a very Ted Lasso Emmy speech. 
"I would say his show is about family," he began. "This show is about mentors and teachers. This show is about family, and I wouldn't be here without those three things in my life."
He thanked many people and also his teammates. To fans, he sounded very much like Ted. However, when the Apple TV+ series won the Emmy Award for Outstanding Comedy Series, Sudeikis fell into his Ted Lasso character. The actor took the stage next to his fellow cast and crew members and remained utterly silent. He let the executive producer, Bill Lawrence, speak for the group and have his moment. 
It was very similar to a time in Ted Lasso Season 2 Episode 3 when Ted steps aside at the press conference so that Sam Obisanya (Toheeb Jimoh) could speak. It is the player's time to speak his mind and shine, so Ted steps aside and watches. At the 2021 Emmy Awards, Sudeikis let his director shine and have his moment without giving any additional Emmy speech about Ted Lasso.
Viewers can stream Ted Lasso Season 1 and most of Season 2 on Apple TV+.