'Ted Lasso' EP Bill Lawrence Calls Season 3 'F***ing Awesome'
Ted Lasso Season 3 is coming this spring to AppleTV+, and executive producer Bill Lawrence is already making big promises. What can fans expect in the new episodes? And could this season be the end of the series? Here's what we know so far about Ted Lasso Season 3.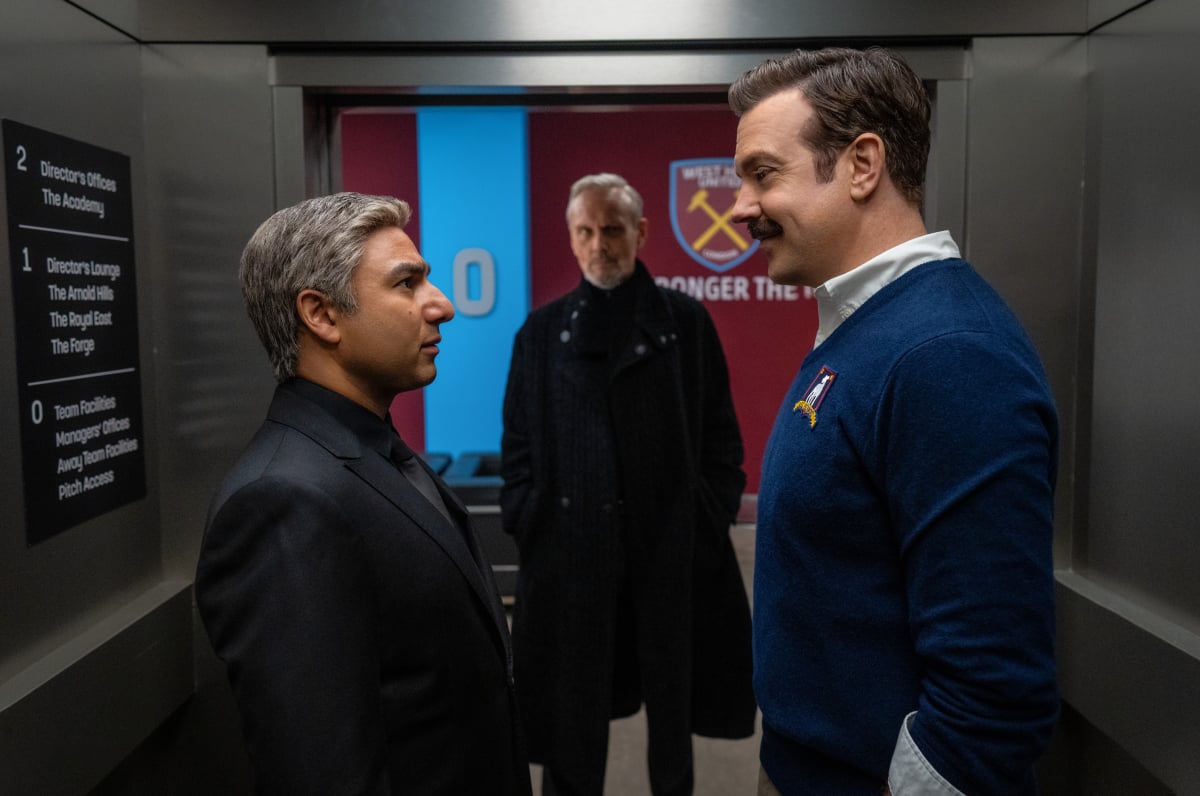 Apple TV+ drops first look photo for 'Ted Lasso' Season 3
In mid-January — a full year-and-a-half after AppleTV+ dropped the Ted Lasso Season 2 finale — the streamer finally released some info about the upcoming third season. 
They debuted a first-look photo that featured Jason Sudeikis' titular character coming face-to-face with the series' new villain, Nathan Shelley (Nick Mohammed). Standing between the two is another series villain who will seemingly get more screen time in season 3, Rupert (Anthony Head). 
Fans will recall that at the end of season 2, Nathan turned to the dark side after his disappointments and frustrations led to him leaking Ted's panic attacks to the media. In the closing moments of the season 2 finale, it was revealed that Nate had left Ted's coaching staff at Richmond to team up with Rupert and coach his West Ham club. 
Executive producer Bill Lawrence calls season 3 'f***ing awesome'
AppleTV+ has not yet announced the exact date that the first episodes of season 3 will drop, but we do know the time frame will be in the spring. That means the series will be out in time for Emmy contention this year.
During a recent Shrinking panel, per Deadline, Ted Lasso EP Bill Lawrence and star Brett Goldstein (Roy Kent) briefly addressed the media about the upcoming season. Neither one revealed any details, but they praised the new season and star Sudeikis.
"I've seen cuts of the show, and I think it's f***ing awesome," Lawrence said, with Goldstein adding, "I love it."
Sudeikis — who co-created Ted Lasso with Lawrence, Joe Kelly, and Brendan Hunt (Coach Beard) — originally planned for the series to only last three seasons. However, with the show's unexpected success among both fans and critics, plans may have changed. There has been no confirmation yet that season 3 will be the last.
What to watch on AppleTV+ while you wait for the 'Ted Lasso' Season 3 premiere
While fans wait for the new season of Ted Lasso, there are some other good shows on the streamer to check out. One of our favorites here at Cheat Sheet is Severance, starring Adam Scott from Parks and Recreation. 
From director Ben Stiller, Severance is a psychological thriller that follows a group of office workers who have volunteered for the severance surgical procedure. This means they have two sets of memories and two separate lives — one at work and one at home.
Black Bird is an Apple TV+ limited series starring Taron Egerton, Paul Walter, and the late Ray Liotta. It's a drama about a high school football hero and son of a policeman who ends up in a minimum-security prison serving a 10-year sentence. He gets offered a chance at freedom if he's willing to enter a maximum-security prison and get a confession from a suspected serial killer whose case is being appealed. 
The comedy Loot follows billionaire Molly Novak (Maya Rudolph) as she has a public spiral toward rock bottom after her husband betrays her. When she finds a charity foundation in her name, she decides to give back instead of giving up.