'Ted Lasso': Every Time Jason Sudeikis Has Given a Shout Out to Kansas City
Ted Lasso is a fish-out-of-water comedy about an American college football coach managing a professional soccer club in the UK. Saturday Night Live alum Jason Sudeikis stars as the titular character who's the former coach at Wichita State — a real-life small college in Kansas.
After winning a Division II college championship, Ted takes on the challenge of coaching the fictional AFC Richmond in the British Premier League.
The unique premise sets the series in London, but Sudeikis takes every opportunity to give shoutouts to his hometown of Kansas City.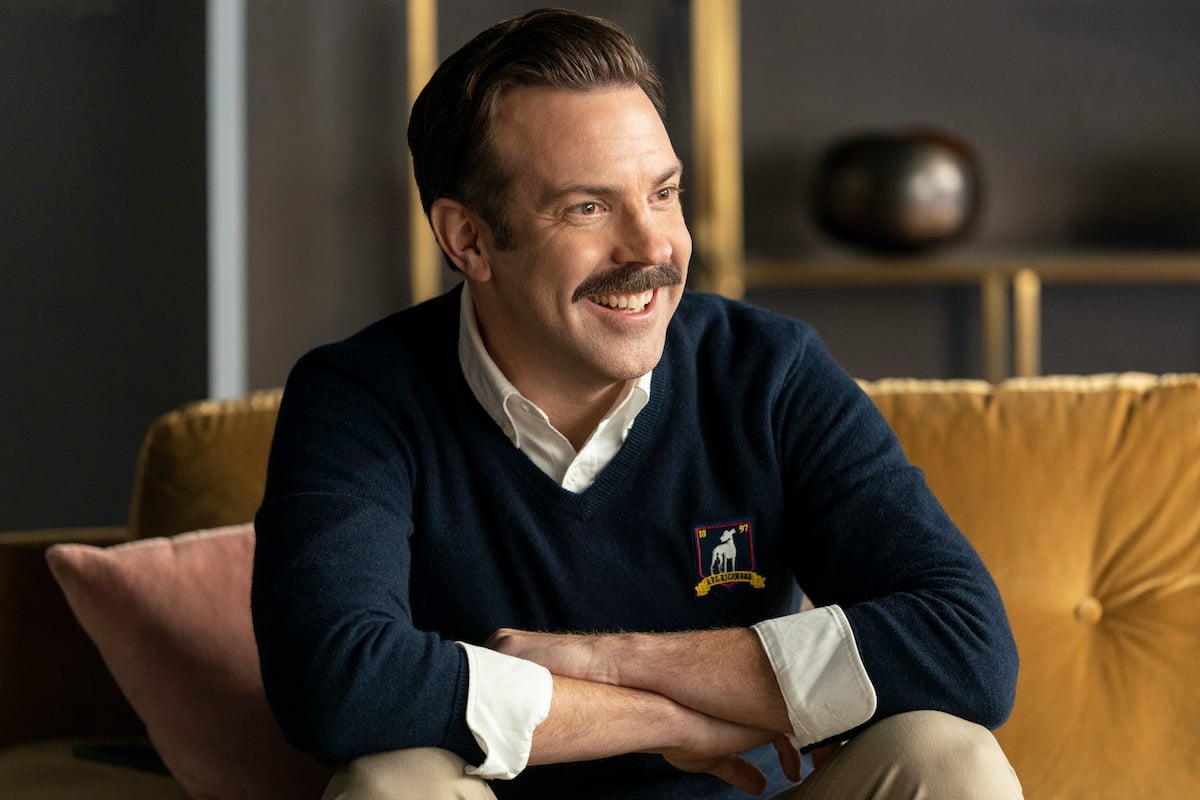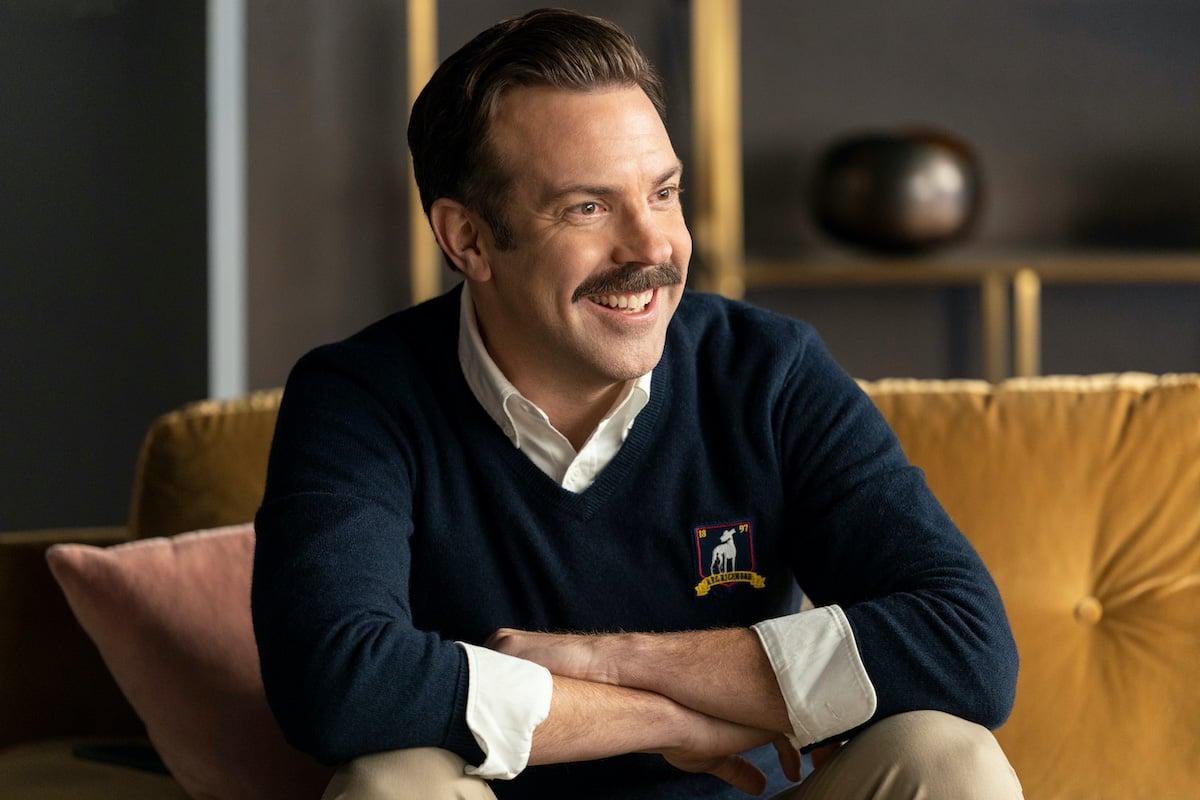 Jason Sudeikis loves to promote his hometown roots
Sudeikis grew up in the Kansas City suburb of Overland Park, which is on the Kansas side of the KC metro area. He gave his character a similar backstory, which has given the actor endless opportunities to include nods to his hometown throughout the Apple TV+ series. From schools to sports teams to food to friends, Sudeikis promoted his hometown roots constantly throughout season 1.
"I believe he grew up in unknown parts of Kansas City," Sudeikis told The Kansas City Star. "We'll say on the Kansas side because I know it better."
'Ted Lasso' loves Kansas City barbecue
Ted's love for Kansas City barbecue was made clear in the pilot episode when he wore a t-shirt that read  "Joe Arthur Gate Stack." Created by Sudeikis' longtime friend Brendan Curran, the tee is a shout-out to the top four BBQ joints in the KC metro — Joe's Kansas City (formerly Oklahoma Joe's), Arthur Bryant's, Gates, and Jack Stack.
According to executive producer Bill Lawrence, Sudeikis didn't even bother to get the shirt cleared —  the process in Hollywood of getting permission to use real-life copyrighted material on screen.
"Then only afterwards did we realize, oh, shoot," Lawrence said. "I can tell you already everybody from Kansas City he's giving shout-outs to is super happy because it's never empty. It's always stuff that he truly is a monster fan of to begin with."
In addition to the Joe Arthur Gate Stack tee, Ted has also worn other shirts from Curran's company Three KC. One featured the company's logo: a pig's head followed by 3 KC.
Jason Sudeikis called the owner of Arthur Bryant's for BBQ sauce and pics
The t-shirt wasn't the only time Ted Lasso gave a nod to Kansas City barbecue. When he received a care package from home, it included a bottle of Arthur Bryant's BBQ sauce. And, on his laptop, the wallpaper is a pic of Arthur Bryant's restaurant. He was able to get those items with a simple phone call.
"As any Kansas City person knows, you're one degree of separation away from someone, right? So I was able to speak to the owner and he kindly offered us to use whatever we wanted, however we wanted it," Sudeikis revealed.
Rock Chalk Jayhawk
Sudeikis found inspiration for Ted's unique dialogue in his high school basketball coach at Shawnee Mission West, Donnie Campbell.
"He'd always say, 'You guys look more nervous than a long-tailed cat in a room full of rocking chairs,'" Sudeikis recalls.
When it comes to Ted's Midwestern drawl, that's inspired by University of Kansas men's basketball coach Bill Self.
"It's probably got a little bit of Bill Self in there, if I'm being honest. But I just know folks that talk like that," Sudeikis explained. "And then after a couple of whiskeys, it gets more and more prominent especially when I'm back home with friends. There's just an ease and a gentle, disarming candor to the flow of it that I've always liked and sort of slipped into when I'm at my most comfy."
Sudeikis is such a big fan of the Kansas Jayhawks that he reportedly made the team colors of AFC Richmond the same Jayhawk blue, red, and yellow.
'Ted Lasso' went to the same elementary school as Jason Sudeikis
During Season 1, Episode 3, Ted tells Roy Kent about a moment from his childhood "on the rough-and-tumble playgrounds of Brookridge Elementary School." That's where Sudeikis went to elementary school, and Brookridge is still open.
Sudeikis also worked in the names of some of his Kansas City friends into Ted Lasso. His buddy Chris Sines gets a shout out via Coach Beard's KC Sines Original hat.
"I've known Chris since fifth grade. We played high school basketball together. We played college basketball together," Sudeikis says. "He was the guy who'd drive me to Pitt State for tacos. He'd fly, I'd buy, as my dad would say."
Looking out for Kansas City folks
Sudeikis admits that all of the Kansas City Easter eggs he includes in Ted Lasso have been an issue for lawyers at Warner Bros. However, he says he's simply looking out for the people in his hometown.
"I think some of these connections that I made, the karmic payback of the kindness of people to allow us (to use these things), probably rattled these L.A. Warner Bros. lawyers," Sudeikis said.
"It makes me seem like I've got more power, like who knows what secrets I know about these people, but it's really just Kansas City folks looking out for Kansas City folks."
New episodes of Ted Lasso arrive on Fridays on Apple TV+.