'Ted Lasso': A Heartwarming Premier League Moment Inspired a Season 1 Scene
Ted Lasso's not a real person but that doesn't mean the Apple original series of the same name doesn't get inspiration from real life. According to Roy Kent's Brett Goldstein, a sweet scene from Ted Lasso Season 1 involving Ted and his son was based on a similar Premier League moment.
Ted Lasso and his son celebrated a win on the pitch in 'Tan Lines'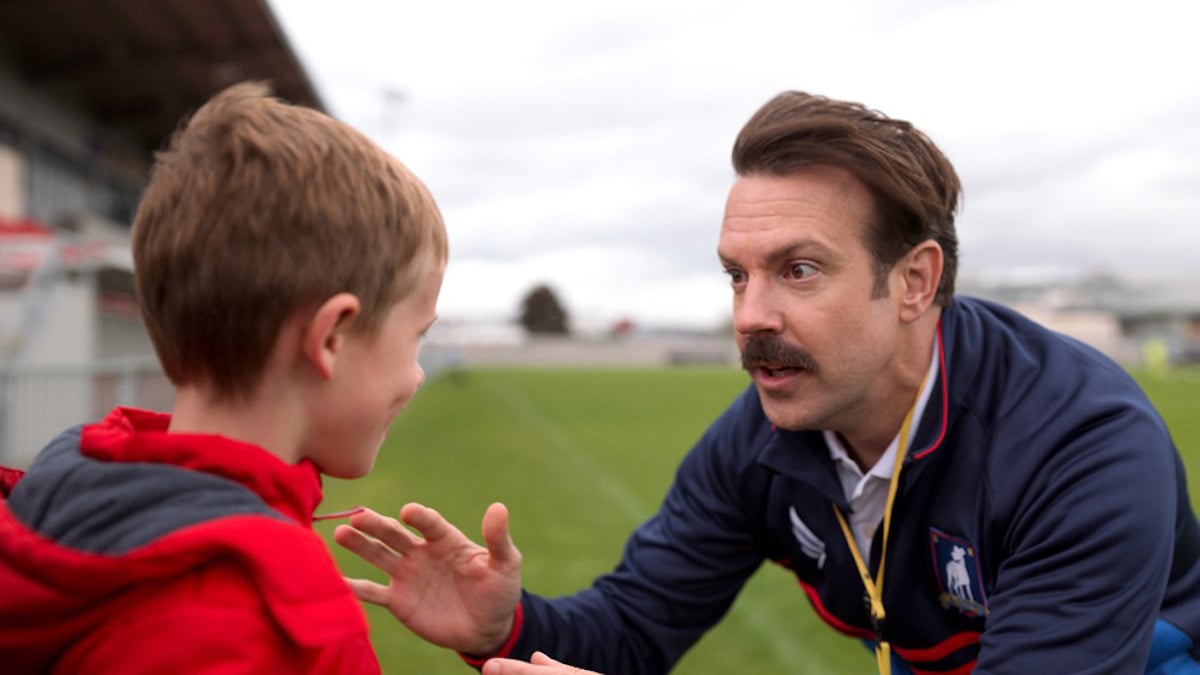 Back in Ted Lasso Season 1, the episode titled "Tan Lines" to be exact, Ted got a visit from his wife and son. They traveled across the pond to see Ted in his new job as the coach of AFC Richmond.
Not only did Ted have some hard conversations about marriage with his wife, Michelle (Andrea Anders), but the former Kansas football coach also had a sweet moment with his son Henry (Gus Turner).
In an unusual turn of events, Richmond won a match. And there to witness it was Michelle and Henry. After the match was over Henry celebrated with Ted. Ted put his son on his shoulders and the boy waved to the cheering crowd.
Brett Goldstein says a Premier League moment involving Lucas Moura inspired Ted Lasso's celebration with his son
RELATED: 'Ted Lasso' Co-Creator Bill Lawrence on the 'Only Way' Season 4 Could 'Exist'
Brett Goldstein, the actor who plays Roy Kent and also writes for the show, revealed during an October 2020 Vulture interview that Ted's celebration with Henry on the pitch came directly from a moment in a 2019 Premier League match. 
He shared that as a "big supporter" of the Premier League team Tottenham, he'd been watching a match where player Lucas Moura brought his baby out on the pitch after having his "best game" since joining the team. It stuck out to him and he created a "back story" that later became the inspiration for the Ted Lasso scene.
"In my head, I was like, he's been at Tottenham a while. He was supposed to be a big deal, and I think he struggled when he came here," Goldstein said. "And then he has that game where he's the hero, and he's done it, and he's home, and the fans are embracing him, and here comes his wife and his baby, who have probably had a difficult time with this move and this whole change of life, and I felt like it was him going, It's OK. We're all going to be OK.'"
So that's what Goldstein did in "Tan Lines." He "put a story" on the moment and had Ted and Henry celebrate on the pitch.
The moment is a 'turning point' for Ted Lasso, according to Brett Goldstein
RELATED: 'Ted Lasso': Jamie Tartt's Phil Dunster Explains How Those Soccer Scenes Are Filmed — 'It Takes a Lot of Time and Good Editors'
Ted sharing the win with his son wasn't just a sweet moment. According to Goldstein, it marked a "turning point" for the comedy's title character. He said Moura's real-life moment served as the "idea behind a turning point for Ted."
"After his wife comes, and then when Richmond wins the game and the crowd starts yelling 'Wanker!' with pride … maybe he's OK here," he explained.
This isn't the only Ted Lasso scene that's been inspired by real life. Sudeikis recited Allen Iverson's practice speech in season 1.
Watch Ted Lasso Season 2 on AppleTV+. A new episode drops every Friday at 12 a.m. CT or 3 a.m. EST.